Welcome in to episode 104 – grab a WIP and grab a drink!
I've got a return of an old hand/arm issue (cubit/ulnar thing), typing exacerbates/angers it, so this episode's show notes will be brief and I will add to them when my right hand can type again. (As much as I love doing shownotes, I am not typing them on 1 finger.)
I know some of you only read the notes and reviews here and don't listen, which is quite very welcome too, but this time you will just have to listen in for the reviews. Thanks for your patience.
↓Listen to the podcast↓
You can also listen on iTunes, the podcast app, or search your favourite podcatcher, if you prefer!
Reasons to be cheerful – Books!
|The Vintage Shetland Project, by Susan Crawford – £48
Verdict: An overwhelming book, in so many ways (not least in the incredible materiality and weight of the thing). I admit to weeping tears at this special book, featuring designs made from articles in the Shetland archives, made available for future generations to knit, love and treasure.
You can purchase this book from Susan Crawford Vintage, Ysolda and Woolly Thistle in the US.
| The KNITSONIK Colourwork Playbook and Colouring Companion, by Felicity Ford. £19.99 & £6.99 respectively
Verdict: What we've been waiting for – MORE colourwork charting awesomeness with KNITSONIK, unlocking our potential for charting our personal everyday inspirations. This time there is a colouring book too! I'm brimming with ideas and can't wait to start my own version of the Bricken cowl!
Thanks to Felix, you can WIN a copy of both the Playbook AND the colouring book! Head over to the KB Ravelry group
You can buy these books from knitsonik.bigcartel.com,
|Fair Isle Designs from Shetland Knitters, by The Shetland Guild of S,W,K &D. £21.99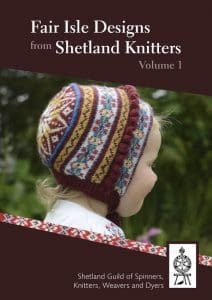 Verdict: Fifteen Fair Isle designs, across a variety of abilities and styles, from some of Shetland's most talented knitters. I really like that the designers share their inspiration or tell us a bit about each design. For less confident Fair Isle knitters like me, there are plenty of great small designs to start us off and build confidence working up to the larger and more complicated garments.
Available from Shetland Times Book shop and Jamieson and Smith
Wool Exploration: Jacobs
Wool Explorers: Ramsay Baggins, Atlasphere, Cynspins, Delbee, Elfinpetronella, FineFettleFibres, Lisamagreet, Ma Dashper, Mariette694, Mazzy, Practicalcat, Rebecca72Jones, SeaweedSarah, So Cherry, Thinkknitandgreen, drygardening.
I see some Jacob reviews were added after the deadline. That is grand! Please keep adding your reviews if you are playing catch up, but do understand that I won't be able to include them in the recording. These will however be collated for future use in another format, so please do keep adding your reviews.
Links to Blacker Jacob Woolly Mucker reviews and my early Jacob exploration
Any other business?
Nature's Shades-along – I am planning to revive this popular. It won't be for a couple of months, but keep watching the KB group and blog.
Clear Labelling survey – I will be launching this soon and hope you can lend me a little time to tell me what matters to you on your wool labels.
Thanks for listening! I will be back sometime later!
Important Information:
Music: Carefree by Kevin McLeod and Singin' in The Rain (demo) by David Mumford – Both are on FreeMusicArchive and are both shared under Creative Commons Attribution license. Images are copyright to those attributed in the caption or in the accompanying information, otherwise they are mine. I purchased both The Vintage Shetland book and The Knitsonik Stranded Colourwork playbook. I was sent another copy of the book, and the colouring book as a prize. I was sent the Fair Isle Designs by Shetland Knitter's Book. All items – whether bought or received for free – are given an honest review. I am not paid for reviews at KnitBritish. I hugely dislike the fact that some podcasters request payment for reviews and do not state this in their show (yes, it does happen and yes, PARTICULARLY in craft podcasting) – this is unfair. In addition, for small, indie biz this is a potentially damaging precedent to set.