Just a quickie! (in as far as I can do a quick podcast) with my top tips for EYF 2018.
N.B it may be later today before this hits iTunes/Podcatchers, please be patient
Shownotes
Forgive me, I'm (unsurprisingly) short on time this week, so your shownotes have a bit more brevity this time! The links are key today. Also, due to busyness, its a bit rough around the edges today. #sorynotsorry
Edinburgh Yarn Festival (15-18th)
| My own list of vendors I'll be making a beeline for …
I've linked directly to the items I mention in the show and what I'll be popping in my shopping basket!
Black Isle Yarns-  a new organic DK & 4ply launching at Meet The Shepherd/ess – a review coming soon
I'm also looking forward to squishing yarns from Moel View, Midwinter Yarns, Jill Draper Makes Stuff and Prado De Lana.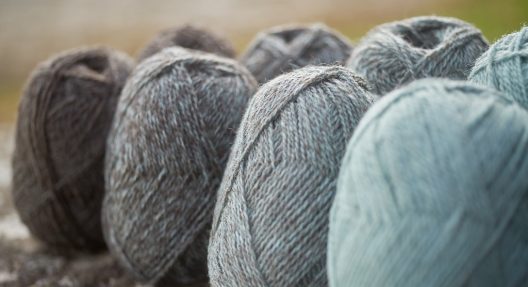 Jacobs yarn – one of Blacker's early signature yarns – is back and better than ever! It has had a little bit of a revolution, it is fair to say. This is what Blacker have to say –
"The striking two coloured coats of Jacobs sheep inspired us to create this new yarn, with four distinct bases using the natural fleece colours. When the fleeces arrive at our mill they are hand-sorted by colour and selectively blended to achieve four undyed shades. Traditional marls are created by plying two shades together but we've combined  shades in the spinning process to create contemporary marl. The glorious gradients of natural shades – clay, marlstone, granite and basalt – are dyed the same colours, so the transition from light to dark comes from the fleece itself.

"Even from the same sheep, the pale and dark Jacob fibres have different textures. The lighter shades have wonderful drape and a subtle sheen, whereas the darker shades are more bouncy.

This yarn is worsted spun giving it a smoother handle and wonderful stitch definition, making it ideal for garments and shawls. Despite its smoothness, Jacobs is also hard-wearing enough for outwear and accessories, even socks!"
The wool is going to be in DK and 4ply and the four naturals are available in 3 distinct dye sets, with gradients in purples, greens and blues. Watch out on the blog in the week for three woolly mucker reviews of this yarn. I've known about it for ages and saw the first samples last June – – I am SUPER excited to be able to tell you more about this yarn, so watch the blog later in the week! Wool Explorers will want to take note too as Jacobs is our breed this month.
| Socks 2018 by Making Stories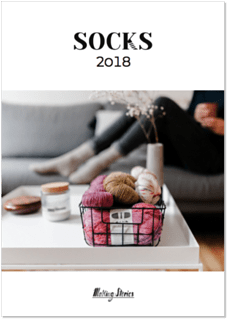 Making Stories will be familiar to many of you, particularly those who last year backed their kickstarter for their first, amazing publication Woods.
Socks 2018 is the first digital collection from the Making Stories team, Hanna Lisa Hafferkamp and Verena Cohrs and I was delighted when Hanna Lisa got in touch to offer me a review copy. As with all my reviews you will need to listen in for the full review, but here is Socks 2018 in a shownotes nutshell.
Title: Socks 2018, by Making Stories
Contributors: Alison Jane, Becky Sorenson, Clare Mountain, Jessica Gore, Keiko Kikuno, Linda Dubec, Sari Norderlund, Clare Devine.
How many designs?: Seven sock designs. Charted and written.
Yarns: All 100% natural wool. No superwash and no NYLON! Including Whistlebare & The Fibre Co.
The nutshell: Many of the designers are new to me, so thanks for that Making Stories! The fact that these seven designs are all connected by great cable or structured stitch detail is great but the focus on 100% wool really sells it to me. I love that each design is made by a small mill, or small wool business yarns.  As well as the designs there is great article content, from Hanna Lisa & Verena and from Clare Devine.
I love that this small collection is photographed in the same setting, it enhances the feeling of coziness and the images are a great quality.  I also really like the designer and yarnie Q&A page after each design. My only constructive feedback is that I felt these particular pieces were sometimes squashed to make them fit on one page. A little of this feedback comes from a past life in print media, but mainly it was a small issue for me visually and I could definitely stand to see this over two pages, when required. But that is the only criticism.
Socks 2018 has a fun, laid back aesthetic. I think you will really love the socks and KB-ers will already be thinking about British 100% wool yarns they can be making these great socks with.
Format: e-book
Pages: 67
Price: €22.80, available from Ravelry
In addition to letting me review this e-book, Making Stories are giving one away! Head on over to the Ravelry group for a chance to win your own copy. This giveaway has a shorted duration as usual, so don't miss out! Thanks to Verena and Hanna Lisa!
| Podcast Lounge & BlackerPodKAL
I finish up with a recap of what will be happening in the podcast lounge and a quick chat about the BlackerPodKAL. The deadline for this is 11.59pm (UK) on Sunday 11th – Still time to cast on hat or something small!
Also you will have heard the news that BritYarn is soon closing (28th March) and Isla is off on adventures to where BritYarn cannot go. Isla has a 20% code off everything with THISISNOTGOODBYE (the discount code box won't appear on some phones/tablets, so shop via a desktop/laptop). Thanks so much to Isla from the bottom of my KnitBritish heart for everything you have done to promote and enable people into finding more British wool.
Enjoy EYF if you are going, enjoy it from afar if you cannot. I will be back at the end of the month. Take very good care!
Important Information:
Music: Carefree by Kevin McLeod and Singin' in The Rain (demo) by David Mumford – Both are on FreeMusicArchive and are both shared under Creative Commons Attribution license. Images are copyright to those attributed in the caption or in the accompanying information, otherwise they are mine. I was given an e-copy of Making Stories SOCKS 2018 free in exchange for an honest review.