If you listened to the podcast you will have heard me give a wool shop shout out to Sylvan Tiger Yarns and mention that Katie was going to offer a beautiful skein of yarn to one lucky reader, more on that in a moment!
Firstly though, congratulations to Marylin! random.org placed your name first in the Laddow Giveaway from last week. I have passed your email address on to Wool + Bricks – I wanna see that gorgeous sweater when you knit it! Thanks again to Mirella of Wool + Bricks!
: : Sylvan Tiger Giveaway: :
Always keen to make mention of British wool sellers and dyers that you may not be aware of  – and who are new to me, too – Katie for Sylvan Tiger received a wool shop shout out on the latest podcast and I mentioned that she had kindly offered a skein of her  delightful 4 ply yarn to one lucky KnitBritisher.
Meet Lavurple….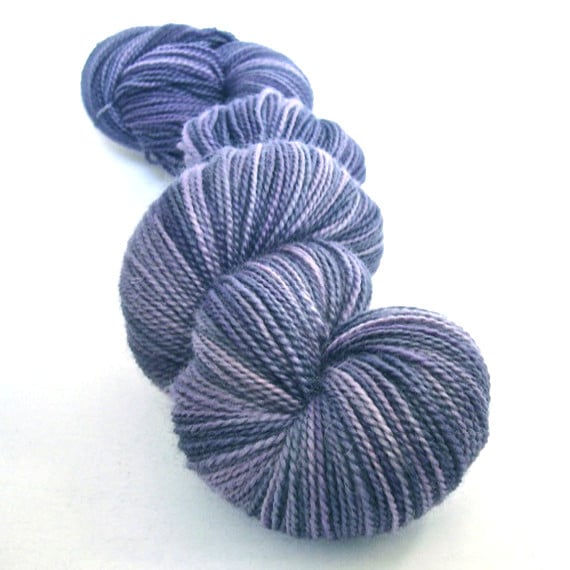 How divine!
In case you missed it, Sylvan Tiger is dyer Katie, who is inspired by the colours of her home in Yorkshire. She dyes using natural dyes in extract form, which creates the gentle variations of colour. I am sure you will agree that there is definitely a unique character in the colours.
Katie is passionate about sourcing wool from British suppliers and when possible British sheep and in her etsy shop she has 4ply, laceweight and also fibre.
Lavurple is a 4ply weight yarn, 110g/421 yards, and can't you just feel how smooshy it would be?
To be in with a chance of winning Lavurple, please comment and tell me which sheep breed is used in the hand-dyed 4 ply yarns and also tell me which other colours jump out at you….Grellow is positively calling to me.
Entries will close on Sunday 16th February. I will announce with winner soon after.
Please be aware that this competition is open to entrants from the UK only.