I keep seeing fantastic posts on twitter and Instagram of people showing their handmade wardrobes off for #MeMadeMay. It is so wonderful to see another social media spotlight emphasising – and EMPOWERING – makers to create their own clothing.
We all have different needs when it comes to creating items for ourselves and with that comes other issues, such as materials and cost.  I write this coming to the table with a whole heap of privilege but also I began knitting when I had roughly £1 per day to live on. My first yarn was Paton's fab, which cost 99p – at that time, that was a large part of my weekly budget. This is why I strive to show you a good range for wool for a good range of prices. 
A couple of months ago I had a comment from someone who had stumbled on one of my posts featuring British wool yarns. They had perhaps misread my post as they seemed to think I was advocating spending £100 on wool for a sweater. Ever since I started KnitBritish I have had people tell me that they think British wool is too expensive and I've tried to show that there is an affordable UK wool for each pocket.
"Affordable" is a word that doesn't mean the same as it did five, 10 or 15 years or even 20 years ago. I think the boundaries of what is deemed affordable have shifted – some people have more income for their craft and a great many others do not. (This particular post featured wool from £3-£8). If you have £100 to spend on sweater quantities of yarn I can hook you up, but I'd rather try to break that myth about British wool being too expensive.
I have written on this topic before, but that comment has made me think, what is the real the cost of making to the knitter? And also, what is the kind of quality we are looking for, for less money? The commenter seemed to be looking for great wool yarn quality but for little cost and that is rarely going to happen.
A sweater pattern + enough suitable yarn for your project + all the hours and effort you will spend knitting = a long lasting, quality handmade item made just for you (or whoever you are knitting for).
What price would you put this at? I am really interested to know.
For me, it is the long lasting part that is most important (ensuring there is enough yarn too!) I want a yarn that is going to look great and an item that will keep on looking great, I probably think about cost after I think about what I want the wool to do. Not that I knit with wild abandon – far from it – I still look for a wool that can do those things without hurting the pocket too much.
It does annoy me that some people think yarn should be dirt cheap and don't think about the cost involved with getting that ball of yarn from sheep to shop – the price the farmer gets for the fleece offset against their costs of shearing would be enough to make you weep! These are probably the same people who quibble over the price difference between a spud that's come from Cyprus and one that came from down the road – for a few pennies more wouldn't you like to support your local suppliers and get a product with a little conscience? Also what gives when you choose the cheapest produce is often quality!
I'm not going to go full on rant mode here and a lot of that is another post for another day, but while we are all here let's do a few sums.
Using the (awesome) StashBot app (£3.99), by Hannah Fettig, let's imagine we are going to knit an average length sweater, to fit someone with a 107cm/42 inch chest. We will be using a DK yarn.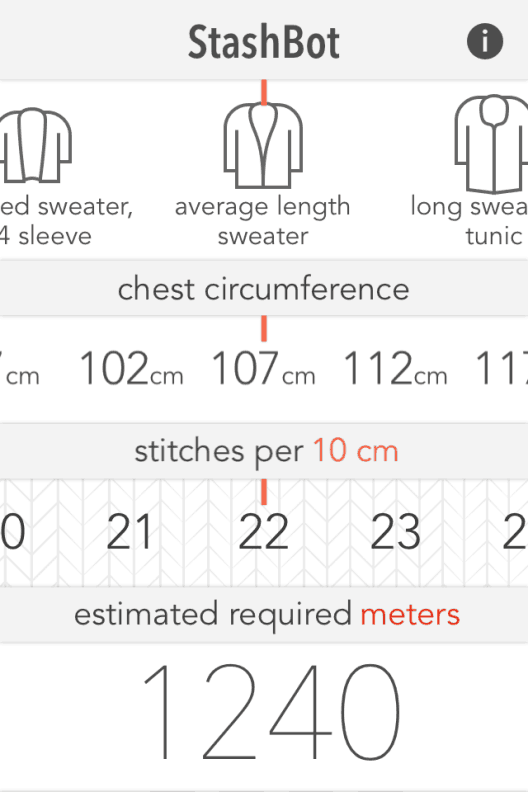 We're going to need around 1240 meters of yarn and, because it is KnitBritish, I am looking at British wool companies. These are all yarns that I happened to have used too.
I haven't spent a great deal of time on this and obviously there are far more yarns out there – I'm not going to go into wool choices, swatches, fibre contents, etc, etc. This is merely a snapshot of what is available for our hypothetical DK sweater – from man-made fibre to pure wool –  and the total cost of the sweater.
*Prices are based on my searching today and can, of course, change.
Yarn Name

per ball*

Fibre Content

per sweater*

Marriner DK with British wool

100g/283m            £1.50

75% Acrylic, 25% wool

500g/1415m – £7.50

100g/230m            £4.75

75% Wool, 25% Nylon

600g/1380m – £28.50

New Lanark DK

50g/120m              £3.50

100% wool

550g/1320m – £38.50

50g / 112m            £3.99

100% wool

600g/1344m – £47.88

50g / 110m            £4.00

100% wool

600g/1320m – £48.00

25g/75m                £2.90

100% wool

425g/1275m – £49.00

50g/105m              £4.25

100% wool

600g/1260m – £51.00

50g/119m              £5.40

70% Exmoor Blueface

30% BFL

550g/1309m – £59.40
You don't need to spend £70-100 on yarn for a sweater – there is a lot of choice out there and while there are different price ranges I think it is fair to say that for this sweater we are looking at around £40 plus on average yarn spend. Again, this is based on a me-sized-type-person who need a few more rows knitted all around than what is deemed "the average sized person" (ANOTHER post for another day!) in other words these aren't the minimum quantities and costs for the smallest sizes.
In that list there are yarn companies that you expect to see cheaper commercially produced yarns from – does it surprise you that you can make sweater in Jamiesons of Shetland for less than you can in a yarn from King Cole? 
I included the Marriner there as an example of one of the cheapest yarns, rather than on it's merits as a adult garment yarn (having used it myself and found it wanting) but would you choose it on it's value for money over it's value as a suitable yarn? 
Lots of questions and lots of perhaps-es and I'm not saying that the answers would be right or wrong, but I would be interested to know what you think. I know that knitters and makers are a vastly different lot. At one end of the spectrum we have some of us who just knit for hobbies, have never heard of Ravelry and don't pick up a WIP from one month (or year)  to the next or worry about the wool they use. At the other end we have knitters who knit with a big K – wool and knitting are a lifestyle and we have the stashes to prove it. 
Personally, I think those costs up there are more than acceptable – you simply couldn't pay less for a sweater in a shop with the same wool content, amount of hours, effort of making and attention to detail…and you certainly can't put a price on the satisfaction of having made it yourself.
If you are knitting in British wool you may even have the advantage of knowing the breed/s you are knitting with and could even be helping to keep that breed going by spending the money on the yarn for your sweater. It's a privilege to look at my handmade wardrobe and know the breeds and something of the provenance of that yarn and that is a cost that you can't really add up!
| Important Information
The prices here were correct at time of writing post in 2015