UPDATE: Due to space I can no longer host the audio files on the blog, please use your favourite podcatcher or right click the Podgen link below, to listen in a new tab (y'know, so you can also refer to the shownotes whilst you listen!)
If you're like me you may be a bit fatigued with baby princess woollen watch and a bit General Election-ed out. Let's grab a cuppa and a WIP instead!
You can also listen on iTunes, any podcatcher and my Podgen page
| NEWS
BritYarn is a REALLY exciting new online wool shop, run by Isla Davison, which will be opening it's doors on 2nd June. I am SO excited about BritYarn as Isla is utterly committed to sourcing and stocking 
Not only will Isla be stocking fantastic yarns – from Jamieson and Smith, Wensleydale Longwool Sheep Shop to Blacker Yarns and from dyers such as Eden Cottage Yarns and Yarns From The Plain – she also has patterns by UK based designers, such as Karie Westermann! You can bet you will hear more about BritYarn right here on KB and I send Isla so many congratulations on her new venture!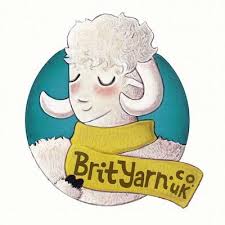 Yarn Stories Design Competition launched recently. Inspired by the Knitting and Crochet Guild archive, which has patterns and samples dating to 1830s, they have set up a pinterest board of inspiration from the archive. They are asking you to design 15 cm DK squares using the pins as your muse. You can find out all the details here. The closing date for getting your squares in is 4th June and once short-listed the finalists will be chosen by the public. 
Highland Wool Fest IS happening this year, after all! Given there has been no chat and little promotion of the event I didn't think it was happening. At the time of recording there were no exhibitors on the website, but there is a list there now. There is a great mixture of stall holders, including Helen from Ripples Crafts and Louise and George from Yarn Garden. It is happening at the Dingwall Mart on 23rd May and you can find out the details at www.highlandwoolfestival.com
| HAP CHAT!
This is such a happy and friendly KAL and when I went away for the weekend the hap chat thread in the KnitBritish Ravelry group burst over 3000 posts!  I am knitting hansel by Gudrun Johnston and I am STILL decreasing the central panel, but truly loving the pattern. Whilst away at the weekend I cast on another hap (probably an Aeslight or Simmer Dim) in YarnPony yarn. As well as chat there have been great hap tweets, IGs and post from happers, such as Ella Gordon on her gorgeous half hansel (featuring J&S FC38…yum!)
We'll be having another #Hapalonghangout on Sunday 10th from 7-9pm (UK time) on Twitter and IG. Post using the hashtags and follow the chat. I may also use images that use the #hapalonghangout tag on instagram in a Hap gallery post here on the website. The Ravelry group will of course will be open for chat if you don't do social media.
|Make It Fit
You may have heard myself and my podcasting mucker Jo Milmine mention this before. We are going to curate a series of posts which empower knitters to knit garments to fit. I know there are lots of knitters who avoid knitting sweaters because issues like measuring, ease, shaping, gauge, body shape can be things to dread. We want to look at each stage of the process and learn together what it takes to create a garment that is made for our own size, (and no one else's!) – what could be more wonderful? There will be more information coming soon including a mailing list so that you can keep updated with all the MakeItFit posts, but meantime if you want to get in touch
| KnitLocal
This week comes from LauraSue in the Ravelry group who talks about her corner of the US in North Carolina and the plethora of breeds and woolwork going on there. Thanks to you, LauraSue!
| Next time
You'll note the omission of the Jamieson of Shetland interview I promised last time, but I am going to give it it's very own episode next week, so come back then and thanks for listening!
| Information
opening music From My Fingertips by Boscobell. Pattycake Happy by Marina Z and Ana both available from Noisetrade.com