I have been eager to knit a garment in Wensleydale wool after seeing both the sheep and their spun yarns at Woolfest last year.
Look at those long charming, lustrous curls  and elongated ears….the Wensleydale sheep is definitely a bit of a celeb in the sheep world.
The Wensleydale breed can be traced back to North Yorkshire and the original sire, an apparently outstanding and "active" ram, called Blue Cap. This Leicester 'Mug' ram was mated with a Teeswater ewe (thought the RBST state it was a local breed now extinct) in 1839. The breed was named as Wensleydale in 1876 and the breed society formed in 1890.
The beasts are large, with full grown rams weighing in at 140kg and ewes 100kg, and if their beautiful curls aren't distinctive enough they have blue skin on their heads and ears.
And what about that fleece? Wensleydales are predominantly white, but there are black and grey colours within the breed. They have a long 15-30cm staple, which is even, around 32,5-34 microns and 44-48 on the Bradford count. With no kemp  such soft  silky, pearlescent lustrousness makes this longwool breed wool a very desirable knitting yarn and fibre for spinning.
It is important to mention that the Wensleydale sheep is currently on the 'at risk' watchlist of the Rare Breeds Survival Trust. Knitting with breed yarn from the watchlist can help put money back into maintaining the flock –  Nude Ewe and Ystrad farm are two such examples of purchasing from source and how the money you spend on your yarn helps the breed – but have a good look out there …I find Garthenor , Sheepfold and  Blacker absolutely fantastic holes to fall into when looking for watchlist breed yarns.
The yarn I am using in my Lush cardigan is from Wensleydale Longwool Sheepshop. Ann and Ruth run their business from the heart of the Yorkshire Dales, close to Leyburn, and have converted an outbuilding into a thriving yarn and knitwear shop. They sell aran, DK and 4ply Wensleydale, as well as fleece and tops, via mail order and their yarns can also be found at stores such as IKnit, Baa Ram Ewe and Travelling Yarns.
The wool has a slight crisp feel to the initial touch, but is quite soft to work and – contrary to some reviews – it is not an abrasive yarn. Some people who do not do well wearing wool next to their skin may want to avoid, but as I said on the podcast – wool isn't made of nettles – you may have an aversion or wool allergy but if you can why not give different breed yarns a try, you might be surprised!
The gauge of the DK is 22 stitches to 4″ on 4 mm needles and  it comes in 100 g balls, which is a healthy 235 metres.
I love how it is knitting up. I also really like that slight woolly halo on the yarn. I think this is going to make a very snuggly garment! I had heard someone comment that they thought their Wensleydale wool felted as they knit with it. I am not sure if this is down to the kind of twist or ply of their particular yarn, but I couldn't spit-splice this yarn for love nor money! I know all wool does felt, but I have had no trouble with this particular brand. I will let you know how the FO washes.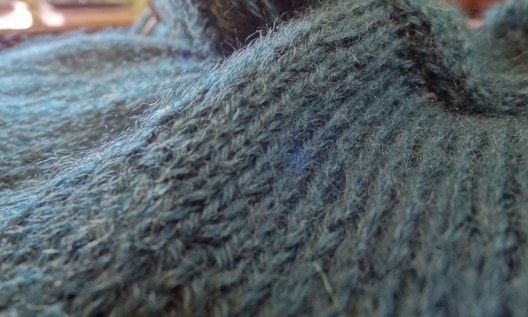 Wensleydale Longwool Sheep Shop yarns start at £3.35 for the 4ply (50g) to £6.20 for the DK and aran. There is also a range of 20 fantastic colours, including natural shades, and I really struggled to chose from so many great shades.
Ann and Ruth have kindly donated a one-skein knitting kit to the prizes for the Lush KAL and I will be posting further on that later in the week!
Wensleydale Longwool Sheep Shop is now under the ownership of Kath and she has a Bricks and Mortar shop on Leyburn, as well as the online shop at www.wensleydalelongwool.co.uk
Please note that the prices above were correct at the time of the original post.