There's just a few more days to submit your Jacobs reviews via ravelry and the google form, so that I can collate those reviews for episode 104.
Our next breed for exploration is the noble Teeswater.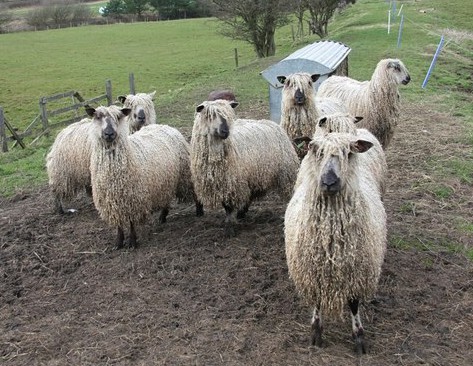 Their predecessors where thought to have come with the Romans, but we probably have 18th century agriculturist Robert Bakewell to thank for the current breed of Teeswater sheep. We can thank him for much of the modern longwool breeds, as he developed the stockbreeding system to enhance the quality of the sheep.
Here is an introduction from The Fleece and Fiber Sourcebook (Robson, Ekarius, 2011)
"It is named for the River Tees, the river meanders about 85 miles from Cross Fell (the highest summit in the Pennines) to the North Sea.
[…]
Long, lustrous, shiny wool: That's what its all about with the Teeswater. The locks hang individually and don't clump together. There is no kemp or dark fibres, and the wool is uniform throughout the fleece. Because of the length [6-15 inches] yarns with a low twist work out well It is a reluctant felting wool, at best. "

Page 116
I am always excited to see how each breed exploration goes, but I feel we may have a slight snag, here in the UK, as there is not an awful lot of Teeswater in yarn form. You may need to be creative in your searching and look on places, like etsty, folksy and – dare I say – ebay, as well as googling for online yarn websites. Spinners, you have a good chance here as there is far more fibre than yarn available.
I will be interested too, to see any reviews of American Teeswater, which has been further developed in a process called upbreeding; crossbreeding with other longwool ewes using imported Teeswater semen and doing this process over and over with the offspring. According to F&FSB the fifth generation are about 96% Teeswater and are termed as "Purebred American Teeswater". We might look at that a bit more post-Exploration.
| Where Can I get Teeswater?
Well, as mentioned, you will have to be canny how you search and also careful too. There is a website that comes up in searches, which has Teeswater wools in their website name, but on careful inspection the yarns are a blend of Teeswater and Wensleydale. Use your due diligence and do read websites and labels carefully – challenge unclear info where you see it.
Northern Yarn do a Pure Teeswater DK, which is £5 for 50g
Hunting Hall make 4ply and DK Organic Teeswater yarns (there are blended dyed shades too, so the link is straight to the pure stuff). They cost £6 / 50g.  Please be advised that they currently only ship to the UK (and while it says UK mainland on their website, I am assured that they sell to the entirety of the British Isles, Louise at HH says this will be updated)
Dodgson Wood have skeins of laceweight Teeswater, in 100g skeins, for £15.
Black Bat Rare Breed Yarns have DK Teeswater, from Durham, which costs £8.
For spinners, you will find prepared Teeswater at World of Wool and also Adelaide Walker and I can see Teeswater raw wool and locks by searching on Etsy and ebay – you fibre foragers tell me you know where your go-to resources are, but I like to include a couple!
This will be interesting, with less spun wool available, but it is a good conversation to have – what is Teeswater being used for if not yarn?
| How do I take part in Wool Exploration?
Well, I'm sure by now you know, but each month there will be a specific breed for you to seek out;
We must use a yarn that comprises 100% of the chosen breed wool – no blends
That yarn can be any weight (lace, 4ply, DK, &c).
You can knit or crochet any design into a nice big swatch
We will follow the same Wool Exploration guidelines, upload our reviews as a ravelry project.
Your notes should also be transferred into our exploration google form, which collates all our info.
You can use dyed or natural wool, hand-spun, commercial spun, or limited edition, small batch – the idea is that we will discover everything we can about that breed wool in a review and I will report these findings each month on the podcast. There will be so much to learn.
We will have a chat thread for each breed and I will preface each new exploration with a blog post – Like this one,  Remember you don't have to commit to every single month of exploration, just jump in and out as you like!