I was going to name this post "What to do when your stash and knitting overwhelms" – But before we even go on to look at that I am quite confident in saying that there is no one solution.
This is not a 'How to'. This is more of a WTF!
I am so delighted with my stash from EYF 2018. Everything was a considered purchase. I certainly didn't go as "mad" as I could have, but I have no regrets about buying any of it.
This is true of all of the yarn in my stash. I do not hold sway with the idea that we should be embarrassed or guilty, or that – heavens forfend!  – we hide it from our loved ones. That is a darker and much more complex issue and, really, its not funny at all.
But aside from popping my EYF skeins into ziplock bags (I've seen no moths since last year, but this has always been my method of yarn keeping…there will never be open shelves of yarn on display in my house ), I've not yet put them away in my stash boxes. I keep looking through them and thinking about the plans I have for them, and then thinking about all of the other things I have to do before I can get to that. I was even thinking I need to knit older stash, before I allow myself to cast on with these new additions. Is there no end to the pressure I put on myself when it comes to yarn and knitting? Apparently not.
This weekend I had all the knitting books out and was trying to match up patterns to yarn. I was getting frustrated at things like, not quite having enough yardage, or getting all grandiose and teaming things together that I would not normally, in patterns that I would not normally make, just to use the yarn up. All the while having a word with myself, because I know that there are projects on my wishlist, that just need time – summer projects, or a special cast on for my 40th, or things I just want to knit before other things…..none of that quells the need to KNIT ALL THE THINGS NOW.
I've definitely become more of a process knitter and I've never been a particularly quick knitter, but progress is much slower. Add to that things like work, and knitting and wool focus for KnitBritish and there seems to be even less time for knitting things I would like to make for myself.
So this weekend, instead of happily cracking on with new cast ons, I find myself, somehow, edging away from it. Almost like its a mountain that I can't quite climb. Not only that, but I've added to that mountain this weekend by making 2 yarn purchases. Both for intended projects (one to go along with yarn I already have for an intended sweater), but still, what a thing to do.
I'm feeling really overwhelmed today – its weighed on my mind all day. Of course, I took to IG to ask – what do you do when wool overwhelms. There were lots of suggestions and lots of people just weighing in with their own overwhelms too. Thank you for sharing. I'm in turn going to share some of the broader ideas here; what fits for someone else, may fit for you, but one size does not fit all! When it comes to dealing with stash, we all have different attitudes to buying, and different attitudes to stashing. What overwhelms me, may be a drop in the ocean to others. These are just some of the things that others try.
Give some to charity or destash
This is a great idea. I do this regularly. I have a bag in my office where I put odd ends of yarn that I know I will not use, and also skeins I know I no longer love. I usually give the bag over to the Edinburgh Direct Aid, who are always looking for a variety of craft supplies to take to refugee camps and to teach craft skills. I did this just before EYF though, so that's not really part of it, this time, for me. I also give away skeins as prizes too.
Organise your stash
Whether you Kondo the shite out of it, or you have more commonsense, sleeves up approach to stash admin, this could be the way to go. Split your work stash from your play stash, or your gift knitting stash from your own project stash…maybe this is the key?  You could also have a bag of odds and ends and yarn that you know will be for charity knitting and keep it separate too. Now, where are we going to put it all??
Try not to feel too guilty about it
Again, this is not so relevant to me. I don't feel guilty about my wool purchases. I used to. I got rid of what made me feel guilty and I don't make purchases that I will regret. Guilt is a very odd creature and I do understand that there are guilty pleasure purchases and guilt surrounding overspending, etc. I can't apply that to me this time.
Use your Ravelry stash or make an inventory
This is something I am trying to get better at. I sometimes don't take photos but put the rest of the info in the Ravelry stash, as it is great for seeing at a glance what you have.
Alternatively, get a lovely yarn journal book, or hack a notebook to make it your own very special inventory of yarn.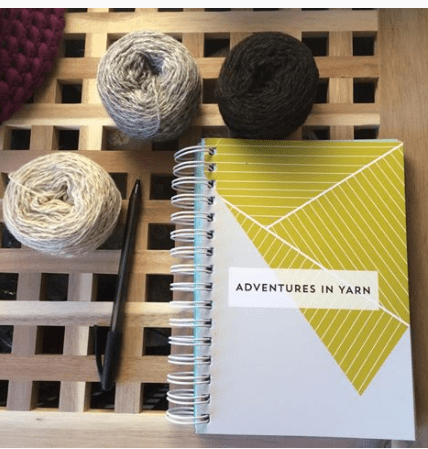 Of course, all that organising could put even more emphasis on the overwhelm, but perhaps its the road to less-overwhelm in the future?
Impose a restriction 
This can be a double-edged sword. While I would never let a loved one dictate how I purchase yarn, I can definitely do it to myself, for short periods.
I hate phrases like "yarn diet" or…worse… "cold sheep" – diets rarely work and, well to be frank, the person who came up with cold sheeping deserves no stash at all! If you are planning it for a long period then I think terming it like this is a bit cruel and limiting to yourself – whatever your good reasons for not buying, you are making a hard thing even harder. Also, I do believe that if a skein of yarn is meant to be in your life then you should be together, no matter of restrictions. Some skeins of wool speaks to your soul, can we ever ignore that vibration from a special skein? Really?
I cannot tell you how many people I see at big wool events who say, "The temptation is huge, but I'm on a yarn diet". While it is good to try and be more considered about stash,  I am afraid I would have to take myself way out of the path of temptation, if it were me. It could go badly the other way and then there would be that guilt!
While I could never go on a long restriction I am going to aim to make my next yarn purchases at Woollinn, on 26th May, in Dublin. Eight weeks is probably ok! At least I will give it a try. It will mean that I will probably avoid yarn shops and events til then, and sit on my hands when if I am in one! Though again, I can never really rule out being on the same layline as a really special skein, the kind with those good vibrations and not taking it home.
Just deal with your current WIP and don't worry too much
In the short term, for today, that might work. But if you – like me – have ever buried your head in the sand over an overwhelming situation in the past, you try your darnedest not to do that with other situations. Long term this will add to the problem and make it worse.
Make more Good Intentions!
This is a great idea and thank you to those who've said the Good Intentions club is helping stave off your own overwhelm. As I said on the podcast, we will definitely be keeping this going so I could go and pair up stash to patterns. I don't really want to do this with all my stash, as I feel its almost like setting myself up for failure if I don't get round to them all. Nothing adds to the overwhelm like a tonne of yarn and patterns all ready to go!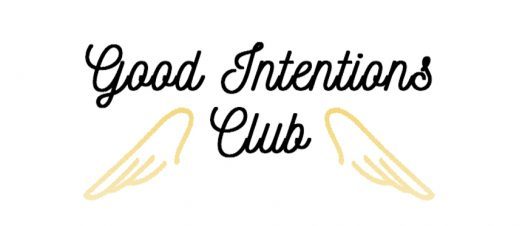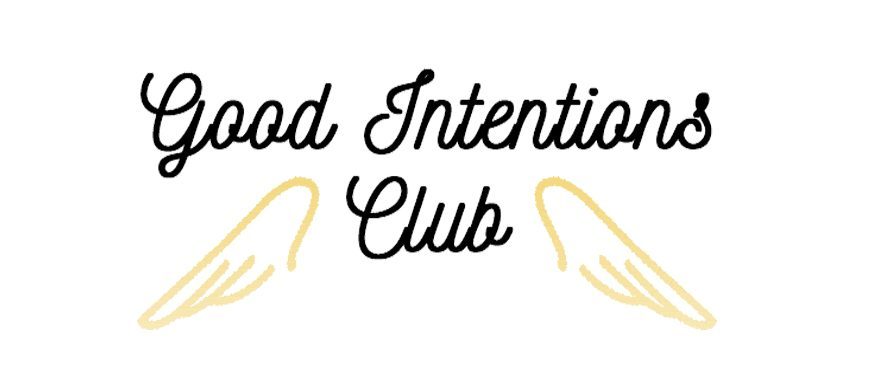 I will perhaps do this with my sweater quantities. I currently have 6 or 7 SQ, which I am led to believe is not a lot compared to some, but that feels like a whole lot of knitting to me, and a whole lot of knitting not getting done, if they aren't moving from their box! I have some definite ideas for one or two, but I should make plans for the rest. That could help a lot.
Cut down on the KnitBritish knitting
For a long time the knitting I was doing was for reviews or for my own swatch bank for sessions, etc. Thankfully some woolly muckers have enjoyed helping me review yarns and this has helped me inordinately. I still feel that I have to review too, which I don't. I know I don't. So I need to get over that. I've also decided that I am not taking any review items for the next little while. That may be non-wool products too, as believe me these can mount up and overwhelm too. There is enough in the pipeline for now, and I don't need to take on more at the moment. Thanks to all those who said you can definitely stand to be de-enabled for a wee while (though,  of course, I can enable you when there are no reviews just the same as I can when there are!)
ONE SIZE DOES NOT FIT ALL. I don't see one total solution today, maybe its a combination of ideas…maybe its my mood in general that needs to change. But I know it will change and I know its not the only time I will feel like this. That mountain will be there again someday, I think its inevitable! Just as my love for wool and great patterns is undeniable too.
Thank you again for sharing you own wool overwhelms and WIP angst with me. That is one thing you can always be sure of in this community – you aren't the only one and you feel the support of others around you who have gone through or are going through it too. Thank goodness for you!