Image: Magnus Holbourn
I cannot believe it is almost five years since I interviewed Magnus Holbourn, from Foula Wool, about their new business. I had fallen in love with their natural shades of DK; plumpy, sheepy, delicious!  Do read that interview. It is still one of my most read posts!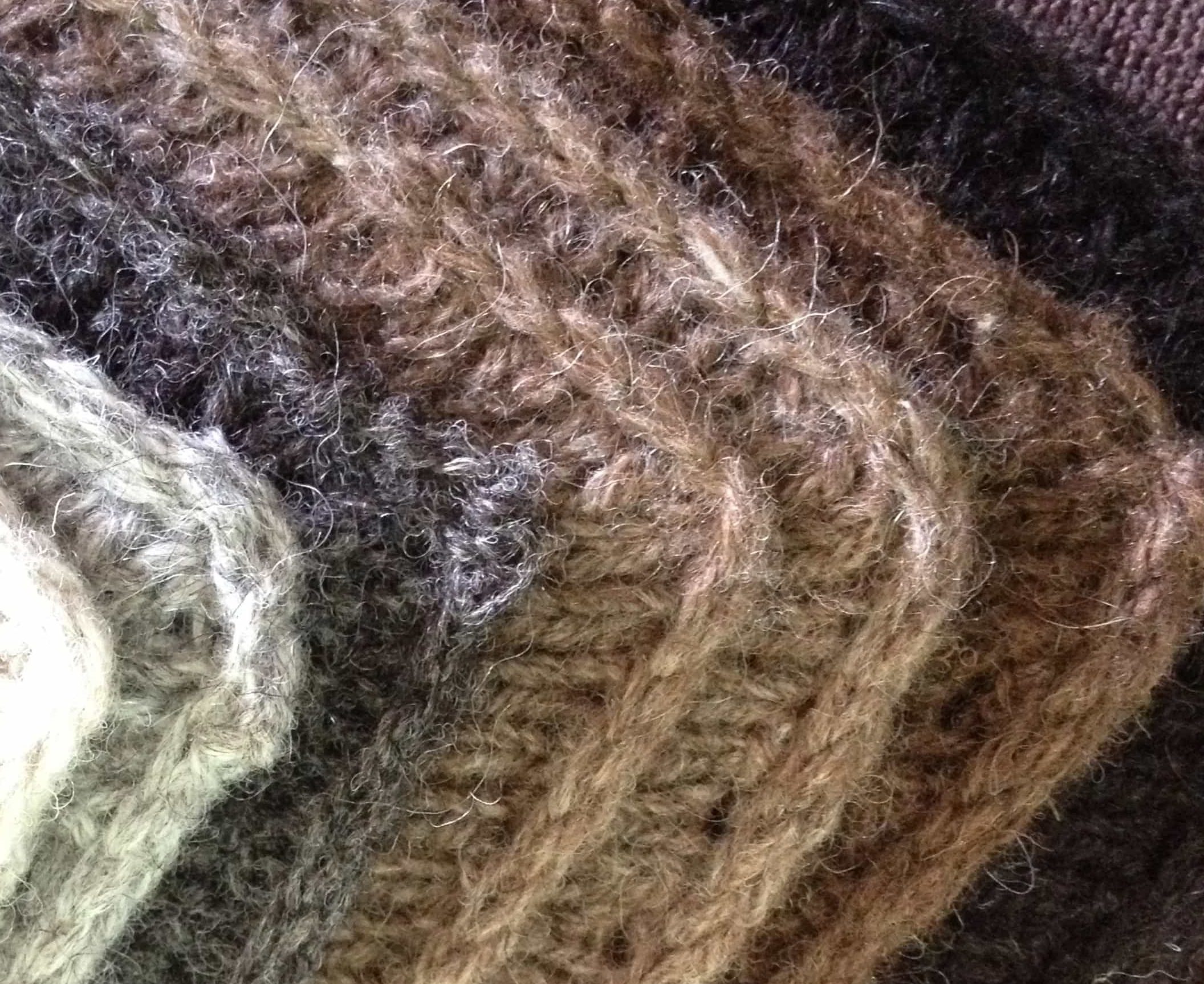 I was delighted when Magnus got in touch and asked if we'd like to see their new jumper weight yarn!  The Lovely Fella sent me a message while I was at work, one day – "A soft parcel from Foula has arrived." I can't tell you how impatient I was to get home! When I did, the envelope of heavenly squashiness was opened and the loveliest, sheepiest and "warmest" aroma wafted out and so did lovely cakes of Shetland yarn! 
The smell and the squash was an incredible start, but these natural colours – oh my! There are seven natural shades in the range of 25 gram cakes (though you can get 50g and 100g, but I don't think they are in the full range of shades at the moment) – they range from the darkest, peatiest brown-near-black, gently decelerating through the natural rainbow to browns, fawns, greys and white.  I immediately imagined..surprise, surprise, a hap, using all the shades!
Of course, this wonderful package came right slap bang during the busy EYF prep, but I knew some of our woolly mucker reviewers would be up for the woolly challenge to review this lush Shetland wool.
Via the Woolly Mucker thread on Ravelry, I random drew three reviewers, who were: Patricia, aka NoButterfly; Phoebe, aka Phoebeon and Kim, aka Woolly Magpie. I also sent a wee cake to Lisa, aka ErickaEckles, because she always talks about wool so eloquently on Instagram and I knew she would spread the Foula Wool love to other corners of the internet for us.
I am always keen to know what our reviewers think of yarn, but I was super eager to know what they thought about Foula Wool. Shetland wool from Shetland is so phenomenally important to me.  I'm intensely proud of Shetland wool and of the businesses who sell it or create with it. I think I eagerly anticipated these reviews back most, of all of the one's we've done!
All our reviewers follow the same guidelines to give you a broader view of the yarn. I love that each of them decided to compare this against other Shetland yarns they've used. As I always say, breed wool is NOT homogenous, so it is really considerate of our reviewers to add these dimensions to our collective understanding of Shetland wool and show how different they can be. Foula wool is a very special kind of Shetland wool, from sheep from a quite unique gene pool, which has not been modernised, or cross bred; so let's see what Kim, Patricia and Phoebe discovered about it.
Yarn: Foula Wool 2ply Jumperweight 
Fibre content: 100% Shetland wool, from Foula.
Details: Equivalent 4ply / Woollen spun / 25g / 90 metres approx
Cost: £4.25 per 25g / £7.25 per 50g / £10.25 per 100g cakes
Initial Observances:
Kim: This is my first experience of Shetland wool! There was no overt prickle on first squish, but definitely characterful. It does prickle against the face. I don't want to say rustic, as I'm not fond of that word and it's connotations, but definitely homely, and authentic – I love it. It's obviously very sticky, and I know this is very good for colourwork. At first impressions, I would say I'd be looking to make jumpers; cardigans; mittens; maybe a hat or a shawl. I wouldn't be looking at scarves/cowls. I don't mind a bit of prickle, but I wouldn't like this round my neck and face. 
Phoebe: I received this wool as I was knitting a DK-weight sweater with Shetland wool from Uradale and jumper weight colour-work mittens with wool from Jamieson's of Shetland. Compared to Jamieson's, a strand of Foula wool is smoother. I'm not sure if this is due to a tighter spin on each ply of Foula wool or if it is because the two plies are more tightly wound – examining the two side by side I think it is perhaps both. The Foula Wool's halo is slightly more noticeable than the Uradale or Jamieson's too-  not as noticeable as with mohair or alpaca, but with a number of longer hairs evident.
Patricia: At first, I liked the colour, I saw it in the evening and it's a soft natural. During the daylight, it was clear this is rather a soft latte colour… so I don't like the colour, simply because I don't like brown – sorry for those loving natural colours! but I could see myself using it in colourwork, maybe with some darker coffee colour. Maybe…
The yarn feels softer in the skein compared to Jamieson & Smith or BC Garn Shetland, maybe more like Rauma. The yarn definitely feels softer than these yarns when knitting, it even feels like I could wear it next to my skin. So while I'm knitting, I have a mental check in my ravelry library, maybe a t-shirt or a top? It could be something delicate or everyday wear. I'm not so sensitive about wool next to my skin, I must admit, so I'm not sure if every one will agree on this, but a top would feel perfect and Belgian summers are not really warmer than Scottish ones!
Observances Whilst Swatching:
Kim: the character really came through as I knit it up; very grabby on the needles despite being metal, and a tiny bit splitty, being a 2ply (and probably from being pointy lace needles). It felt a bit rough to knit up, my finger got a bit sore where it was rubbing from being tensioned. Despite that, I'd use this again in a heartbeat – absolutely stunning stitch definition across both the tiny bit of lace and cabling I did in my swatch. I know 2ply is great for lace, and 3ply is best for cables, but the cables in this 2ply have come up beautifully. The lace pattern I used was the last repeat and end pattern from the Rockrose Scarf pattern from Ravelry – the end bit came out a bit fuzzy, but the rose section is crystal clear.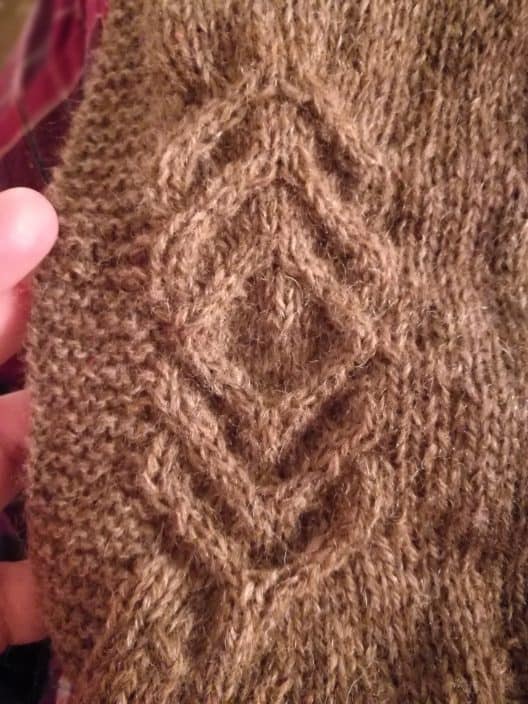 Patricia: I used wooden straight needles 3mm from Clover and the stiches are nice and even. The fabric is rather firm, but not too sturdy. It feels like the stitches might bloom when washing or wearing it, so I don't want the stitches too tight.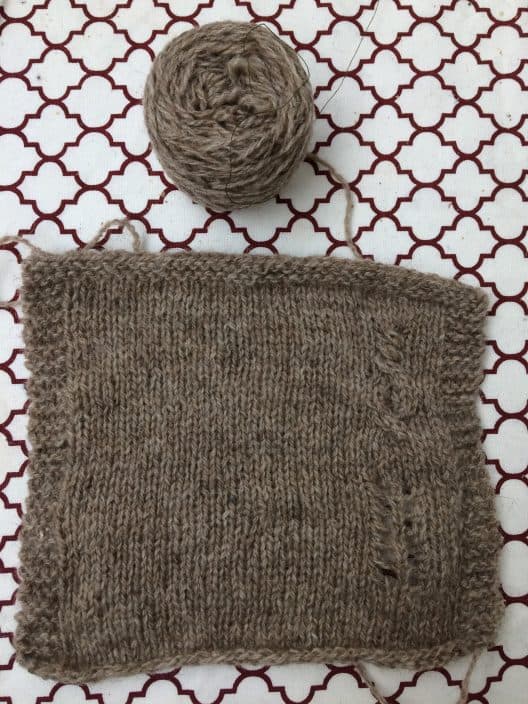 I have cast on 40 st and started with a simple stockinette. I should have thought of some garter rows to start with to prevent the curling. But it reminds me to do some garter at the beginning of the row. The right side has a lovely feel, very smooth, some kind of shine on it. Because I'm thinking of a top, I add some simple lace, which is quite effective. I also tried some cables, on a stockinette background. I may need to do some more elaborate swatching but if I were really to knit something with it, I would keep it simple.  
Phoebe:  The wool is crisp to knit with, and there doesn't seem to be much lanolin in the wool I knit 4/4 cables without a third cable needle, and the wool was sticky enough to do this easily.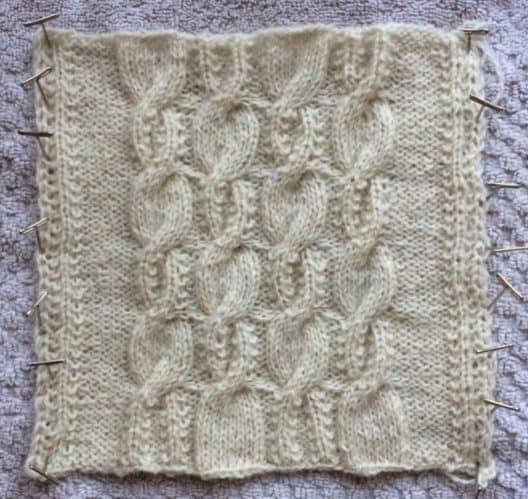 Wash, Block and Wear Test: 
Kim: Just a 20 mins soak in some warm water, with some Soak. Came out beautifully drapey, though still prickly against face and neck. After blocking, it measured 7.5″ x 13.25″, with a st.st gauge of 5.5 stitches by 9 rows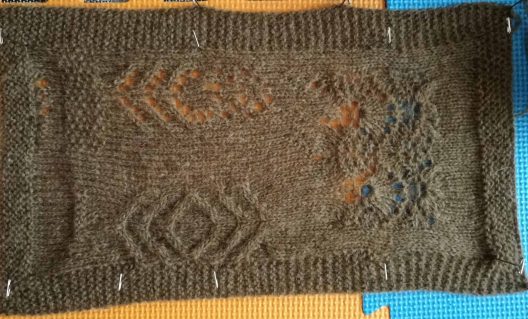 Left it 2 or 3 days, then another soak – a bit hotter this time. It came out even more drapier, and much softened, with that inherent prickle less noticeable. Fantastic stitch definition still, the cables I did look pristine but dainty and delicate, from the yarn weight, and the clarity of the rockrose lace is bob on. I think I could have blocked this more aggressively to encourage even more openness. 
I wore the swatch at every stage underneath my bra strap and happily went about my pottering about each time, even so far as to forgetting and end up going out for Sunday lunch with it poking out my top. It is lovely and warm, definitely a noticeable cold patch when I remove it! I've let it sit for a week or so, and just wearing it again now…it is a nice, soft, warm weight, and I'd be happy (and snug!) in a jumper of this; and I think a hat would be great too, I can't feel a prickle on my forehead.
Patricia: 
When I cast off my gauge was 22 st and 31 rows unblocked.  I washed it in cold water (no soap) and let it dry flat. I didn't really block it. Gauge changed a bit to 19st and 31 rows.  I wore it next to my skin (in my bra) and it prickled a bit at first, nothing too harsh, and I during the day I forgot about it. I wouldn't wear a top next to my skin, I would wear a cotton top under it, even just to keep it more in shape and clean.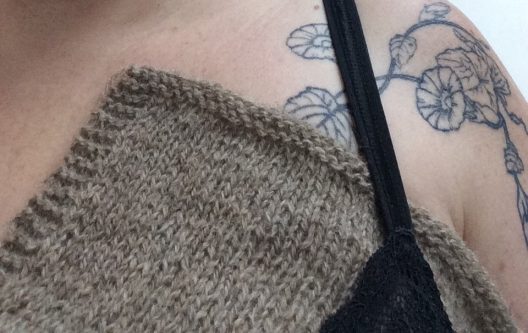 Phoebe: 

As you would expect with woolly yarn like this, the wool bloomed beautifully after washing, while maintaining really excellent stitch definition. While the wool was never rough, washing the swatch made it noticeably silkier. I wore the swatch in one of the large sleeves of my sweater without noticing it at all throughout the day. 

Final Impressions:Kim:  

I've just given it a vigorous 90 second friction rub and it is pilling a bit, but the fibres are really sticky and quite tough to pull off – I think with care and attention, a garment made out of this would last a long, long time. 

 

In summary, a fantastic yarn, one I'd be happy to use personally, and I'm very glad of the opportunity and introduction to it! 

Phoebe: 

I think Foula Wool would make a beautiful cabled sweater. The definition is lovely and I think the slight halo of Foula Wool adds a really nice dimension to the stitch pattern. I especially like the contrast of the halo with the slight crispness of the wool maintained through two washes. I also really enjoyed the natural white shade – it's a nice middle ground between being a bleached white and a creamy white. 


I do love doing reviews with more than one person. It is really great to get these dimensions of one yarn. What one reviewer calls a little prickle is another's (mine!) light-crisp-softness. And how that can change over time, from wear and washing is incredible.
I am yet to cast on with mine, so you will hear me report back on a podcast episode soon about my own adventures with Foula Wool. I know from previous experience of this yarn (in the DK form) that it is an great all round yarn – from garter stitch to lace and it is lace that I really want to try in this jumperweight.  Its already been mentioned this week on KnitBritish, but Emily K Williams Erradale shawl would be stunning in Foula Wool.

As would the Balvraid hap, by Rita Taylor, for Blacker.

It would also be lovely in the new Shetland Wool Week hat pattern, Merrie Dancers Toorie, by Elizabeth Johnston!

Thank you so much to Magnus at Foula Wool, and our intrepid wool reviewers, who always look at wool upside down and inside out for us!