A couple of weeks ago I went to the Scottish Smallholder Festival at Lanark. This is Scotland's largest smallholding event and I was asked by one of the organisers, Rosemary, to come along and show smallholders how much crafters value British breed wool.
Of course, it would have been sensible to take some pictures of the table – resplendent with the new KnitBritish banner – but I wasn't sensible! What I brought with me were samples of fleece, spun yarn and swatches of breed wool and fibre. I also had some knitted items and, of course, the KnitBritish breed blanket!
It was incredibly interesting talking to the people who stopped by the stall to feel the fleece and the swatches. Most of them had sheep and were either interested in getting their fleeces spun into yarn to sell, or were in the process of doing so. I also spoke to one or two people who had hobby flocks of mixed sheep and were having their fleece made into blankets or items of clothing, just so they could say it belonged to their sheep. I really loved that idea. These were not knitters or crafters, but saw the value in having something made from their small flock's yarn.
What was awesome was that those who were already having their wool spun were fired up with an excited/nervous energy and were raring to go with etsy shops, or self-hosted platforms. Some had questions about social media and using ravelry. This kind of engagement with the knitting community is truly the key to reaching the market and selling their unique blend or single flock yarns.
Frustratingly, there were people there  who came up to ask how to sell yarn and didn't really like my answer when I told them that they needed a strong online presence. One person basically asked what I was going to do to help them sell their yarn. I am ALWAYS happy to mention yarn I am knitting with or to review products or give a general shout out, but I can't do the job of selling yarn when the producer isn't all that interested in selling it themselves.
I know you, dear readers and those of you who also join us over at Wovember, know this, [most of you are the very market of whom I speak] but it bears repeating. If you are setting up a micro small yarn business, you need to have a good online presence to reach your audience. You need to get on Twitter and Instagram and you need to follow and interact with people there (Oh, yes! You do!). If you don't get your yarn, your sheep and your story out there then that is an awful shame. You also need to be selling online, whether on your own website, through etsy, Big Cartel, Shopify or something! If you need further information on any of those things I just mentioned you should check out the Wovember archives from last year, in particular…
 – Filling in the Gaps, written by me.
 – Five Straightforward Things Small Producers Can Do To Bring Them Closer To Their Customers, by Jo Milmine.
I'm not going to re-hash what is in those posts – and there is a lot of other info out there for you and places you can go for assistance –  but I will say that I am afraid making and selling yarn isn't going to be a 'bit of a sideline'. You do need to put some thought and work into it. You do need to build up an audience and a following and that is not easy when you have a farm, and maybe another (half a dozen) job too.
No one said it would be easy. However, there are a lot of people who are managing to do it and do it very well indeed, despite those factors.
If you don't want your yarn to go to the wool marketing board and you also don't want to have it spun and sell it yourself, then think about talking to your local spinning guild, or get in touch with any knitting groups, dyers or local wool businesses that you know of. You might be surprised how much of that raw product is snapped up. If you are interested in joining the dots between sheep, wool work and craft, you could consider starting a sheep sponsorship scheme, like the one run by Kate in the Borders, at Shankend. You could even start a yarn ad fibre cooperative with other local smallholders to spread the cost and work together to market your products.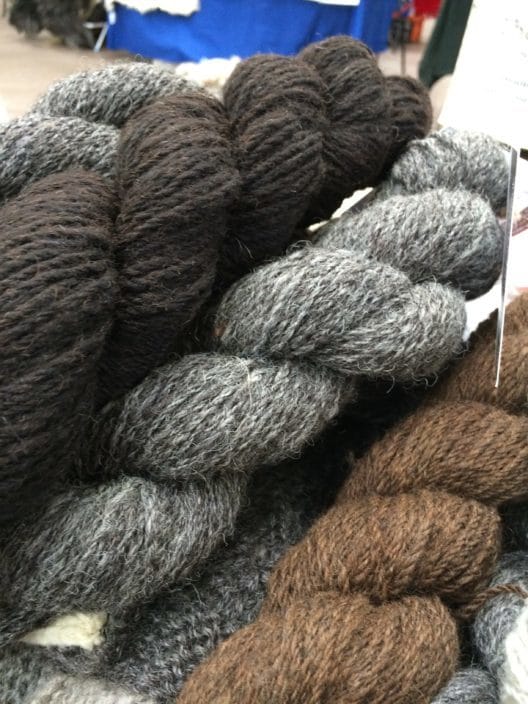 The biggest piece of advice I have for you though is, you have to find ways to connect to the yarn buying public, because they are not all going to be at your local farmer market or in your local grocery shop, or passing your honesty box at the end of your road (though, wool in honesty boxes is a lovely idea in addition to a website!).
The lovely yarn you see in the picture above? Well, those yarns and the innovative lady who has had it spun, came to visit me at the Smallholders. Julie Rutter lives in the Black Isle and has been working with local-to-her flocks to create lovely wool yarns, which will be launching soon. If you were at Loch Ness Knitfest you might have snagged a skein. Julie will be on KnitBritish in the coming weeks to talk about her business and that yarn, but you can read about it here on her blog and also find her on facebook and instagram.
: : : :
I want to say a huge thanks to the Smallholder Festival for inviting me along; I really enjoyed myself and it was a really informative and interesting day, with lots of animal too!
Thanks to everyone who stopped by the stall and put up with me getting excited at the sound of their forthcoming yarns! Thanks also to all those who came and had a knit at our crafty pen and to the young folks who wanted to learn to knit and went away with finger-knitted lengths made from British breed wool!
You may be aware, or it could have escaped your attention, but this is UK Wool Week. I've probably written enough for one night on wool, but over on the Wovember instagram, we have been encouraging you to show us your favourite sheep breeds. We'd love to know what yours are and why you like their wool, yarn and textile items. You could also tag your favourite small wool producers too!
Be warm and woolly!