Back in January 2016, myself and Isla Davison hosted a craft-along which truly celebrated natural shades of undyed glory from our sheepy pals and fibre friends. We wanted to show the value of the amazing range of colours out there, we wanted to challenge the people who thought all British undyed yarn was brown and we wanted people to see how harmonious and also how striking natural shades could be.
Clarification 27-6-18
I've had questions as to whether Uist Wool's Dile, Fras, Contraigh, Reothart, etc can be considered as 2 (or more) natural shades due to their variegated nature of different breeds. As the idea is to play with natural shades then no, you cannot use this on its own.
We will consider these yarns like a variegated colourway. You need to choose at least one other natural shade with these yarns. Thanks for understanding.
FURTHER CLARIFICATION 30-6-18
This seems to be confusing people.
ANY Variegated yarn (whether natural or for your dyed allowance) equals ONE yarn choice.
We could not have predicted how amazing the #naturesshadesalong would be or how many people still come and talk to us about how much they enjoyed it and how they were converted to using colours that Mother Nature gave us.  Next to the hapalongs, Nature's Shades is up there as my favourite community craft-along.
Flash forward to a few weeks ago and I see an indie dyer using the words 'British wool doesn't have to be boring and grey' – apparently whacking colour on it is what it needs. Upon challenging that sentiment the reply I got was, essentially, dyers need to save the British wool industry by overdyeing the boring, one skein at a time…
….Erm, nah, nope, NO and, actually, WTF?!
Colour is beautiful, and I adore what our dyers are doing with British wool! However, thinking that wool is not a product worth selling til you dye it is a really harmful idea, for so many reasons and for so many businesses.  It did make me think that here at KnitBritish we need another Nature's Shades party!
The rules are mostly similar to the first Nature's Shades, but this time there is a subtle difference.
| Nature's Shades-along
– As Nature Intended (option 1)
Cast on date is Friday 13th July
You can make any pattern, as long as you can wear it (no mug cosies or hotwater bottle covers.)
You can knit, crochet or weave
You must use at least two different natural shades.
This is a British and local wool-along. Please use British wool or, if you live outside the UK, use wool that is local* to you. If you cannot find local wool, you can use British wool.
You can use sheep wool or other animal fibre, blends, crosses etc, and you can use as many different breeds as you like,
but you cannot use dyed or bleached yarn. Keep it 100% natural.
The cast off is Friday 31st August
*local = your backyard, your immediate area, OR your county, state or country. Try to seek out wool or yarn that hasn't travelled many miles.
You can go ombre, gradient, monochrome. You can harmonise or go bold – just be playful with natural shades and think about different textures, breeds and animals!
Having talked about this online a little bit, I know that there are lots of people excited at the prospect of another nature's shades-along. However, I also know that there are people reading this who only knit with coloured yarns and are probably going – "OH NO! This isn't for me – that Louise is so inconsiderate". Well, this time there is a little something for you too.
In addition to "As Nature Intended" we will have a "Mostly Natural" option.  All of the same rules apply, apart from the following…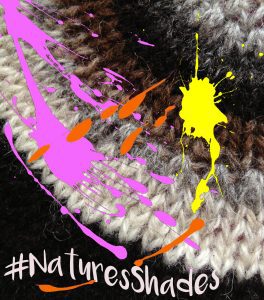 – Mostly Natural (option 2)
You must use at least two different natural shades. Your FO should use at least 75% natural yarn and…
Your FO can comprise of not more than 25% dyed yarn.
Of that 25% allowance you can use two different colourways MAX (variegated is allowed).
Believe me, I thought long and hard about this. I really want people to appreciate the natural rainbow, but I also really do understand that some need the comfort of a dyed shade to ease them in. So, essentially, this is a Nature's Shades with a flourish of colour. It should not be looked at as an easy way to join in though, I really want you to think about how you use your small coloured allowance to interplay with the natural, which will be the main event of your FO.
So, whether you are a toe-dipper into natural shades and want to comfort of a little colour (just a little, mind) or you want FULL ON Natural fibre glory. hopefully there is something for everyone. You can also double dip in our other KB-alongs, like The Remakery and The Good Intentions Club, if your intended projects fits with those.
There will be a chatter thread in the KnitBritish group and a separate thread for finished objects. There will also be prizes for FOs too. I do know lots of you enjoy our craft-alongs outwith social media and Ravelry and just make along with the podcast, that means a lot too and I hope you also enjoy this Nature's Shades-along.
Let's use #naturesshadesalong on social media and start stash-diving and planning! (probably wise *not to hashtag ' as nature intended ' or 'mostly natural' as there may be some other kinds of natural, ahem…!)