Having looked at designs which highlight the very best of what Mother Nature gave our sheepy friends, I thought that it might be an idea to think about transmuting some of our favourite colourful designs into natural shades….Let's go greyscale…and I am really feeling those greys today! (You may also see here that I use the term gradient a bit loosely)
Drachenfels, by Melanie Berg, is an elongated triangle shawl using slipped garter colorwork. It's knit in a sport weight yarn. 
I think this calls for some bouncy with great definition on all that lovely, lovely garter. Blacker Yarns Guernsey yarns in Romney, Manx and Hebridean blends would be so gorgeous in these shades and the 5ply yarn is spun to be wind-proof.
If you've been taking part in the swatchalong you may know that you can get a 10% discount at Blacker Yarns with the code SWATCHALONG2015 (you only have til 30th to use it!) Perfect if you want to swatch AND knit a lovely natural gradient shawl!  
Let's stick with Blacker for the next one. I love Clare Devine's Tea Collection hats and I was so lucky to get to test a few.  These are available in an ebook for £10, or singly for £3.50. Chamomile is my favourite.
Now, I know it would be hard to pick any colours that weren't Ginger's Hand Dyed, but I think this hat, with its beautiful textured stripes, would be ripe for some gradient magic; in a soft yarn that is going to keep you cosy this winter. This hat is so characterful that nothing less than a touch of elegance will do!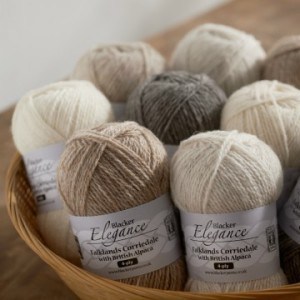 I don't think I have talked enough about the Elegance range from Blacker. It is a woollen spun blend of 80% Falkland corriedale and 20% alpaca and knitted up it is light, airy, warm and a real comforting knitted fabric. The soft natural shades are singing with harmony and that grey, let me tell you, will satisfy all grey needs everywhere – it is gorgeous. I'd use the grey as the main colour and decelerate with stripes of nutmeg, spice and silver! The Elegance range costs £5.40 and it is a yarn that is definitely worth your attention.
Want to be playful with your natural colours and come up with your own striped gradient combinations? 
Ma Belle Amie is a gorgeous FREE pattern, by Yarn Love, and uses four colours in DK weight and you could really spend some time thinking how you want your natural shades to look. There are instructions in the pattern for using colour, but the adventurer in me would want to think about which two colours lead into one another and how they can interact. I think lustre yarns would totally add to the look of this cowl and imagine longwools like teeswater and wensleydales and Leicester longwool. Or go wild and raid your favourite yarn seller's DK range. Look over here at Black Bat Rare Breed yarns for example – there is a veritable lucky dip of colours and breeds, from Masham to Lleyn and Hampshire Down for your creams and beiges; and Jacobs, Manx, Zwartbles, Hebridean and Welsh mountain breeds for your darker spectrum.
You may have heard me talk on the podcast recently about Emily K Williams Trondra hat. Ascleit hat and cowl are another two designs I espied her wearing at Shetland Wool Week.
Emily designed these using The Knitting Goddess Take 5 gradient skeins. I love the very subtle colour change in these designs and how the linen stitch is simple, but quite stunning. This could be the perfect project for your own natural gradient magic ball, but again, if you are looking for a variety of natural colours to create your own subtle colour changes then I do think that Blacker have more choice – certainly when it comes to different breeds too.
A combination of Shetland and Gotland would be soft, with a dash of shine from the Gotland. I like the idea of these two slightly different textured wools adding interest in the linen stitch too. With these glorious greys I would go for a bright, light main colour like this BFL.
Greys not your thing? (Say WHAT?!) or maybe you want to go really subtle? How about playing with the very light natural shades from white to fawn with a really dark shade to enable a really stunning pop with the lighter linen stitch?
I can't help but feeling a little hap-py about The BerlinKnits Sweater by Isabell Kraemer.
Anyone who took part in the KnitBritish Hapalong earlier this year will know that the garter centre and old shale border of the hap shawl looked just as gorgeous and effective in natural shades as it does in colourful ones. The BerlinKnits Sweater has a really big affectionate nod to that hap, I feel, and I think this fingering weight sweater would be sensational in Jamieson's of Shetland Spindrift marled shades for even more natural goodness! 
I know myself that we can all be very colour lead; bright, bold, pastels, jewel tones…we like to cover ourselves in colour, particularly when the weather is cold, grey and dull. However I do think that natural fibre shades, as mother nature intended, can be dramatic and striking, as well as earthy and muted and we should perhaps consider that natural fibre rainbow as a crazy new alternative!
| Giftalong2015
I should add that if you are at all interesting in casting on some patterns in natural gradients this winter the Ravelry Indie Designer Giftalong kicks off tomorrow until 31st December. You can read more about it here. Some designers are offering 25% off on some of their patterns using the code giftalong2015. Clare Devine and Emily K Williams have patterns on offer for the GAL, along with 333 other designers. If you want to cast on some gift knits for Christmas then this is a lovely way to join in with others and support indie designers too. 
| Information 
Images are from Ravelry and are the copyright of those named in the captions. Click on the image to link to the Ravelry page.  Yarn images are copyright to Blacker Yarns used with kind permission