So far this Kitsmas we've had hats, shawls, cowls, ganseys, felt and angora/wensleydale yarn kits. All that and we are still left with cold feet though! Today I have one or two ideas for warm feet kits this Christmas (and I am getting more comfortable at using the C word the more we progress through these posts!)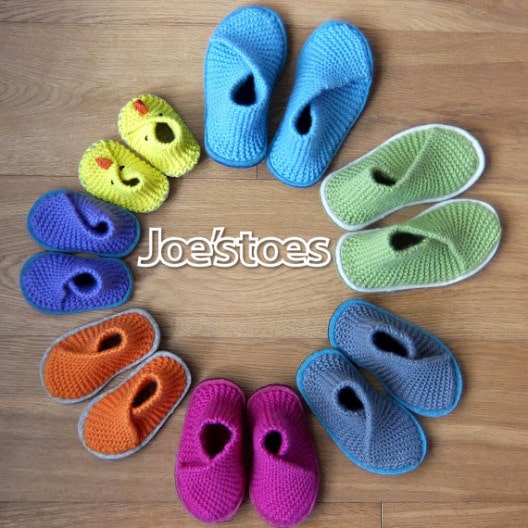 I really wanted to include slippers, as well as socks and I was delighted to find Joe's Toes! Joes Toes is Amanda (mum of Joe) and she has created these wonderful kits, which consist of felt soles and enough wool to create a very simple, but warm, cosy and incredibly sweet pair of slippers. There are kits for adults, kids and babies and prices start at £9.95 for the smallest size, £15.95 for the kids and £21.95 for the larger. The kids and baby slipper kits contain British wool with cosy, yet hardwearing Herdy for the kids and BFL for the baby kits. Kits come complete with instructions and there is also a tutorial online. I think this would be a really great gift for all knitters, particularly beginners. 
I mentioned Sylvan Tiger's shawl kits in an earlier post and Katie also stocks the Lacewing sock kit.
The top down, heel flap socks, featuring a 12 stitch lace repeat, are another design from Gwen Wagner-Adair's Summer Flies collection. The kit contains the pattern, which contains both charted and written instructions, and a skein of 100% BFL 4ply yarn dyed by Katie. The colour included is Damsel, but you can choose any base or colour from those available in the shop by dropping Katie a line via her etsy shop. The Lacewing Sock kit costs £18.
If you are not sure if your loved one likes hand-dyed yarn, or can knit lace, etc there are still some lovely sock kits out there which would make lovely gifts. 
Suffolk Socks have kits which contain West Yorkshire Spinners signature yarn, stitch markers and a lovely handmade bag. Julie of Suffolk Socks also had some lovely Christmas themed kits in the shop too, but I can see they have all been snapped up. I really like the option of a commercial yarn, but with the hand-made elements of the bag and stitch markers. There doesn't seem to be a pattern with this kit, but any sock knitter will have a few in their library! This kit costs £35 and I would also urge you to check back to see when the shop updates. Julie also sells project bags and a range of yarns, needles and notions. 
This is the last of the Kitsmas features – don't forget that 21st December is the last posting day for Christmas (in the UK) for most sellers (do check!) so don't leave it too much later to get your Kitmas shopping in!
| GIVE AWAY! Amanda from Joes Toes has offered a baby slipper kit, in lovely BFL, as a prize!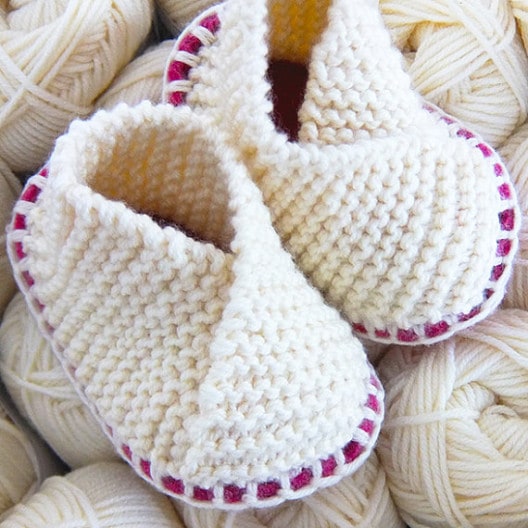 To be in with a chance of winning please go to the Joes Toes shop and have a look around and leave a comment below stating which other items might make their way onto your Christmas list! Only entries which answer the question will be entered. The give-away ends on Friday 8th January at 12pm (UK) time and an entrant drawn at random shall be the lucky recipient. Thanks so much to Amanda and good luck!