I have lots in this episode, but I know what you really want to know…you want news from Edinburgh Yarn Festival juicy news don't you? I have lots of beans to spill about vendors and more classes!!
You can listen on iTunes, the podcast app, or search your favourite podcatcher.
Today's episode is sponsored by Edinburgh Yarn Festival.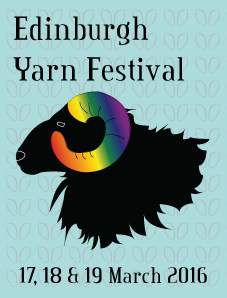 Scotland's premier knitting event is being held from 17-19th March 2016. With world class tutors, a packed marketplace with hand-picked vendors, meet-ups, demos – and the Podcast Lounge – Edinburgh Yarn Festival is a must on any yarn-lover's calendar.
Click on the logo to visit the website and do sign up for their email newsletter.
| SHOW NOTES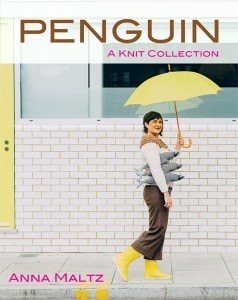 I received a copy of this incredible book, by Anna Maltz and like me you may have been utterly delighted by sneaky peaks of images from the book on social media and ravelry. I see Anna as a real explorer and adventurer in knit and in colour and this book is a real testament to that; there are 11 designs all inspired by our penguin chums and I love how she had captured so much of their charm, their nature and their characteristics in playful and fresh designs. I am in love with the Fledgling mittens, Teenguin cardigan, the boxy Humboldt sweater and the Antifreeze socks!
Listen in for the full review and hear me not be sorry about overusing the words joy and delight. This would be a superb gift to yourself this Christmas. It cost £18.50 from Anna's shop or ask in your LYS.
| Kitsmas: Chopped Ginger Hat Kit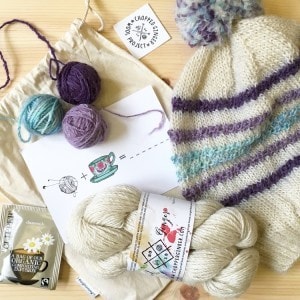 If you are looking for a very special gift for a British wool lover, how about this kit from Chopped Ginger? It contains Teeswater yarn, which Sariann has sourced from a single flock in Yorkshire and the pattern for Clare Devine's Chamomile Hat. In addition to the natural shade – a creamy golden hue – there are three dyed shades; one dyed by Ginger Twist Studio's Jess and two complementary shades, which were naturally dyed by Sariann. I do think this is a really incredible yarn ( I've spoken of it on the podcast before) and the combo of yarn and pattern, in a lovely bag…with a teabag too…is just too lovely.
The kit costs £25 from Chopped Ginger and you just won't find another special kit like this, this Christmas – single breed, single flock UK wool and so beautifully presented. 
| Edinburgh Yarn Festival EXCLUSIVES 
There are SO MANY things to divulge that you need to listen in for the full download. For all those who missed out on classes when they sold out a few weeks ago I can reveal that MORE CLASSES WILL BE ADDED! There will be repeats of sold out classes and new classes too – there may be spinning; there could be crochet; there may be knitting techniques and there is a good chance there are classes concerned with colour! What's more….EYF classes will be held on Sunday 20th March 2016 too! More chances to make the Edinburgh Yarn Festival goodness last even longer now! Classes will go on sale soon, so do keep tuned to EYF social media and make sure you sign up to their newsletter. 
In addition to the class news I also can divulge some of the vendors heading to EYF2016! I set the scene with sounds from this year's festival and we wander around an imaginary market place and find out about some of the vendors who will be visiting EYF for the first time in 2016. [links to vendors to follow – you need to listen in!]
All the vendors will be announced very soon, as will those extra classes and tutors – thanks to Jo and Mica for such delicious gems of news.  
| Small gestures swap and Breed Swatch-along news 
The Small Gestures Swap closes on Friday 18th and I will pair you up soon after that. Don't forget to gift your pattern to your partner by Christmas Eve.
If you are talking part in the Breed Swatch along do remember that it is a great idea to support small wool businesses and farms when buying your wool. Jane at Woolsack has created a single farm yarn page and this is a really valuable resource.
Leigh, from the LouLeigh podcast. wrote to me recently to suggest that the reviews we are creating would be great to feedback to the small wool businesses we bought the yarn from. This is such an excellent idea, particularly when some yarn sellers – I am thinking farm yarns – aren't necessarily using their own product. Your knowledge may be incredibly helpful and could really help them with marketing and bridging the gap between them and the yarn buyers and it's always nice to get constructive feedback, isn't it? Thanks to Leigh!
| Next time 
Don't forget…There are three giveaways on the blog at the moment. I will be back on Monday 21st for the last podcast of 2015!
| Information Images from Penguin: A Knit Collection are copyright to Anna Maltz. Teeswater hat kit copyright to Chopped Ginger and Edinburgh Yarn Festival images  – all used with kind permission. Music: Carefree by Kevin Mcleod;  G of the Bang by Doctor Turtle. Sheep courtesy of Felix Ford.  Snippet of Hello by Adele totally and utterly not used with kind permission, but with much admiration! (does that cover me?)