Autumn is here now, for sure! I know this because I feel the need for a coat with a hood, boots and a very long scarf!
I wrote not so long ago about those autumn colours calling to me and the need to get cosy. Well, I could find no cosier than the parcel I unwrapped from Little Houndales Knits.

The Little Houndales shop was one of the first places I was directed too when I started asking about people's favourite British wool.
Their aran Suffolk crossed with 50% British alpaca is a truly delightful wool and the sheepy part comes from the company's own Suffolk sheep, kept on the Yorkshire Wolds.
The wool is has an unbelievably soft handle and lovely texture with the longer, softer alpaca fibre and the pure wool.
I really adore the depth of colours in these yarns with lighter flecks reflecting out and there is a lovely lustre too.
Having bought five colours in the range; dark pink, dark plum, natural gray, dark denim and dark purple – sumptuous colours! – I felt my heathery hues needed a little green and ochre for the full autumnal feeling. I went stash diving and found some great New Lanark Donegal Silk Tweed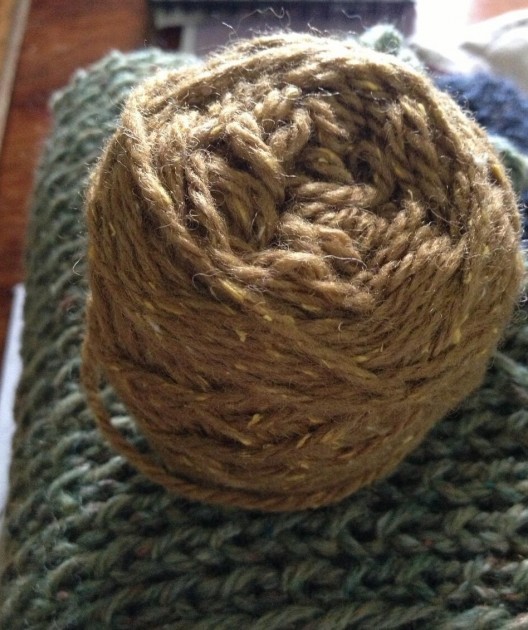 In knitting this scarf there were a few things I knew I wanted: I wanted it to colourful, I wanted it to be long and I wanted it to be easy enough a project to take to my knitting night (so I could do plenty of yakking and not worry about dropping stitches!)
I knit it in a twisted rib to add a little bit of interest and the effect reminds me of furrowed fields. I also alternated the rib pattern between colours. I wanted it to have the look of sewn together squares, but could not be bothered to do any sewing!
Yesterday the lovelyfella and I took a drive, had the best locally-caught fishy tea, visited the Delting Marina and went to the little woods at Voxter and took a couple of pictures. The colours around me just fed my seasonal spirit to the brim!

You can see how I knit it here and do one yourself, if you fancy!
PDF: furrow scarf
Little Houndales Knits Yorkshire Wolds Aran with Alpaca costs £6 for a 50g/70m ball
New Lanark Donegal Silk Tweed Aran costs £4 for a 100g/160m ball.
Check them out!