Welcome back to the podcast! This week, as a bit of a addition to an article I wrote recently, I'm talking about what you love about the British wool indiestry!
↓Listen to the podcast↓
You can also listen on iTunes, the podcast app, or search your favourite podcatcher, if you prefer!
This episode is sponsored by our KnitBritish Woolly Mucker, Emma Goodlad
Emma is Hosut on Ravelry and Goodlasshandicrafts on Instagram and etsy.
Emma has a craft business and is enjoying exploring her Shetland roots in her own knitting!
Listen in to hear me talk to Emma later in the show.
| Show notes
Last episode I hinted that I was going to be visiting somewhere special for the podcast and I managed to keep it a secret right up til I got there.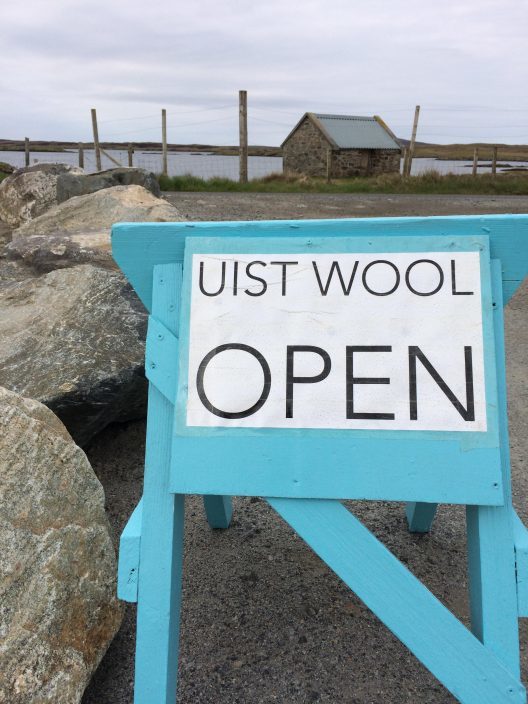 I visited Uist and, more precisely, Uist Wool and spent a whirlwind time there getting a tour of the mill and chatting with staff about the work they do there. I recorded a lot, so there is a lot to edit – as you can imagine – so you will have to be a bit patient for this episode, but I promise you it will be worth the wait! Thank so much to Dana, Hazel and everyone at the mill who made me feel so very welcome!
| What you love about small scale and indie British yarns
A while back I posted this image on Instagram as part of a bit of "market research" for an article I was writing for Knitting Magazine. You replied so passionately that I felt I should coincide that article with more of your comments on the podcast (800 words in an article can't convey all your love.)
The article is out now in the current issue of Knitting and it has a nice wee bit of British content, including an incredible sweater pattern, by Francesca Hughes in Devonia DK (ooh my!).
I just love reading through your comments on this post – it is so clear that while there are incredible individuals and small businesses who are making massive strides with their woolly passion, to create wonderful wool yarns there is also you – US – the wonderfully informed, truly passionate yarn-buying public who know what we want and what we love (and 8/10 its smell! ahaha!)
Keep seeking out the small wool biz and these wonderful small produced, unique yarns and keep sharing them on social media. And if you are a business or just someone who knows that their flocks wool will make a crackin' yarn then work to get that story out there!
When I was in Uist I met Linda, who has a flock of the most gorgeous Black Welsh Mountain sheep. She decided to make changes to the animals she kept and decided to go with the BWM specifically because of the fleece. As a knitter herself, she could see the potential in the fleece for a great knitting yarn.
This slideshow requires JavaScript.
Linda sells her clip to Uist Wool, who spin it into the Tir DK and it is a cracking wool (some came home with me!). I just love Linda's discernment in choosing the breed for the fleece and think there could and should be more of this. Fleece is defined as a by product, but that doesn't mean it is valueless. Can't wait to see your jumper, Linda!
| Woolly Mucker
It was lovely to chat with our Woolly Mucker Emma Goodlad and ask her our two part questionnaire. As I had hoped, asking two questions really does grown into a larger conversation. The questions I always ask are as follows.
What was the first thing you remember knitting and the last thing you cast off?
Which yarn and pattern (not necessarily used together) would you want to pass on for others to try and why are they so special
Emma is a relatively new knitter – like our mucker last time, Alison – and boy! She really approaches knitting with gusto, particularly in the two hap patterns that she talks about knitting for her neblings – The Brora Cobweb Shawl, by Gladys Amedro (in actual cobweb!) – available from Jamieson and Smith –  and the Stringavoe hap shawl, by Violet McQuade for Jamiesons of Shetland (it's not on their website, contact Jamiesons if you want info.)
https://www.instagram.com/p/BRIOHwvDoxq/?taken-by=goodlasshandicrafts
Listen in for a lovely chat about how Emma is enjoying discovering her Shetland crafty heritage and what it felt like to go into Jamiesons for the first time, as a knitter! Thank you so much, lovely Emma, for sponsoring and supporting KnitBritish.
| Clare Devine – From Dorset, With Love
Clare Devine has launched a beautiful digital pattern collection this week which beautifully illustrates how place can leave a lasting impression on you.
Two years ago I went on a road trip – the best kind of road trip – the 'change your life' kind of roadtrip! I didn't realise back then how much that summer weekend away would shape my life in the years to come. So much has come from those 3 glorious days in Dorset.

Clare Devine
There are 6 patterns in this collections which explore the inspirations from that trip. Two have already dropped – the stunning Lulworth Cove hat and the Swyres Head mitts – and more will drop, like pennies from heaven, over the next week or so …. including Clare's first garment pattern – how exciting?! You can buy the entire collection right now on Ravelry and the patterns will also be available as single pattern downloads too!
As Clare is so lovely, she has offered a copy of the collection as a giveaway! You can find the entry thread over in our Ravelry group. Thank you so much, lovely Clare and congratulations on a stunning collection that is going to have all our knitty hands get grabbing for the yarn!
| Next Time!
Thanks for listening. I will be back next week with some remakery news, some dates for your diary and some crochet cast offs!
| Information
Music: Carefree by Kevin McLeod and Singin' in The Rain (demo) by David Mumford – Both are on FreeMusicArchive and are both shared under Creative Commons Attribution license. Images are copyright to those attributed in the caption or in the accompanying information. From Dorset, With Love image is copyright to Kate Sullivan, other images are mine.