There are a couple of lovely giveaways in the KnitBritish Ravelry group that I don't want you guys to miss out on!
| From Dorset, With Love.
Clare Devine has launched a digital pattern collection, which beautifully illustrates how place can leave a lasting impression on you.
Two years ago I went on a road trip – the best kind of road trip – the 'change your life' kind of roadtrip! I didn't realise back then how much that summer weekend away would shape my life in the years to come. So much has come from those 3 glorious days in Dorset.

Clare Devine
There are 6 patterns in this collections which explore the inspirations from that trip. There is the Lulworth Cove hat, deeply brimmed and richly textured; The Swyres Head Mitts in divine yarn from Phileas Yarns; two awesome sock patterns, in Ripples Crafts Sock – Studland and Tyneham and Corfe Castle – a gorgeous shawl, featuring and effortless garter and eyelet design. Also to come is Clare's first garment design – Kimmeridge!
You can buy the entire collection right now on Ravelry and the patterns will also be available as single pattern downloads too!
As Clare is so lovely, she has offered a copy of the collection as a giveaway and has added three runner up prizes of single patterns. You can find the entry thread over in our Ravelry group.  I will close this on 2nd of June and draw winners by random.org fairly soon after that. Thank you so much, lovely Clare and congratulations on a stunning collection that is going to have all our knitty hands get grabbing for the yarn!
| POM POM is 5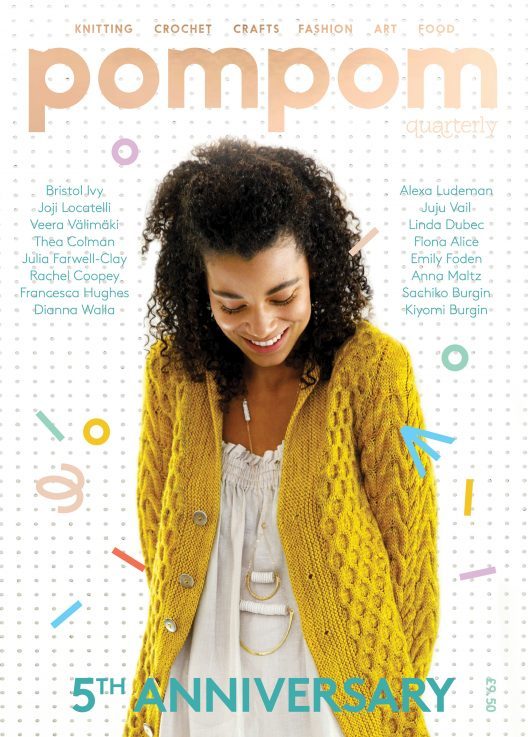 PomPom Quarterly are celebrating their 5th anniversary this year! There is a BUMPER issue which is hitting door mats all over the world right about now and you can listen to me peek between the pages on tomorrow's podcast! (spoiler: It is pretty incredible!)
There is also going to be a wonderful birthday bash happening in London in July!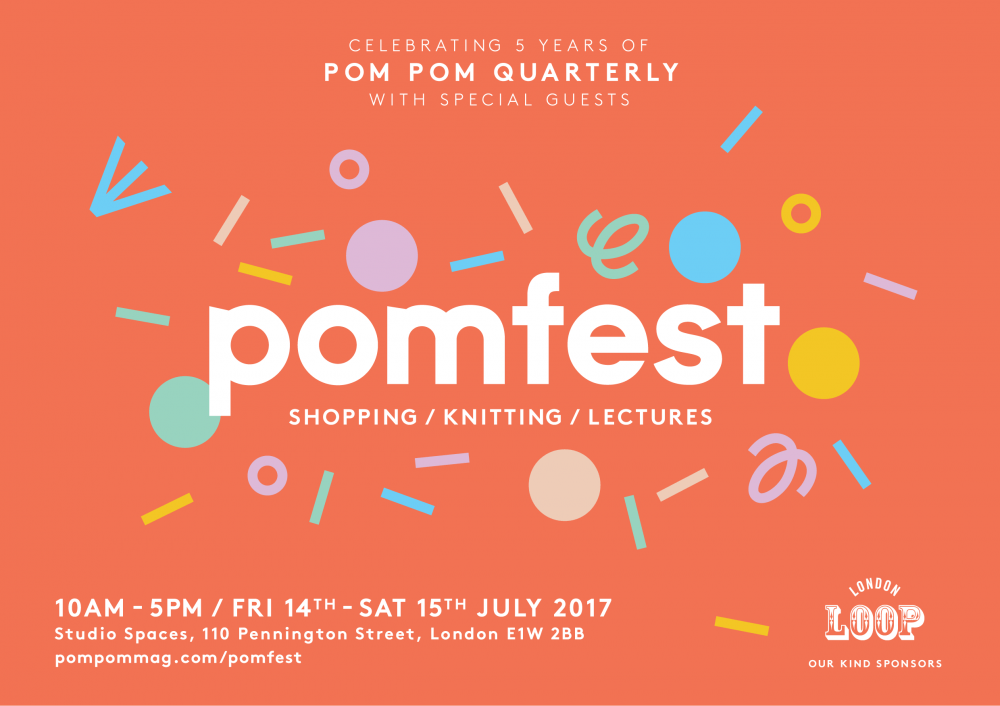 On 14th and 15th of July, Pomfest will be held at Studio Spaces, Shadwell. A renovated factory in this fast-developing part of Tower Hamlets.
The Pomfest marketplace will play host to a selection of the finest indie yarn producers and dyers from all over the world, including Viola Yarns and Julie Asselin; La Bien Aimée and Dandelion Yarns; John Arbon Textiles, Coop Knits and Kettle Yarn Co. will be there too with more to be confirmed! There will also be panel discussions from international woolly speakers, like Clara Parkes! and talks from Pom Pom designers Julia Farwell-Clay, Thea Colman, Veera Välimäki, Olga Buraya-Kefelian, and Emily Foden.
All of this AND a Friday night party! Tickets cost £15 for each day and also £15 for the evening party (John Arbon WILL be your DJ – worth the ticket price alone!) I hope you can go – I reckon it will be a really special weekend!
Pom Pom, so lovely and generous, have offered a lucky winner a pair of tickets, so that they can take a pal and can go to the marketplace and enjoy the Pom Pom party vibe! I am about to open the giveaway thread in the KnitBritish Ravelry group, so that you can enter for that chance! Please only enter if you can definitely make it to London (travel/accommodation is not included) – you can choose which day you want to attend. I will close the thread on 16th June and draw the winner at random. Pom Pom will email the tickets to the winner.
Pom Pom's loveliness goes on and on! They have also given us a copy of the newest issue to giveaway and (to save confusion in the rav giveaway threads) you can enter to win that RIGHT HERE!
To win a copy of Pom Pom Quarterly, issue 21 – take a look at the designs in this issue (click here to see them all) and comment below with what you would cast on first – its gonna be a struggle as there are SO many awesome designs.
I'll close this also on June 16th. A winner will be drawn at random.
Good luck and thank you so much to Clare Devine and Pom Pom Quarterly!
19/6/17 Update
I pasted all the comments in random.org  – Congrats to Heather Jones! Your Pom Pom will be winging its way to you soon!

| Important info – Please read
Please only comment below if you want to enter the giveaway for the issue of Pom Pom – the other giveaways are in the Ravelry group and the links will take you there. Entries on the blog for the other giveaways mentioned will be deleted, so please read carefully!
Images here are copyright to their owners and used with kind permission. Please do not reproduce without seeking permission from the owners.