There are fewer than two weeks of knitting in the #bookofhapsalong KAL, if you are taking part in the competitive element and using a British wool (if you are in the UK) or (if you are not in the UK) a local-to-you wool. I thought I should share the prizes with you!
I have a prize for each and this is the prize for the project using British wool…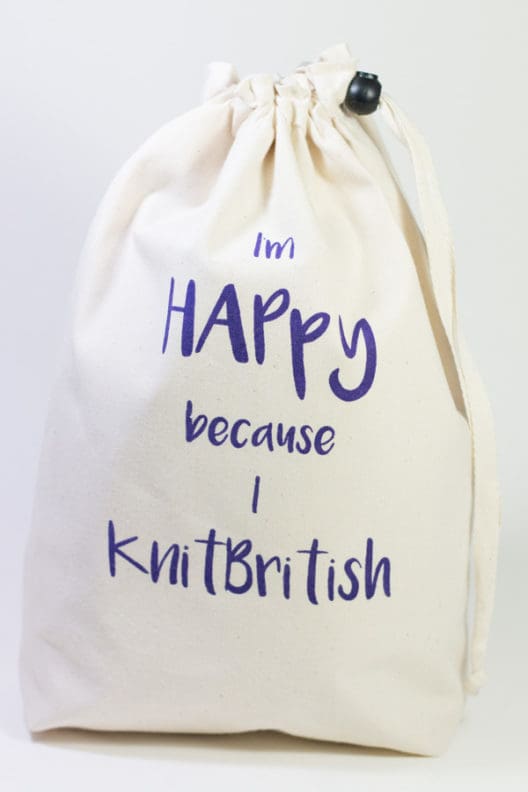 The lovely Joy – The Knitting Goddess – has given a gigantic KnitBritish HAPpy bag as a prize (rrp £25). The bag is made from heavy Fair Trade cotton and uses inks approved by the Soil Association. This bag holds 600 grams of wool! Enough for the biggest of hap projects. I will find a wee woolly addition to include with this prize (and which will probably fill the tiniest corner of this huge bag!)

For the KnitLocal prize I have a tote bag which was donated by Kelly Connor Bags and I have a skein of Ginger's Hand-Dyed Sheepish DK in Sound and Fury. I always struggle a bit when buying yarn for prizes as to which colours will be best, but this steely blue grey is just gorgeous and the 100% BFL is as smooshy as you would expect!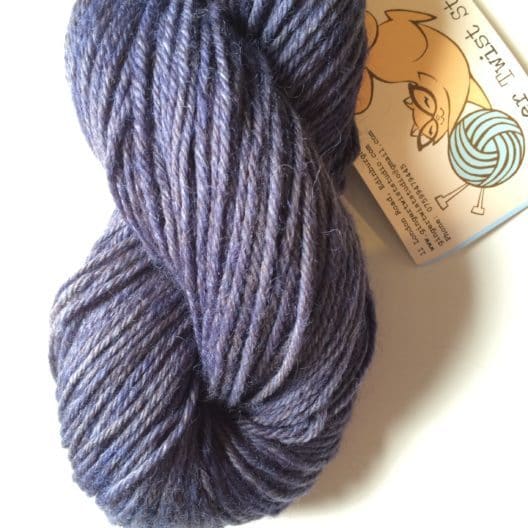 If you are taking part in the Book of haps-along and are using British or local wool then don't forget that you need to post your FO image in the bookofhapsalong FO thread by 11.59pm (UK time) on Sunday 14th August. You also need to say which yarn you used and if it is British or local. I will pick winners by the end of August/beginning of September. GOOD LUCK!
Of course, you can keep on knitting on your haps long after this date…I intend to soft-close the hapalong on 24th September, but – like the haplaong2015 – I won't close the chat thread!
| hap progress
my own hap progress has been a bit slow, if you listened to the last episode you will have heard why! (and I will talk more of other distractions soon!) but this week sees me with a bit of an RSI in my right hand – not good for 1×1 rib on my nuthap. So it is to one side for the time being, but I intend to take it on my summer hols in a week or two – perfect for campervan travels!
I wanted to share some of the awesome haps in this KAL, which people have been sharing on IG. I will update this post with images and info as and when I get permission (- please remember copyright of the images is with the original poster on IG!)
Maryjo's Theme and Variation utterly shines!
https://www.instagram.com/p/BIiQ3z8j502/?taken-by=maryjoord
I love Jennifer's Hamegaet – it looks so elegant!
Alix looks super chic in her Theme and Variation
http://www.instagram.com/p/BH6cYGmApsC/?taken-by=itsafineline
Haps on Holiday! I love Pip's Hapisk progress on her Italian getaaway.
The lovely Joan, at Ginger Twist Studio, models Jess's Nut-hap in WYS and Brigantia! Cozy!
ah! be still my heart! Look how lovely one of the new shades of Lyonesse, wool and linen blend, is in Meg's Uncia!
Maylin is a super-trooper multi-happer. Here is her Theme and Variation…
...her Hexa Hap in Buachaille yarn…
…and her Shore hap in progress at the top of a hill in the Lake District!
I hasten to add that these are not the only hap Maylin has knitted for this KAL! I told you, Super-trooper, Multi-happer!
As I said, I will add more images here, but thank you to everyone taking part in the KAL for your awesome hap enthusiasm! If you aren't taking part in the KAL, do look at the hashtag #bookofhapsalong on social media and live knitcariously through others!