Back once again in the podcasting corner – and this episode I am on cloud 9 of worsted! I have a review of Jamieson and Smith's new heritage natural range and a look at the new book Knitskreig: A call to yarn. All that and even more squishy wool too! 
↓Listen to the podcast↓
You can also listen on iTunes, the podcast app, or search your favourite podcatcher, if you prefer!
| Show notes
| Jamieson and Smith Heritage Naturals 
I was so excited to be asked if I wanted to try out the new Shetland Heritage yarns from Jamieson and Smith. You can imagine my excited answer! I've knit with the dyed shades of the Heritage yarn before. These were developed with the Shetland museum, to create a yarn range that was a close to original yarns used in Shetland's knitting past and dyed in colours which complemented the original shades of Fair Isle knitting found in examples in the museum. Unlike the other yarns in the range at J&S, the Heritage range is worsted spun and – if you are used to the awesome woollen spun jumperweight – you truly won't believe how different the Heritage is until you hold it in your hands. Airy, little clouds of worsted deliciousness is my first description. There are 6 natural shades which have been added to the dyed range (12 shades) and you know how I love the nature's shades!  Natural white; fawn, moorit, light grey, grey and Shetland black are the most beauteous natural rainbow!
I knew I needed to knit more than a swatch in this yarn – it begs you to think selfish knitting! I thought why not marry it with something Fair Isle? Ella Gordon's Crofthoose hat seemed a perfect partner.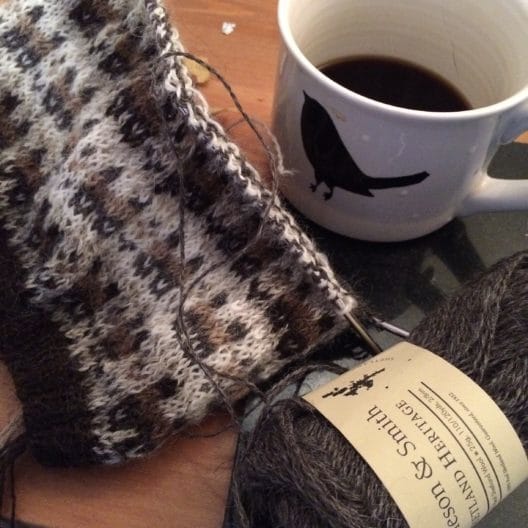 As always, you need to listen to the podcast for my full review and woolly appreciation, but Jamieson and Smith Natural Heritage is a wondrous yarn – it is light and airy; the knitted fabric is delicately textured with long fine Shetland fibres and the yarn blooms beautifully. It is just wonderful for Fair Isle (I keep taking the hat out and stroking it!) and it will make very special lace garments.  I am incredibly proud of this yarn, made from local Shetland wool and spun to feel and look like the handspun yarns of Shetland's knitting heritage! I foresee a lot of Heritage yarn in my future. Thanks to Kharis at J&S!
| Knitskreig review
Unicorn Press sent me a copy of their recent publication, Knitskrieg: A call to Yarns, to review. This book was written by Joyce Meader and is a described as a history of military knitting from 1800 to present day. The book is made up of five sections – 19th Century, 20th Century, 21st Century, Anti-war and peace movements and knitting patterns. The history of military knitting is not something I know much of and I think this book is great at filling in that knowledge – it begins with the Battle of Waterloo and looks at the War of Independence in the US, the Crimean and Boer Wars, through to the two World Wars, mentioning Korea, Rhodesia and the Falklands, as well as Iraq and Afghanistan wars. The sections on knitting in warfare are nicely rounded by a section on knitting for peace and in protest of war.
It is the archival imagery and sketches which are used to best effect in this book, unfortunately the majority of the photography that has been taken for the book is grainy, often out of focus and poorly lit. I suspect some have been taken to "look" archival, but it doesn't work. The book comprises a very interesting ephemera of military knitting, but I.m afraid the layout of the content, and particularly of the knitting patterns didn't impress me. As example, five of the knitting patterns use New Lanark yarn and the yarn is described differently each time – a consistent style should be applied. I feel this book could have done with the help of technical editor, in addition to a bit more care and attention to layout, style and image use. For me these things do impact on the enjoyment of the book, which is a shame, as Meader presents a lot of useful and interesting info here. Knitskrieg costs £18.99 and is available from most booksellers.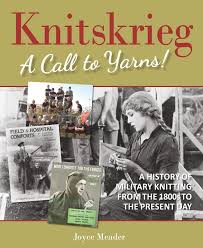 As I always say, you can rely on KnitBritish for 100% honest review and genuine opinion!
| Yarn Road Test (part 1)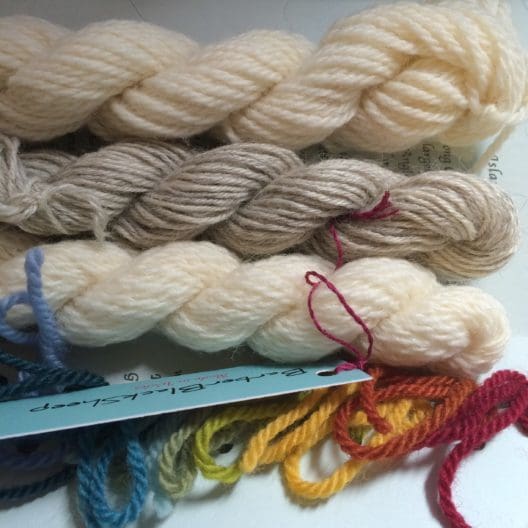 I was asked to review some yarn from Barber Black Sheep. Katharine Barber is a Welsh dyer and has recently had her own flocks Welsh mule wool spun into a very limited edition yarn. Katharine sent me some aran and some fingering Welsh mule, as well as her BFL/Gotland and Silk blend to try out. I got the aran swatch knitted, but I've had a flare up in my hand, so I can't currently knit with the rest. Hence why this is a two-part review! 
What struck me about the aran 'Hafren' yarn was the utter bounciness of the wool and buttery feel. The yarn is worsted spun (a theme today!) and it has such a lot of body. I really wanted to see how it knitted and opted for my favourite garter stitch. I knit this on 4.5mm needles and the resulting swatch is very elastic, very soft and when you squish it it has lost none of the bounce and body. There is also a lovely faint lustre too. Rubbing the unwashed swatch on my skin it   q  feels almost creamy – enough textural character to make the garter bumps crisp and defined but definitely no itch. Washed and blocked it retained all that lovely squish and bounce and I am already thinking about sweaters!
Later this month I can tell you about the other weights! My yarn is undyed, but Katharine is a dyer and has created a gorgeous pallete that really complements this yarn and which is inspired by her childhood memories in Wales. Hafren aran comes in 50g skeins and cost £7.50 / 100m. The shop is closed til mid-month, but you can see the full range of yarns at the website.
| Hodilums
I am going on holiday! The lovely fella and I have hired a campervan and we are going up to the highlands for a tour about. We've obviously been to the Norther most point of the UK, but on the mainland we've not been further than the Black Isle. I can't wait! What is your favourite knitting projects to take on holiday?
We are going to be going to the Black Isle, up the east coast to Caithness, along to Durness, Assynt and Ullapool -If you have any local wool/fibre/sheeprecommendations around those areas then give me a shout!
| Bookofhapsalong is coming to an end…sort of!
If you are taking part and using British wool or local-to-you yarn in your hap then do post a picture in the FO thread by 11.59pm on Sunday 14th August. I announced the prizes in this post. Don't worry if like me you haven't finished! I haven't either! We'll just keep the hap love going a bit longer sans competitive element!
| Wool Shop Shout Out – Woolly Thistle
For my listeners across the sea in North America, I want to shout out to The Woolly Thistle, who is podcaster Clare from NH Knits. Clare, as you may know, is an ex-pat, Scot living in New Hampshire. She has started a business bringing awesome British and UK yarns to the US and beyond. From Blacker, to Eden Cottage Yarns, West Yorkshire Spinners and John Arbon – Claire has got a website www.thewoollythistle.com and if you love British wool, but find it hard to get outside of the UK then do check her out!
| Next time
I will be back around the end of the month, fresh from my Highland Holiday and with some news! Hopefully my hand will have recovered enough to do some knitting and bring you part two of the Barber Black Sheep Yarn review.
Thanks so very much for listening, thank you for all of your feedback and your connections on social media too!!