On Saturday, 3rd September I will be at Fluph, in Dundee, where myself and the lovely Leona Jayne Kelly are hosting the #bigwiprip!
I have spoken on the podcast before about how we can let UFOs (unfinished objects) overwhelm us. We leave them in the darkest corners of our house and hope that they will either go away or magically become knit, but whenever we happen upon them we get that sense of doom…that, oh! that lovely yarn is just going to waste! Either that or we berate ourselves for not finishing it, thinking about the reason we couldn't get it finished and sometimes doing ourselves down for not getting it cast off. Well, no more!
The Big WIP Rip
From 11-3 on Saturday 3rd September, whether you can get to Dundee or not, we would like you to join in with us. At Fluph we will be there to provide steadying tea, hand-holding and moral support whilst you rip. If you can't do it, we will!
Host your own Big WIP Rip!
Can't make it to Dundee? Get your knitting pals together round your place, or local knitty meet up place and rip together! Rip with wild abandon, my lovelies. You are going to free your yarn up just in time for sweater season! At Fluph we will be asking for a small donation to p/hop and if you are having your own BigWIPRip perhaps you could have a w(h)ip round too – just think of all the hours of pleasure you will have knitting on that freed yarn!
I'm being brave and I want to take part! What do I need to do?
1) Get your languishing WIPs out of hiding. Go now, seek them out, you know where they are hiding.
2) Do a bit of WIP assessing! Ask yourself the following questions…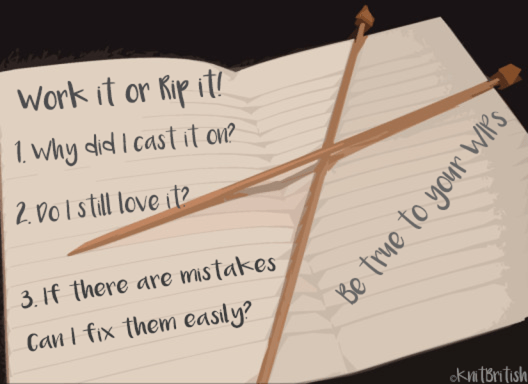 You can also have a re-listen to episode 55 of the podcast, to get you rip-motivated
3) If you think you want to knit on that UFO then make a plan to do so, but if you feel that the love has truly gone…
4) Take a photo of your WIP and use the hashtag #bigwiprip on social media. Post it on IG or twitter and tell us what the project was, in which yarn, why you lost the love and – most importantly – what you think you might make with the freed yarn! You can even go one better and blog about it. We'd love to read more about your UFO.
Ripping does NOT equal failure!
Remember, ripping out your projects IS NOT some kind of crashing indictment on your knitting skills – far from it! The Big WIP Rip is about unburdening ourselves of the projects that are weighing us down, holding us back from casting on new projects and making us blue. We love knitting – our craft shouldn't make us feel sad!
If you feel that there was some technique in the UFO that held you back then don't think "I'm never going to do that again!" Don't look at ripping as a failure, think of it as a learning curve. Think of how it kinda makes you a more educated knitter! I often attribute a favourite and oft used quote to Elizabeth Zimmerman, but as I can't actually find the quote I better not attribute it to her, but I will paraphrase the quote I think is from her; ripping is the knitter's friend.
Here is another quote, which I can definitely attribute to the right place.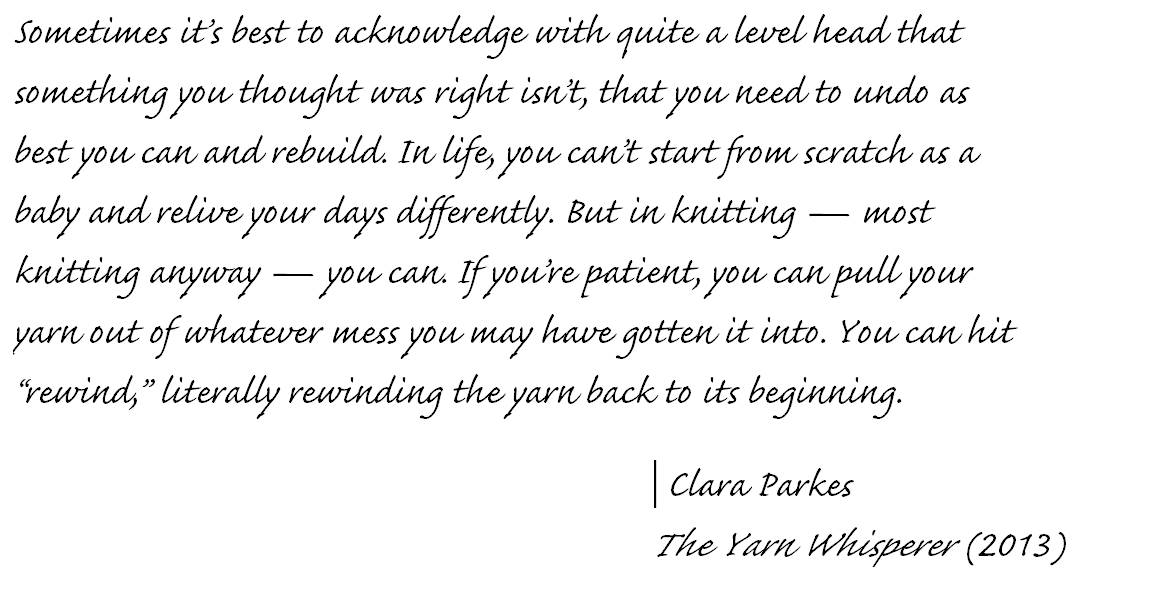 I appreciate that you're not all as rip-happy as me, but LJ and I want to create and promote a healthy attitude toward frogging those WIPs – ripping can indeed be your friend and it really is ok to do it, despite what the rip-haters may say. (Rip-haters always gonna hate rippin'!)
Free your Yarn!
In addition to the getting together, the hand-holding, tea-drinking and the ripping, you are potentially going to have a lot of yarn to add back to your stash. One thing to think about is what your yarn is going to look like post-rip.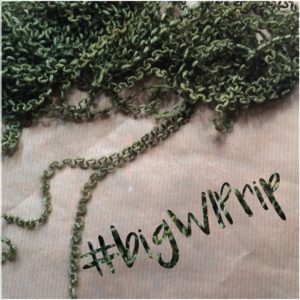 If you're ripping part of a sock, or a small project it may not matter. But if you are ripping out a large project, then you may need to give your yarn some TLC, as it won't necessarily knit to the same gauge post-rip. Winding your reclaimed yarn into tight balls isn't going to unkink it – there are some really great tutorials and videos about how to easily re-wind, re-skein and wash or steam your yarn.
The Knitter's Review on recycling yarn
Knitty Article – recycle, resuse, renew
Reclaiming  knitted yarn by Cheryl Brunette (video)
Don't fear your UFOs and don't let unloved projects fill project bags (which could go to better use) or let great yarn (which will go to better use) live a life half-knit.  Get chatting, get snapping your WIPs and join us for the #bigwiprip.