Just before Christmas I was thinking that maybe I needed a little mascot to cheer me through my KnitBritish projects. As if by magic, the next day I got my wish.
I have blogged before about how much I really like the work of Bronia Sawyer – particularly her book sculptures. So when I joked that she should try making a sheep, I was in awe when – later that same day – she produced a picture of the little paper fella – replete in curly locks!
Further awed was I  – after thinking how I should find a KnitBritish mascot – when she offered her little creation to me!
Quickly I knit up a cowl to offer in kind – how could one not respond woollily when offered a sheep? – and within a few days a parcel arrived!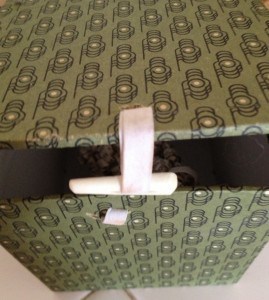 …and all tucked up inside was a a wordy, curly, pal….
Thank you, Bronia! Your little work of art  is now overseeing blog-writing and keeping an eye on the KnitBritish board!