There has been a lot of interest in the KnitBritish Hap-along over in the ravelry group and it is really lovely to know that so many of you think that a hap will make an exciting KAL. Some people have been interested in taking part in the KAL but weren't too sure what a hap is, or does.
A hap – a word meaning to cover, wrap or keep warm – was a traditional shawl of everyday wear for Shetland women. In it's more common form a garter square was knit first and stitches were picked up to knit an old-shale lace border around, using different colours of wool to create interest. Haps were not originally knitted in fine wool as this was kept for knitted items which were sold. These practical shawls were folded in half to make a triangle and worn over the shoulders, crossed over the front and the ends tied at the back. The excellent image, from Shetland Museum, shows women dressing haps in Lerwick in the 1900s. As you can just about see from the hap boards on the bottom right of the picture, shawls could also be one colour.
Shetland lace shawls  – those that the finest Shetland wool was kept for – were also knitted in the same way to the hap and this is often referred to as traditional Shetland construction. These were knitted in 1py or cobweb lace and lace designs were incorporated into the central square as well as the border – such as these stunning examples that were at the Shetland Guild of Spinners, Weavers and Dyers exhibit, during Shetland Wool Week 2014.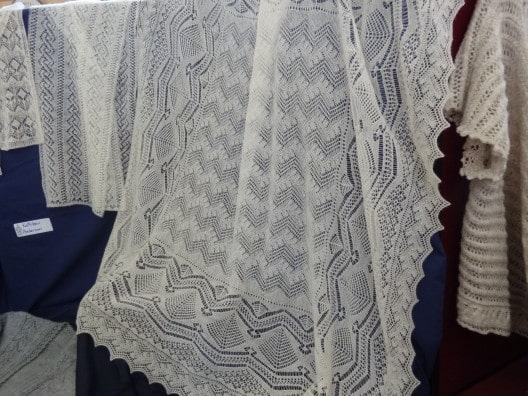 From practical wear to finery you will find examples of haps which are square or "half" (triangular) and you will also find baby blankets and throws, as well as hap inspired garments and contemporary designs, such as Emma K Williams' cardigan and Kate Davies' amazing Northmavine Hap.
I love getting lost looking at archive images of haps and today I was struck looking at the images on the Shetland Museum and Archives photo archive of just how *everyday* they were. 
At work or at play the hap seemed a staple wardrobe garment. I particularly love the lady in the white hap in the top image. I wonder if it was her "good" hap, in the same way that there were dress ganseys and work ganseys for fishermen. I also love seeing images of Shetland women walking and knitting – I pass this stretch of the Lerwick waterfront a lot and am quite sure I'd fall in if I were concentrating on knitting!
If you are interested in learning more about the traditional hap and patterns I really reccomend Sharon Miller's Heirloom Knitting: Shetland Hap Shawls, Then and Now, which is a great resource. It also has a recipe to create your own hap design.
I am proposing a #HapAlong cast on date of Friday, 10th April (I don't like Sunday or Monday cast on dates, we miss so much good weekend knitting time!) and while that is still quite a way off it gives plenty of time for pattern and yarn selection.
I will create an official KAL post nearer the time, but there will be small prizes up for grabs and the only real rules to be eligible for a prize are no casting on until the official start date and your item must be either…
a) described as a hap on Ravelry in the pattern name or in the pattern notes/description,
or
b) described as having traditional Shetland construction which, like the traditional hap design, means the centre is knitted first and the lace border is attached.
The cast off date will be 12th July (and so you must be finished by then to be eligible for the prizes) which give PLENTY time for knitters of shawlettes, shawls and blankets alike.Your item does not have to be knitted in British wool, but there will be a prize for my favourite British wool FO. I will be posting hap suggestions and inspirations from now until then and happy to try and answer any hap questions you may have. The time has never been so right for hap fun as Gudrun Johnson has recently launched a hap class on Craftsy and is also hosting a hap KAL too!
I am leaving you with one final photo featuring a hap. Its not really for the hap, I just adore the spirit of fun in this picture with the cuddling couple – lots of images from Shetland in this era (if not of people at work, etc) are a bit posed or set. It has a lovely "snap" quality and feels very modern because of that.