The Shetland hap has definitely had a resurgence recently and it is one of the reasons that I am excited to be hosting the hap-along because whether you like the traditional square shawl or blanket, with the old shale border or if you are interested in more contemporary designs then there is a hap for you!
I want to knit a traditional hap and, if I am being honest, it will be lovely to see people knit these and maybe find a renewed interest in the traditional. However I am aware that there are knitters and crocheters with different tastes and so I have tried to ensure that there is enough inspiration for everyone and give you some suggestions of contemporary twists on the original style.  
The cast-on date for the hap-along is Friday 10th April and while that seems an age away, it will be here before you know it. I wanted to share with you some ideas to get you thinking about your haps and I will be sharing various designs and designers with you over the coming weeks.
One designer who has really embraced the hap design and traditional Shetland construction is local-born Gudrun Johnston, aka The Shetland Trader. I took Gudrun's Shetland Wool Week class on haps and it's fair to say that is where this KAL has its roots! Hansel is a pattern that I will be knitting, it comes in a full square version and a triangle (half) version, but no need to worry about which to choose as you get both patterns when you purchase one (£3.94).
I love how this is a very traditional style of shawl, but it shows that with colour choice it can be a really fresh and modern.
If you are looking for something more contemporary to knit in this KAL you can definitely look to Gudrun's designs which feature the traditional Shetland construction – this follows the same construction as the hap, with knitting the central triangle first and then using the YOs that you knit at the start of each row to pick up for the border.
Aestlight and Simmer Dim are really great wonderful and contemporary turns on the original construction method. Fresh and very versatile both of these would be beautiful in a skein of special hand-dyed fingering or a yarn like the incredible Titus
This slideshow requires JavaScript.
Loren is a triangular design which very much reminds me of the intricate lace wedding ring shawls. Not quite cobweb, but knit in 2ply lace, you can buy the pattern or purchase it as a kit from Jamieson and Smith (£20.50).
Flukra, like Loren, is true lace with patterning on both sides. I love that bold, oval lace pattern and the simple lace border, surely a nod to traditional haps. I have also seen versions of this in the project pages with garter edging, which is also very effective.
We will be looking at more of Gudrun's designs in a future post, but I am sure you will agree that her shawls are really beautiful and very hap-along worthy! Another thing I am certain of is that Gudrun's patterns are always beautifully written and laid out and this makes them a joy to knit. There are also tutorials available for the traditional Shetland construction.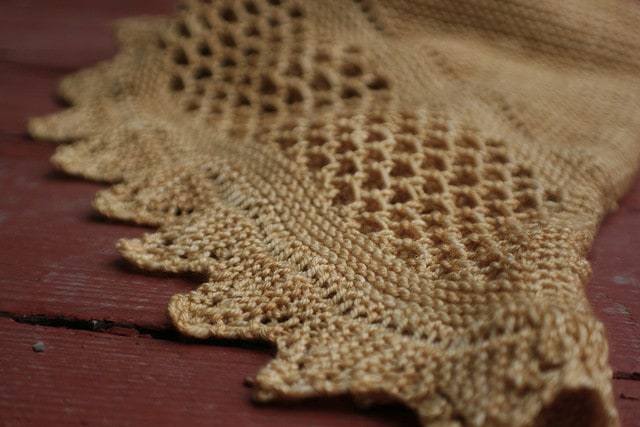 By hap-py co-incidence Gudrun is hosting her own hap KAL at the moment to celebrate her recently released Traditional Shetland Hap class on Craftsy. You can join in with her KAL in the Shetland Trader group on Ravelry. 
More hap inspirations coming soon!
: : Information : :
Many thank to Gudrun for the kind use of her images. All images are © Gudrun Johnston – please do not reproduce without permission.
Gudrun Johnston can be found at www.theshetlandtrader.com; on Ravelry; she tweets @ShetlandTrader and on instagram @gudrunjohnston