I have been playing with some incredible yarn recently. If you follow me on instagram you may have seen me showing off my swatch of Phileas Yarns Wanderlust BFL recently. I recently had dyer Sylvie over to KBHQ for a chat and you can listen to that interview – where we talk about her dyeing and colour inspirations – by clicking here.|
| The yarn in the skein 
This yarn is a beautiful, glossy British Bluefaced Leicester BFL. The colour is a semi-solid vivid red and, like all of Sylvie's colours, is inspired by her travels. You can read about the Saint Expedit colour story on Sylvie's blog. There is such a depth and richness to the shades of red – ranging from light crimson through to streaks of deep dragon's blood red!
The colour and lustre are the first thing you notice and then the lovely high twist of the yarn. On picking it up – oh my! This is a smooth and soft yarn (Those of you who like your softer British yarns will be pricking back your ears right about now, I would guess!) and when you do the hand-squish-grab the skein is soft, but has a nice firm bounce-back too. That high twist is going to ensure there is a good bit of stability to what you make.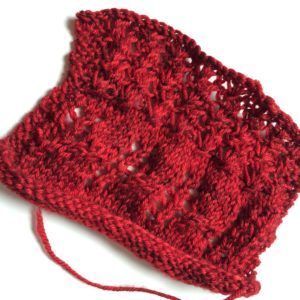 | The Swatch
I cast on 36 stitches on 4mm needles. I knit about 36 rows, with different stitches/row lengths. I like to try and knit different textures into my swatches to see what the yarn looks like with different stitches. I knit a garter edging, about an inch of stocking stitch, a lace/mock cable and then some textured daisy stitch.
I noticed the smoothness of the working yarn through my fingers, not as woolly as some BFL yarns I have used, however the high twist doubtlessly helps with the smoothness and it creates a very pretty, round stitch definition. The yarn was also smooth over the needles and the swatch really flew off.
I washed the swatch and pinned it out to the dimensions of 5 x 5 inches and left it to dry.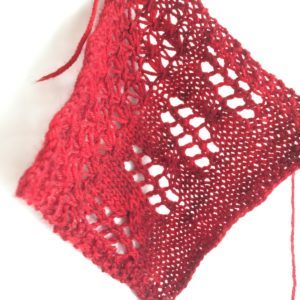 | How did it block and wear? 
When dry I unpinned the swatch. What a lovely lot of drape! and I was particularly struck by vividness of that colour and lustre that had not lessened in the washing and blocking process. There is a very slight surface halo bloom, but again I think that high twist makes this a very strong and soft yarn.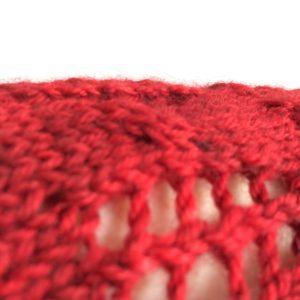 I wore the swatch first against my hip. I wore it whilst at work so there was lots of action involved; walking, lifting, bending… From the moment I put it there I pretty much forgot all about it! There was no prickle, not even a whisper of a tickle. After wearing I had a good look at the swatch – there was no more surface halo and on measuring the swatch it had retained its 5×5″ dimensions. 
To further put the swatch to the test I wore it for another two days. The last day I carried it in my jeans pocket with other items, to see if it changed shape, felted slightly or fluffed up (I am in and out of my pockets a lot!)… and there was no discernible change to the feel of the square, though I would say it has shrunk back ever so slightly – but that could just be from being smooshed up in my pocket!
| Which projects will this yarn be suited to? 
This is going to be an all round great yarn for pretty much any garment or accesory and visions of many potential items sprung to mind when knitting with this yarn – in particular socks! That high twist and the durability of the yarn convinces me that this would be a really lovely #nonylon sock yarn. With the incredible lustre and colour vanilla socks and simple stitch patterns will make a very stunning pair of socks. Something simple like Colonel Mustard Socks or Katya Frankel's Brixham would look incredible in this yarn!
The Wanderer BFL is a really great workhorse yarn and so it will be incredible in garments, as well as your socks, shawls, mitts and hats – I am already thinking it would be great to see this yarn in a Prairie Fire, by TIn Can Knits or even Veera Valimaki's Morningside, from her new  Bespoke Sweaters collection. 
Overall, Phileas Yarns Wanderlust DK has knit, blocked and worn as I hoped it would – a soft, drapey knitted fabric, but one that has a bit more oomph in terms of strength and sturdiness. (Who says you need nylon for a hard wearing yarn?) – I think you will want to knit all of the colours (all as deeply satisfying as this one!), in all of the weights – and this comes in 4ply and aran too.
| The Details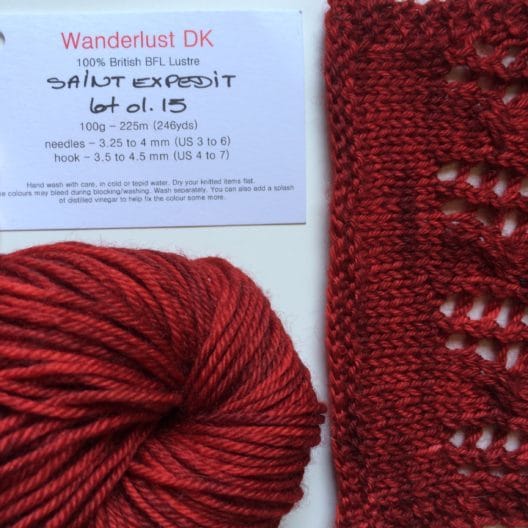 Phileas Yarns Wanderlust DK British BFL
100g / 225m
£14.00
Visit the Phileas Yarns Etsy shop for more wonderful colourways and yarn bases. Sylvie shall also be at the Indie Burgh Yarn Crawl Pop Up Market, at The Safari Lounge from 12.30pm on Saturday 11th June. Thanks to Sylvie for letting me play with the yarn and give it a test drive.
| Information – All images are copyright to their owners as stated, other images are mine. I was given this yarn to test by Phileas Yarns and offer you a totally honest review. I was not paid for reviewing this yarn.