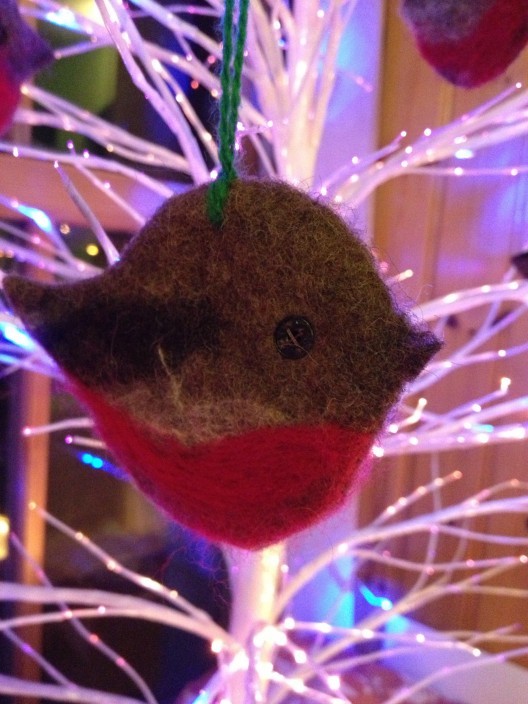 A little birdie may have mentioned last time that LovelyFella had knitbritished up a webspace for me….Well here it is!
Okay, so I am no *insert popular blogger of choice here*, but I love it and I hope you will continue to pop in and if you want to let your RSS  Feed Reader know I am here, that would be nice too! Have a look around, tell me what you think.
Christmas is almost upon us and it has been a busy old time. We decided to take a trip to Aberdeen last week and brave the shops. Brave is right! I think Christmas shoppers should be rewarded with a large glass of something strong after hitting the shops. I am not a fan of shopping at this time of year, so I was glad to get back on Sunday.
After a few days of wrapping presents and writing out cards I still wasn't feeling much in the spirit of the season – until I decided that a bit of creativity was on the cards.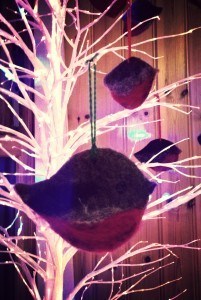 I still haven't really decided what my first project of my knitbritish year will be, but I remembered the other day that I had some Jamieson & Smith wool tops  and I also remembered that I had four brand new needles for my felting tool, all of which had been lying idle for quite some time. 
The result was a happy couple of hours and 8 little, fat robins – my first completed project with British wool. I even discovered that the snap poppers I used for eyes (ancient notions from the bottom of my sewing box) were made in the UK too!
I was planning to attach them to presents, but I think they look pretty content nesting in our tree! 
I hope your festive season is starting well and you are all safe and warm. I think the forecast is going to stop a few people moving between the mainland and the isles this week. Boats have already been cancelled, but some extra flights have been laid on and Tesco certainly managed to LAND themselves some great PR in their attempts to keep us Shetlanders fed this Christmas!
Very good wishes to you, wherever you are and what ever you do
x