I have been having the most fun!
Since throwing myself head first into the idea of knitting British I have had nothing but fun and joy seeking out local grown, spun or dyed wool.
JEWELS
Have a look at just some of the utter jewels in the British Wool crown that I have stashed so far….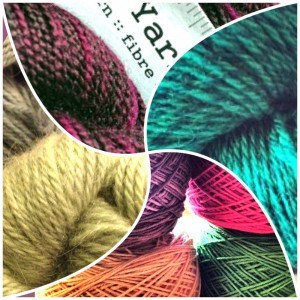 "Seeking out" is perhaps a redundant term as there is just so much British fibre out there, just yearning to be used.
And it isn't just our sheepy friends either, I can't believe I have been buying alpaca wool imported from South America when there is an absolute wealth of yarn grown from flocks (packs?) all over the UK, even here in Shetland!
My wishlist is continuing to bust! I really hope Santa thinks I have been a good girl this year. Currently I have coveting this sumptuous green UK Alpaca sock from John Arbon! It just yearns to be squeeshed!
I will introduce more of the yarns in more detail as time goes on, but needless to say it is all wonderful stuff and I am really looking forward to working with it.
(I have just realised I have included all dyed in that picture. There is lots of natural too!)
HOW MUCH?
I know there will be some people out there who will simply disregard yarn because of the price. We all like a bargain, especially if you are a prolific knitter! But I am quickly beginning to realise that I would rather pay a little more for a quality item produced here in the UK.
Before I really began to knit with hand-dyed wools, I would baulk a bit at the prices, but look at this beautiful British BFL from The Yarn Yarn …no really, have a good look…
It's not a very good photo, but I am sure you can appreciate the different nuances and how each colour plays with the light. Can you imagine how lovely this will look knitted?  You will never buy a ball of wool from your LYS that has detail like this unless it is hand-dyed. I feel this is the epitome of an artisan craftsmanship.
The wool is was grown on the back of a happy British bred sheep and the wool was dyed by a wonderfully talented British based dyeing artist. There is no comparison really.
HAPPY COINCIDENCE?
And as luck would have it two wonderful British designers have just brought out beautiful pattern collection books all made in British fibre!
Ann Kingstone had been releasing patterns in what I can only describe as  salivatory manner;  drip feeding beautiful designs in Yorkshire wool on Ravelry, which lead up to the launch of her book Born and Bred in conjunction with BaaRamEwe (my new favourite online store). I certainly cannot wait to knit this!
 Kate Davies has published her first collection of patterns Colours of Shetland, all Shetland inspired and using Jamieson & Smith wool. I am a sucker for a yoke and just look at this glorious example.
I am just giddily excited to be knitting with all this home-grown loveliness. If you are on Ravelry head on over to the Woolsack forum. JaneKAL has started a new forum where you can discuss your own ideas for projects knit in British wool.
I'd also (eventually) like to host giveaways, perhaps a blog tour or two and have a gallery of your own projects, if you care to share them.
New website going live soon  so all will be revealed in good time and due course, but needless to say, like Christmas, it will be here before we know it!
Ann Kingstone's book, Born and Bred, is available from Baaramewe & is priced £12.99
The Colours of Shetland, by Kate Davies is available via her website priced £14.99