If you read my earlier post you will know that I've given myself the challenge to revisit one or two  beloved projects this summer.
The Remakery is essentially a bit of motivation or focus to cast on again one of those designs that we've always promised ourselves we'll make again. I'd be utterly delighted if you wanted to use this as motivation to remake some of your favourites. There are no rules or requirements, you can remake absolutely anything and there isn't a cast on date or anything (cos it isn't a KAL in the trad sense). I've got a few things to do before the month is out, so I'll be starting in May (also cos remakery!)
I want to focus on some of the awesome shawls that I've wanted to remake for a long time. But how to choose? Those vying for my attention for remaking are Marin and Ishbel, by Ysolda.
I knit Marin in 2012/13 and I loved it, but my gauge wasn't quite right and I ended up with a shawlette (though it looks bigger in the photo). I still wear this a lot, but would love one in a woolier and slightly heavier yarn. I knit in Ishbel in April 2013 as a gift for my sister. It was a case of the perfect pattern and the perfect yarn (Ripplescrafts Na Dannsairean) and I remember being so pleased with the outcome that I wanted to knit one for myself in the same yarn. The yarn was discontinued for a wee while but now it is back!
Last year I lost my Estuary shawl, by Tin Can Knits, which I made in Old Maiden Aunt Corriedale sport.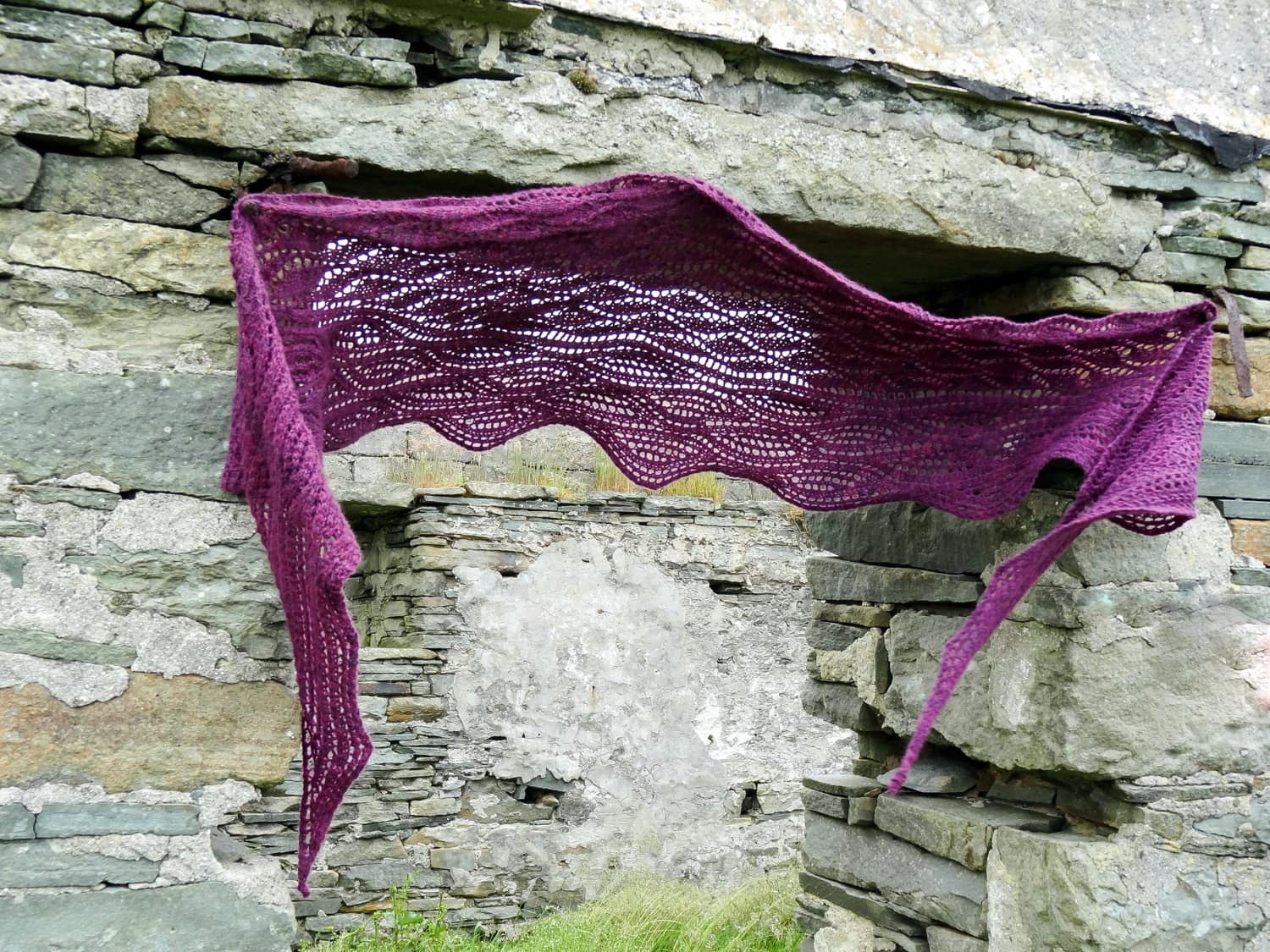 It was left on a bus and we never managed to recover it. I always wonder what would happen if I saw someone wearing it – I know they couldn't answer questions about the yarn, fibre content, dyer, colourway, where it was bought, who designed the pattern and how many hours (or attempts) it took to make (I guess unless they read this blog!).
This is another item that was really special to me. It was my first OMA yarn and I got it at the first EYF. I also had to really persevere with this design as it was one that challenged me a bit, but I was so glad to have persevered. Someone in Edinburgh (or who was on that bus) is probably wearing it now, I hope they love it like I did.
I'd also love to knit another Hansel. I knit a mini half Hansel at Shetland Wool Week a few years ago and then the Hapalong happened and I made a full one.
I even bought the yarn at SWW last year, a lot of lovely J&S Heritage naturals.
What I'd also really like to do with this challenge is stash down and not buy yarn. (stop laughing!) So while the yarn is sorted for the Hansel and also Ishbel, I need to think about the others. I do have Old Maiden Aunt Corriedale in stash, but Estuary took two skeins and I don't have two of either of the colour I have. However either of these could make a Marin, or indeed a Vebaek or a Cupido cowl , which are also on my remake list too (Cupido was another lost item 🙁 )
For an alternative yarn for  Ishbel, and possibly also the Estuary, I have two skeins of Yarn Pony Suri/Merino yarn, which is deep stash and very special indeed (because Mica is no longer dyeing). I also have a big squashy skein of Voluptuous Skinny from Skein Queen too.
Also from the Skein Queen camp is another squashy skein of Oosie, which might work for both Marin and (a thicker) Estuary…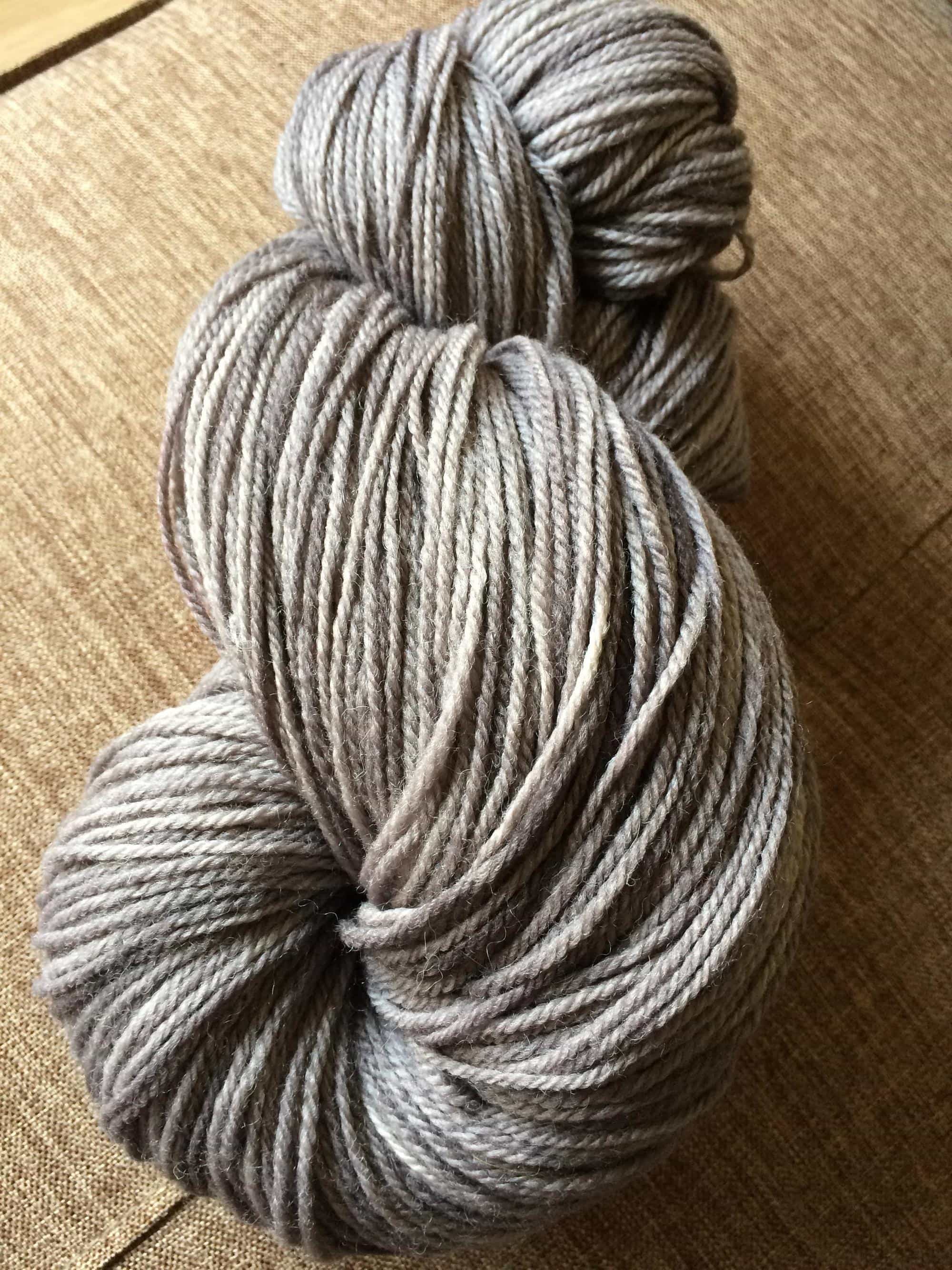 I think I'm pretty set that I'm going to (re)cast on Marin first, but I may have to toss a coin or roll a dice to choose the yarn! Hopefully I'll have decided by this week's podcast. Talking of which, you'll get to meet our lovely Woolly Mucker Alison in the next episode and there is a very special meaningful knit story that I've been sitting on for ages. The reason I've been waiting is because it is tied to this episode of the BBC Alba documentary Trusadh. I've been desperate for this episode to be available on the iplayer again so that some of you can see it (sadly not everyone outside the UK can watch iplayer, sorry about that) and then hear about it's connection to Shona, who i spoke to at Shetland Wool Week back in 2015! So do tune in on Friday for that.
Are you planning on using the remakery motivation in your knitting or craft this spring and summer? Come on over to the Ravelry group and tell us and get started!