Last Saturday – while many were heading to Cockermouth for Woolfest – I was boarding a train to Glasgow with lovely lass & wonderfully talented designer, Clare Devine and the equally lovely Siobha. Not content with this happy, excited bunch we picked up Shiny Bees' Jo Milmine at Haymarket and we knit and excitedly chattered as we choo-chooed to Glasgow. It was the first time I met Jo and she is just as warm and funny as I suspected she would be, with a healthy dose of sensible too (as would become apparent when she successful in de-enabling unnecessary yarn buying!)
After an amount of comparing kids to cats (have a cat, not a kid!) we arrived in Glasgow and met Karie Westermann, our delightful tour guide for the day and enabled our path to cake and wool!
First hit was The Queen of Purls, located in the Saltmarket. I gave QOP a wool shop shout out in episode 8 of the podcast and I am pleased to report the welcome was just as warm on the return.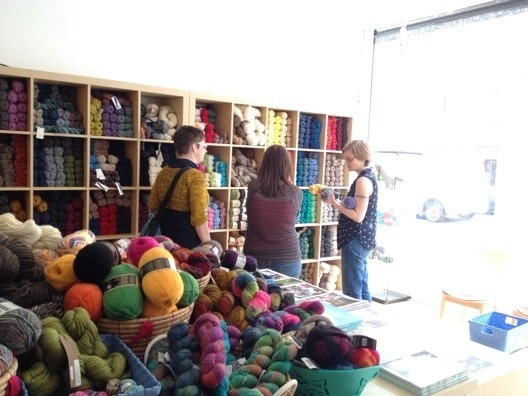 The yarn fumes got a little much for Clare, she was almost overcome by a hank of Corriedale roving and a neon skein, but settled on some Eucalan (although we almost had to take it away from her later!) and some Drops cotton/linen.
When the need for cake began to overtake the fumes we repaired to Once Upon a Tart, King Street, for a sugar fix, a knit and a good old chinwag.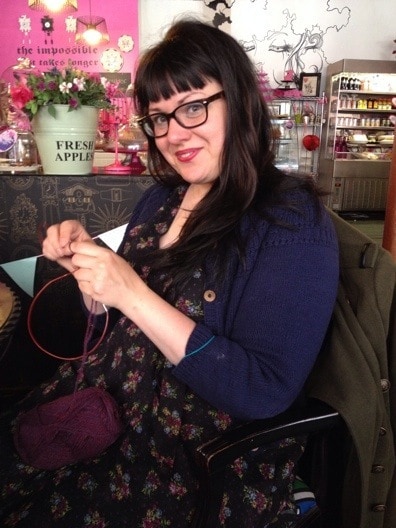 Apart from the knit nights our library runs during the winter months, I don't have a regular knit with pals, so this was fantastic. There were lots of ideas, inspiration and future plans bouncing about the table.
Karie had an afternoon with spreadsheets ahead, so departed but the rest of us began to need the yarn again and hopped on the subway to go to The Yarn Cake. Clare got a little drunk on her new Eucalan during the journey!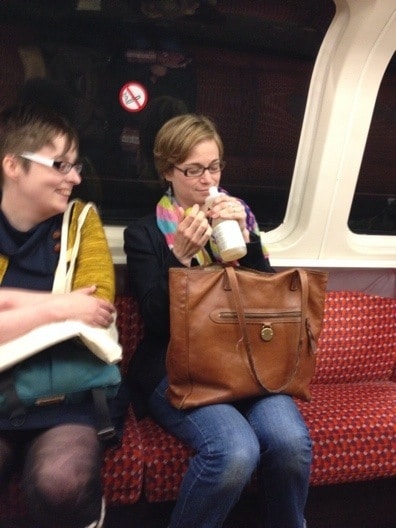 There was a street festival on Queen Margaret Drive, so making our way past owls (yes, owls. No pics, it cost £2) and great handicraft stalls we arrived at The Yarn Cake to see a grateful audience watching a spinning demonstration! As always, there was a fantastic selection of sweet eats and, although I am not sure how we managed it, we ate again!
It never fails to surprise me how much wool can be fit into the small, but perfectly formed shop – there is Drops, New Lanark Aran, Jamieson & Smith, Malabrigo, Abstract Cat and plenty of needles and notions.
Sunglasses on, we were off again and before heading back to Edinburgh we had a cool drink and a little knit in the Hillhead Book Club, a favourite pub of mine.
There was a lot of chatter on the way back as to where the next tour could go, New Lanark, Dundee, maybe Newscastle and a trip to Seaham to Harbour Yarns? Watch this space.
Saturday was a lovely day, with really great company and I look forward to the next tour! Thank you, lovely ladies!