I've had need for mindfulness lately. Have you? It's literally been a mind-bending time in the world at large and even if you've not been affected by that (you've not! really?!) many of us have need to practice mindfulness and take some time out of things to focus on us and how we feel. Even just taking yourself off for a massive cuppa and a slab of cake is a wee thing you can do, that is just for you! I did that last week. After having a whirlwindy week I decided I needed a self care day and just followed my feet to where they took me – following my inner momentum and practising some mindfulness.
I actually did not knit that day (as I needed to do something for me that I don't always allow myself), but I don't need to tell you that knitting can be a calming and grounding exercise.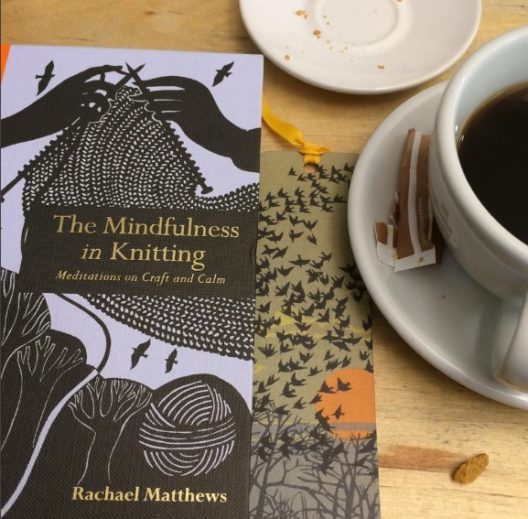 When I recently talked about Rachael Matthews new book, The Mindfulness in Knitting, it was lovely to find out that many of you had been enabled into getting a copy for yourself. Lovely KB friend Alison Mayne ended up buying an extra copy and wondered if I would like to offer it as a prize here. Thank you so very much, Alison, that is a lovely act of kindness and – as anyone who has this lovely wee book knows – the book will be something that the winner will pick up again and again.
To be in with a chance of winning this book, please comment below with your favourite method of self-care or being kind to yourself. Comment by 12pm on Thursday, 15th December. I will choose a winner via random.org and Alison will send your parcel out soon after (but do remember the busy-ness of this season – your parcel may not be sent until January).
If you do not want to leave it to the luck of the draw, you can buy Mindfulness in Knitting from good bookshops. It is published by Leaping Hare and costs £8.99
There are more bookish gifts coming from me this festive season too – so stay tuned.
Also, a wee note – This year I will not be doing the gift posts that I have done throughout the month, each December. These take quite a while to put together and my work schedule is quite hectic this month. I will though have my usual doses of enabling via the podcast! If you need some gift ideas, head straight to Karie Westermann's blog and see her incredible post on knitterly gifts.
Updated on 15th December – the winner chosen by Random.org is the 78th comment, which belongs to Mazzy! Congrats! I shall pass your email address on to Allison!