If you listened to episode 19 of the KnitBritish podcast you would have heard me – yet again – talking about my wish to get to grips with Fair Isle knitting 1 and how I should be resolve to make 2015 the year that I do.
This morning, whilst taking the bus into work, I was listening to the sparkling wit of Jo Milmine on the Shiny Bees podcast. In episode 29 she was talking – like a lot of us have recently – about resolutions and Jo's is focussing on knitting things that fit and flatter and trusting in patterns. At one point Jo mentions how we knitters can often be a bit hard on ourselves..
'"I can't do this, I can't do that" and I think it is about time we all stopped criticizing ourselves so much and work with what we've got."
While she is talking about fit in knitting and having the courage of knitting for our own body shapes, it made me think about my Fair Isle and how I ALWAYS say I have trouble with it and I can't do it. This is actually crapola. I can physically knit with two different colours.
I managed to knit all of the things above. Using colours. From little details on a hat to a yoked sweaters. Therefore I am going to categorically state that in actual fact I can knit with more than one colour. This is not a thing that I cannot do. ….I mean, that IS a lion rampart flag in there …and while they are pulling it out, the tension was pretty dang good for what was my 2nd ever colour-worked thing! (ugh! and whole load of moss stitch in the border, too!)
In the spirit of focussing and using Jo's wise words of working with what we can do then these are actually the things I find difficult:
a) Wrangling two different yarns, which leads to
b) tensioning problems
These two things can be worked at and practised, but I need to remind myself that while I find it a little bit of a challenge I can still do it. I can produce something that – though I know I struggled a bit with it – to all intents and purposes, is a colourwork item. I even modified the designs on some of the patterns, while others, like the Lion flag I just drew out and gave it a whirl.
Apart from the bag (which I gave a present away in, as a gift bag); the hat (which the lovely fella wears) and the flag (which I knit for a soldier chum, and which was later nicked!) I have ripped or altered everything else and I think it is because I am not sure I like how it looks on me.
The hem band of colour work in the Stasis sweater was not very flattering on me as it drew attention to my belly. So I 'altered' it.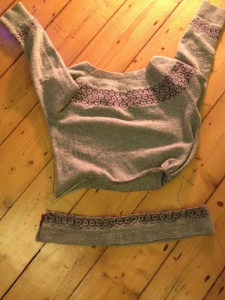 The yoke on my Aftur was quite deep and was not very flattering on my chest and so that too was ripped and knit back plain.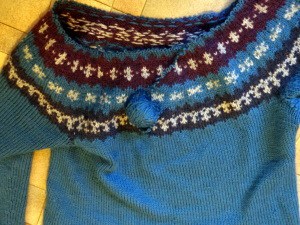 So instead of this being an "I can't do" thing,  I think it could possibly be more of case of "I am not sure what suits best". Deep down I have often thought it is a lot of knitterly effort to put into a garment that I am not sure will suit me. I have decided, with that in mind, that I should change my 2015 knit goal from "learning Fair Isle" to focus on knitting something in colour that I am happy with and I feel is wearable. Not quite so snappy, but you get the picture!
As Karie Westermann and I discussed in episode 18, it is really easy to create colourwork designs of our own with the help of the hugely inspirational KNITSONIK Stranded Colourwork Source Book and you might remember from late last year I was creating a chart inspired by a Tunnocks Tea Cake wrapper, after taking Felix Ford's class.
I haven't really done any more on this and have decided to keep on working on these ideas and maybe make something wearable and totally me (and Tunnocks!) Hopefully by creating swatches and using the tools in Felix's book I can create something from the charts.
If you hear me say "I cant do…." anything knitterly this year then please shake me and remind me that 2015 is the year that we say, "actually, I CAN"
stranded colour-work by any other word… ↩