(image: copyright Uist Wool (…and while wool is in the title of the podcast, this shawl is made from a delicious blend!)
Welcome to this episode of the podcast, which comes to you after a very woolly time indeed for me! This episode is just a long chat about my visit to West Yorkshire Spinners and Edinburgh Yarn Festival.
There is very little in the way of show notes  – Just some pictures and links (when I get around to uploading them) – there is also very little editing here, so plenty of uhms and ahhs. This episode is just a general wittering about how much my heart is wrapped up in woolness this month.
There is mention of Buggers, Arses, Shit, Piss, Tits and BOOBS in this episode, so you've had your warning, if you needed it.
Listen by clicking below 
(I've had a few probs with the embedded player since wordpress changed a few things, so this opens in a new link)
You can also listen on iTunes, the podcast app, or search your favourite podcatcher, if you prefer!
A visit to the mill in Keighey, West Yorkshire. This was my prize for being in the online innovator category in the KnitNow Awards. Thanks to everyone involved in this day – it was such amazing fun and it was somewhere I have been really keen to visit. Special thanks again to all those who voted for me!
Pics to follow
I started AND finished a project this month!
This is the Felix by Amy Christoffers / Savory Knitting and it was a magic project for me. I made this in Iona Wool Aran and I've already cast on another for my sister! 
Edinburgh Yarn Festival & Make::Wool  2019
At last, EYF has come along / My hearts wrapped up in wool  / and life is like a song! 
Listen in as I go through my EYF , from working with Uist Wool each day; having some fieldworkMAL meet ups; hugging, squishing, chatting and knitting with you guys who were there and doing some modest and meaningful buying.
https://www.instagram.com/p/BvbZ4V1FNPv/
Thanks so much to everyone I saw there for making it such a great and memorable event.
More pics to follow.
Uist Wool have given a prize for the FieldworkMAL and I wanted to share this with you (more on the prizes and winners next time)
Images below (C) Uist Wool
The prize is the Trek kit, to make the Deepdale Hap, by Gudrun Johnston, It contains 6 x 50g skeins of their new blend of wool and alpaca, using alpaca from Claddach Farm, Fife. Four of the yarns are cheviot wool, blended with different coloured alpaca fibre and two contain Shetland wool with alpaca. The natural shades of alpaca and wool have been blended together to get an extraordinary natural palette – from silvery fawns and greys, to apricotty caramel to dark, deep earthy tones. There is also the very special laceweight gradient skein (which is only available as part of this kit) and it contains all of the wool and fibre that is represented in the collection.
The yarn feels amazing, a velvety hand that you wouldn't quite believes contains alpaca – I think you will be very surprised and delighted.
This gorgeous kit, like all of Uist Wool yarns, has a real story to tell about place, landscape and heritage. Astair (not pronounced like Fred's surname) is Gaelic for journey and the yarns are all named after the landscape, hills and mountains.
Each of the 6 yarns is in a fingering weight, 50g skeins and there is around 175 metres in each. They cost £16 per skein and the kit is worth £145.00. This is an extraordinary prize and it will go to one lucky Fieldwork winner.
I have lost my heart to this yarn – particularly the Bealach yarn, which is Moorit Shetland, dark alpaca and Scottish merino!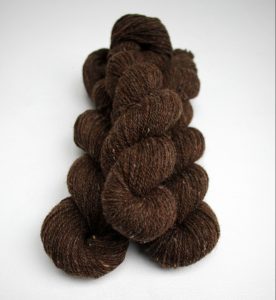 This range was launched at Edinburgh Yarn Fest, so LOOK OUT for the whole Astair range going on sale uistwool.com very soon.
BACK SOON – With a more regular shaped show! Take care til then!
Important Information
Music this episode is David Mumford – Singin in The Rain This are available via freemusicarchive and shared via CC-BY. Images are ciopyright to those in the caption or accompanying info, otherwise they belong to me.