↓Listen to the podcast↓
You can also listen on iTunes, the podcast app, or search your favourite podcatcher, if you prefer!
Woolly Mucker
Our Woolly Mucker for October is Carolyn Sue Jenkins, who is CSJ0423 on Ravelry. Sue is an attorney in San Rafael, CA and she answers our woolly mucker questions later in the show.
Currently Sue is making a Wonder Woman wrap for her daughter-in-law and an intarsia stocking for her grand-daughter, who is expected in November. Thanks so much, Sue, for your support!
| Good Intentions Quarter One
You guys are off and running with the Good Intentions Q1, which we cast on on October 1st. Have you seen what everyone has been knitting, over in the ravelry group? A few of you asking if you can double up on Good Intentions. Guys, if you can knit more than one Good Intention project in the quarter, you GO for it!
Over a year ago Susan Crawford was diagnosed with stage 3 breast cancer. Throughout her chemo, surgery, radiotherapy and through her recovery, Susan has been supported by CancerCare , who provide complementary treatment, as well as support and advice to cancer patients and their families.
Susan also became part of Phoenix, CancerCare's online group, and formed friendships with many other women going through the same experiences. Via this community,  a project began photographing members of Phoenix sharing their scars, both physical and mental. These 'Scarletts', as they became known, wanted to share their personal experiences of how cancer, and particularly,breast cancer, attempts to strip women of their physicality, their visual identity. These portraits have been turned into the Knocker Jotter,  which is being sold to raise funds for CancerCare.
To help further support this campaign and to put two fingers up at the horror that is cancer, Susan created the 'fubc' shawl kit. The kit includes two skeins of Susan's exclusive 100% Lonk wool, one undyed and one dyed, enough to make one of two shawl patterns included in the kit,  In addition a copy of the 'Knocker Jotter' is included in every kit. The yarn has been dyed by The Knitting Goddess, Old Maiden Aunt, Countess Ablaze and Skein Queen and I've seen peeps – they are awesome!  There are less than 400 kits available and £15 from each kit goes to CancerCare. The price for the kit including yarn, printed pattern booklet and a copy of the Knocker Jotter is £65 and you will find all the information about the kits and the launch at http://www.susancrawfordvintage.com/fubc/
Later in the show, I will put that lonk yarn through the KB swatch road test.
| Remakery – Marin in Ramble, by The Kettle Yarn Co
I've finished my Marin Shawl, by Ysolda!
Linda from Kettle Yarn Co offered me a skein of her new Ramble yarn (and I had to buy a second, as I'd made my marin bigger!) and this is a Shetland and Romney small batch yarn. I know I've given you several working reviews of this yarn on the podcast whilst I've knit this shawl, but I really do believe that you lovelocalwool peeps need to prick up your ears, because this yarn takes two wonderful British breed – from the very North East of the UK to the South East – and they are married beautifully in this yarn. I feel that it is yarns like these that are really singing the anthem for British breed indie yarns!
Linda is hosting a Ramble KAL and it starts on 6th Oct and runs til 6th Jan, 2018! You can knit any design in your Ramble yarn and let me tell you, this beauteous yarn blocks like a fricking dream and so lace and garter will be TREMENDOUS! Cables too will be amazing
Ramble is available in 7 shades, it is a fingering weight and there are 400m in 100g skeins.  It is going to be the kind of yarn that will make real heirloom items, from sweaters to shawls,  and i'm so privileged to have had a preview.
| Woolly Mucker
Sue is our lovely mucker this month and she is an attorney in California.
Sue tells us about her early knitting experiences, and being taught to knit by a neighbour. She also tells us about herself and her sister who, as teenagers, knit their mother a suit!
Sue's last cast off was the polliwog sweater, by Mary Lou Egan (click image for design page) for her grand-daughter, who will be born in November…though she thinks Halloween and has gone all out with the orange yarn!
As to special yarn and designs, Sue loves the combo of Clare Devine's Allermuir shawl in Ginger Twist Studio hand-dyed and she tells us why she is a huge fangirl  for Catherine Lowe's work.
Sue, thank you so much! Like all of my Muckers, you swell my heart with your kindness and support!
| Lonk Swatch Road Test – Ghyll, by Susan Crawford

Susan Crawford was very kind as to send me a sample of her Shearling Lonk wool. This yarn is only available in the FUBC kit for CancerCare. Susan knows how I love to try out different British breed yarn, and as Lonk, is available rarely in yarn form, she was keen I try it out.
Lonk is native to Lancashire, it's classed as a mountain or hill breed and the sheep are quite large. I've seen the term big-boned and well-woolled, used in reference to them!
In the hand-squish-grab Ghyll is really dense and it has a sturdy squish. The yarn has a beautiful tight spin and that makes a smooth ply indeed. I immediately think that this will look great with structured stitches. I used 3.75 mm needles and cast on and knit a few garter rows, but the yarn soon told me it needed to be tried out in a few lace stitches.
The unwashed swatch is a sturdy wee swatch, and just look at that stitch definition! I washed it and blocked it. I didn't block it aggressively, but then that smooth ply has knit up so nicely it didn't need vigorous pinning. I wore the dry swatch at my neck and shoulder. I was more aware of the swatch being on my skin close up to my neck/throat, but when I moved it to my shoulder (under me bra strap) I did not feel it and actually did forget it was there.
Susan told me that the lonk likes a really good long soak to bring out the best of it and so on the second wash block and wear I soaked it all day. This time the blocked swatch was less stiff and more malleable. That makes me think that this wool will be one which gets softly worn in over time. I'd love to revisit this swatch a few more washes, blocks and wears down the road – I think it would be an evolving fabric and the look of lonk yarn will thicken and soften up over time.
I wear test and vigorously rubbed and roughed the fabric against itself and there was no pilling at all. There was a lovely light surface halo, which appeared, but I really think this is a yarn that you can put through its paces.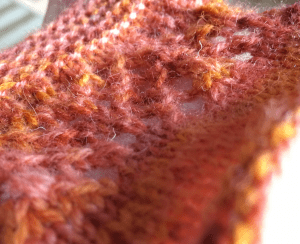 Ghyll uses shearling fleece to give the very best quality wool to the yarn. And I see this as a real workhorse yarn. If Susan is going to make more Ghyll, I hope we get some sock patterns as i think this would make incredible socks!
Thank you so much to Susan for letting me try out this yarn –  a really wonderful adventure in learning about a new breed wool. I cannot wait to see FUBC shawls popping up around coats this winter, in the hand-dyed shades!
| Lovely Giveaways and things!
Get on over to the Ravelry group and enter our competition to win three balls of Blacker Brushwork. There are two prizes of three up for grabs and this is all down to the lovely, generous Blacker – thanks to them for a great prize!
Next episode The Knitting Goddess is sponsoring the show and myself and some of the muckers will be reviewing her One Farm Yarn. As a very kind gift Joy has given is a 10% off code for the One Farm Yarn and you can get it by adding your chosen shade of One Farm Yarn to your basket and using the checkout code KBONEFARMYARN. Thank you so much Joy! And anyone making use of that code, why don't you get it on the pins for that next episode, when we will be reviewing that yarn. Please note this offer is just for the One Farm Yarns and the code will expire at Midnight (UK) on 11th November.
Lucy, of Lucy Locket Land, has sent me a very lovely OOAK dyed skein of BFL and nep yarn. I've a real fondess for this base and the colourway is divine. To win this soothing coloured yarn, get on over to the KB ravelry group and enter there. Thank you, lovely Lucy – she has even thrown in a tote bag too!
Back later this month, with episode 95!
Thanks for listening!
Music: Carefree by Kevin McLeod and Singin' in The Rain (demo) by David Mumford – Both are on FreeMusicArchive and are both shared under Creative Commons Attribution license. Images are copyright to those attributed in the caption or in the accompanying information. I was given the Ramble from Kettle Yarn Co and the Ghyll Lonk, from Susan Crawford for free in exchange for an honest review. I'm honest about all my opinions whether the products were free or not.