I was so very chuffed to get through the door a review copy of the latest DVD from Hazel Tindall, this time collaborating with the equally brilliant Elizabeth Johnston.
A few years ago Hazel released a DVD taking us through the tuition of creating a Fair Isle sweater. This was truly like taking a masterclass in your own home and I remember last year at Shetland Wool Week, she told me to watch out for another one coming soon. 50 Tips from Shetland Knitters is that DVD and it really grew from them being asked for tips and advice at classes and workshops.
The DVDs – also available as a digital download – start with casting on and work all the way to casting off and finishing items and the breadth of the techniques they cover here is really wonderful and varied.  The DVD is not a "learn to knit" instructional manual (though it does cover some basic stitches) it's a valuable collection of methods and approaches that every knitter can learn from and appreciate.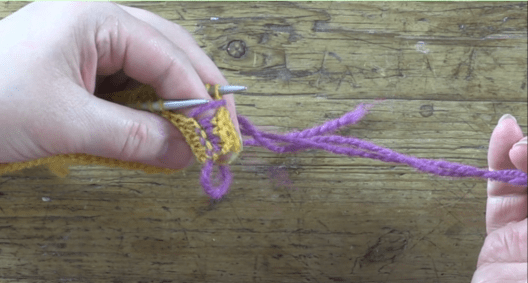 I always say that it doesn't matter if you only ever knit garter, or you are the most intricate lace knitter, you are an accomplished craftsperson who is always working on and fine honing your craft with every project. At the same time there is always something to learn and I truly believe that anyone reading this who thinks "Nah! I know all this" needs to think again!
I've been knitting for about a decade, as an adult, and my mind was a wee bit blown watching this for the following techniques – how to hold the working yarn in your hand; yarn placement on the fingers for Fair Isle knitting (including YP for different methods of Fair Isle); how to catch floats and when, and how different ways of doing this affect the resulting fabric; grafting garter (a bloody revelation!); stretchy cast offs, adding fingers to gloves and rectifying jogs when joining in the round. I think of myself as a pretty adept knitter, but I'd say that I've picked up so much from this DVD. We all knit differently and have learned differently and this DVD set is a real exploration of these techniques. I feel educated!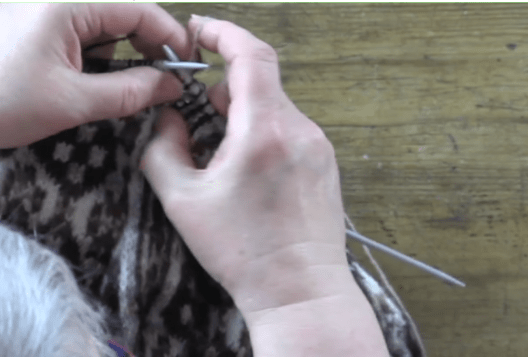 Even my own prior understanding and knowledge of many of the techniques I do know, including, colour dominance, picking up stitches, steeking, reading and re-creating charts were also broadened by watching this DVD.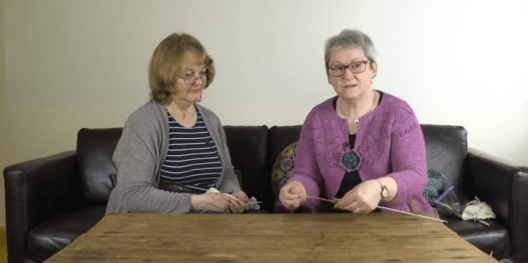 The setting is really simple and comfortable. Hazel and Elizabeth are sitting on a sofa and the camera films them from above, over the table too. When they are discussing the tip or technique, it is really natural and the overhead camera captures the technique being worked in detail. I particularly like how each talk about their own approach to the technique in their own crafts and also discuss other ways in which knitters can execute it – again, it offers a real breadth of knowledge and experience. As well as being natural teachers, the pair are really funny and brilliant presenters – I think they need their own show!
A great collection of skills and techniques, presented from different angles with great advice and some Shetland tradition and knitting history included –  50 Tips from Shetland Knitters is a real masterclass from two brilliantly talented knitters and tutors.
You can buy the DVD online from Jamieson and Smith, Shetland Museum and Shetland Times Bookshop (Some places are sold out at the moment!) and you can also buy the films as a digital download, from Vimeo – both cost around £25.00.
And if you've read all this and you still think you know all the techniques just fine, its worth the cover price for the advice on fixing the error in lace knitting, weaving in ends neatly for Fair Isle and finishing/dressing alone!
Thanks so much to Hazel and Elizabeth! and BBC, if you are looking to make The Great British Knitting Show, here are your presenters!