Welcome in to another episode, it's lovely to have you here
↓Listen to the podcast↓
You can also listen on iTunes, the podcast app, or search your favourite podcatcher, if you prefer!
Shownotes
I start this podcast with an important message and a bit of a raised voice. If you are the kind of person who likes free speech, standing up for your rights and the rights of your fellow human you can pretty much skip the the first 5 mins. Here…look at some of the positive images that I am clinging to (As Beyonce sings, Who Run The World?!),  whilst I talk to the one or two listeners who have told me this week that they aren't interested in standing up for equality  et al.
For anyone who who misconstrues my words in the podcast, let me put it clearly here also…
This is primarily a podcast about wool and knitting and the powerful force that knitting can be in our lives. When I record this podcast I don't put listeners into neat boxes or consider what your politics may be – because I consider us all to be unique.  I don't talk about politics in any great deal (again, mainly all about the wool) but I definitely get to have an opinion and all views expressed in this podcast are my own. If you don't like it, just don't listen. Don't put words in my mouth and read between my lines. Tune out and take your scorn elsewhere. If you want to come back and play nice, you'll be welcomed. I'll be here trying to cling to the positive and my knitting life (c)raft as usual.
Now, let's get on with some wool shiz…yeah?! Cool.
| Cast off
I cast off the Fly Forward shawl in BFL/Masham in Ask colourway, from Yarns From The Plain.
I actually finished this before the new year, but only took photos recently. Superb pattern for mindless, soothing knitting and an incredible yarn too.
My other recent cast offs have been hats and review yarns. In the run up to EYF i'm going to be sharing a vendor or two with you and show you some of their wonderful wares. Don't worry, I will ensure that what I share is also available on the vendor's online places. Today we have a squidge of…
Lalland Lambswool from Di Gilpin
Di Gilpin released the Lalland yarn range a few years ago and the wool beautifully compliments her knitwear designs, which have strong connections to Scotland, the land and the sea. Di was very kind to send me some of her favourite shades to try out. I knew I wanted to try the deep storm petrel with the misty haar shade and so I cast on the Icelandic Hat from Knitting From The North.
As usual, you need to listen in for the full review, but in a nutshell this yarn is soft as soft can be, made from British lambswool, spun in Scotland and then double spun into a loose 4 plied strand in Yorkshire. There are 18 colours and each 50g ball has 175m. It costs £7.95. This yarn will be incredible for warm, but lightweight sweaters (I'm thinking Stasis) or lace shawls (haps!) .
Zwartbles Cheviot from Black Isle Yarns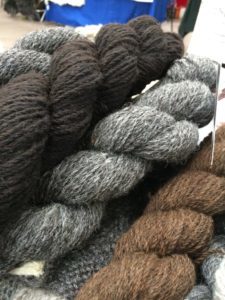 Last week we met Julie and she talked about her business and the farms where she sources her fleece for her yarns. I mentioned I was swatching with her Zwartbles Cheviot yarn and wanted to give you a little taste of why I think it's so special.
Both these fleeces make incredible workhorse yarns so together they really are the best of all worlds. The natural colour is a dark coal grey marl and I was eager to try crochet in this lovely rustic yarn. I just adore the texture of a granny square and so really wanted to see the fine fibry halo over the fabric. I was really impressed with the thick and springy nature of the crochet square and the lovely light sheen of the yarn. Because I love to try out a characterful yarn in garter I cast on the rikke hat (which I could knit forever!). Garter is so SPROINGY in this yarn! Whatsmore the crisp yarn really softens up when washed and blocked. I can pretty much wear any wool next to my skin, but even my hairline can protest at the softest wool, but this isn't even prickling me there. I believe this is one of those great yarns that will make heritage garments that will last years and keep on looking good.
Unfortunately this was the last of the Zwartbles Cheviot but there will be more to come – good! cos I need a sweater. But it is not quite the last. Julie has give then the very last skein to you as a prize! Get on over to the Ravelry group, find the entry thread and be in with a chance to win this lovely, characterful yarn.
KnitBritish Woolly Muckers 
UPDATE – The spots all sold out – listen in to hear more next time. And thanks to absolutely everyone who was interested
I posted about this earlier this week – the listener sponsor spots go on sale at 11am today. See that earlier post for all the details (or indeed, listen to the podcast). I also want to thank everyone for their support and encouragement for this. You can see all the contents of the woolly muckers bundle in the video below and in buying a bundle you are agreeing to be a feature sponsor of the KB podcast in 2017.
I'll be back in a couple of weeks! Come back for more woolly goodness next time, if you can!
Thanks so much for listening and for your support and enthusiasm for KB!
| Information
Music: Carefree by Kevin McLeod and Singin' in The Rain (demo) by David Mumford – Both are on FreeMusicArchive and are both shared under Creative Commons Attribution license. Images are copyright to those attributed, otherwise they are mine. All reviews were for wool that was given to be free, in exchange for an honest review. Source links for PUSSYHAT images – New Yorker Magazine – http://www.newyorker.com/culture/culture-desk/cover-story-2017-02-06. Time Magazine – http://time.com/4649891/protest-donald-trump/. Emma Welford Postcard – https://t.co/bn4sTYchRx