Since last time I've been up to the top of the map, down to Yorkshire and then back to Edinburgh. Come in, grab a drink, grab a WIP and have a listen to what I've been getting up to.
(Apologies for intermittent knocking. My neighbours are moving and making noise, which I thought would be less audible)
↓Listen to the podcast↓
You can also listen on iTunes, the podcast app, or search your favourite podcatcher, if you prefer!
| Shetland
I had an awesome time at Shetland Wool Week and just enjoying being home after a full year. My highlights were definitely the hap meet up and (nerve-wracking) talk. I also adored my classes with Helen Robertson and Mary Fraser.  You can see more of my photos here.
| #GetYourBaablesOot

Donna Smith has released the Baa-ble cowl and mittens pattern to complement her Baa-ble hat from Shetland Wool Week 2015.
You can show your appreciation for Donna's creative talent and buy one of the baa-ble designs (or all of em) from Donna's ravelry store. Accept no baa-ble substitutes!  (you know to what I allude!)
I cast on a Baa-ble hat this weekend in Old Maiden Aunt BFL Aran and I am loving watching those sheep emerge!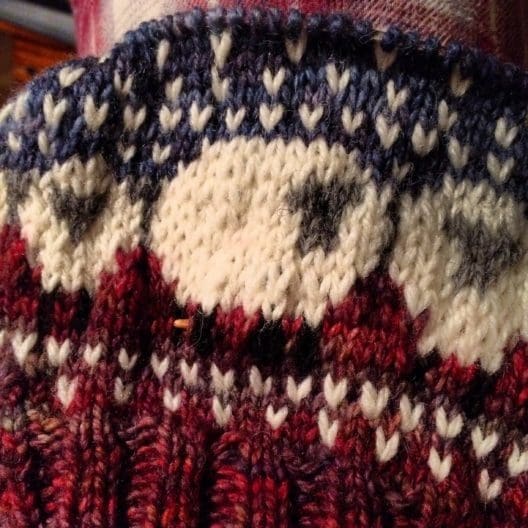 | Visit to Harrogate 
I went to visit Joy McMillan, the Knitting Goddess, as I was interviewing her for upcoming Wovember content on her Yorkshire Yarn. I also met Claire Tunney, who has the Poll Dorset flock whose fleece are going into Joy's yarn. It was lovely talking to them about wool. We also visited Rigmoor Reindeer, run by Becky and Richard Burniston. In addition to reindeer and goats, they have BFL which is also going into Joy's yarn. It was an utter delight to visit Rigmoor (and cuddle sheep and goats!) and hear about how dedicated the couple are in teaching others about modern and traditional farming techniques. I'd love to visit another time. (that gimmer loved me!)
| Laxtons
I also visited Laxton's mill with Joy and Bobbie. Thanks so much to Andrea for showing us around the mill. You can visit the mill's shop online and learn more about this company, which has been producing bespoke yarn since 1907! I hope to return one day and record a tour that I can share with you.
| Recent blog posts
I have written a few blogs recently on my Trip to the Scottish Smallholders Fest and also on The Mindfulness in Knitting book, by Rachael Matthews. I aim to talk a bit more about that book in an upcoming episode as it ties in with a subject I am keen to talk about.
| Next week's episode
I am back next week and I am talking to Mica and Jo from the Edinburgh Yarn Festival. Last week the workshops went on sale, so we will be talking about that and I will be getting some VERY exciting peeps into the-as-yet-unreleased vendor list. IT IS VERY BLOOMIN EXCITING!
If you are a podcaster and you are planning on coming to EYF17  then please email me louise [at] knitbritish [dot] net. If you have had emails from me on the topic over the last couple of years then you will hear from me again, but it is very difficult to connect to all podcasters as many do not give email addresses on their websites or shownotes. I want to ensure I'm in contact with all podcasters who are coming. If you know your favourite podcaster has said they are going to EYF17 then give them a gentle nudge to get in touch with me. I want to keep all podcasters updated on all the fun of Podcast Lounge 2017!
More next week!
Thanks for listening!
| Information
Music: Carefree by Kevin McLeod and Singin' in The Rain (demo) by David Mumford – Both are on FreeMusicArchive and are both shared under Creative Commons Attribution license. Images are by me, unless otherwise attributed. Please do not reproduce without written permission, in triplicate, in block capitals and without sending wool and cake first to both me and the copyright holder, in triplicate. Accept no substitutes, my friends