Today I am talking about my own meaningful knit and show sponsor Joy McMillan talks about an exciting new yarn collaboration between The Knitting Goddess and Blacker Yarns! (Today's episode title is purely a bingo reference, which I have been waiting 65 episodes to get out there haha!)
↓Listen to the podcast↓

You can also listen on iTunes, the podcast app, or search your favourite podcatcher, if you prefer!
Podcast sponsor
This month KnitBritish is sponsored by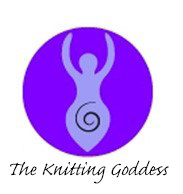 Joy dyes luxury yarn in her studio in Harrogate and is committed to supporting British breeds and fibre in all her bases. In addition to incredible yarns, such as Britsock and Wensleydale and Shetland 4ply you will find screen-printed bags and books, hand-crafted stitch markers and exclusive yarn clubs in her online shop. Click on the logo!
| Show Notes
|  The Big WIP Rip
Saturday was the #bigwiprip and we had a great day at Fluph, as well as enjoying hearing about the big wip rips at Wild and Woolly and happening on social media! Well done to everyone who ripped out their unloved knits and freed their yarns.  If you found you had WIPs that you still want to knit and didn't want to rip you should check out lovescraftsandbeer's #Thebigfallfinish on Rav.
| My Wedding Shawl – a meaningful knit 
I give a wee bit of info on my special fancy hap, which I wore at my wedding.
This slideshow requires JavaScript.
| St Kilda Lace weight
The wondrous Blacker yarns have collaborated with Joy McMillan on the St Kilda Laceweight range. Here is the official word from Blacker on the make up of that glorious wool…
Blacker's St. Kilda yarn is a unique and rare homage to the Scottish archipelago and World Heritage site on the outer edges of the Hebrides.  The islands' native Boreray and Soay sheep are two of the oldest and rarest of all British breeds, so there is only enough wool to make a limited amount each year.  These fibres are hand blended together with Shetland to create a beautifully delicate and textured yarn with plenty of bounce.  Our St. Kilda has a real grip, so it is exquisitely suited to lace knitting and textured shawls. …

Hand dyed yarn possess a great depth and intensity, which is particularly striking over the subtlety shaded St. Kilda yarn.  This collaboration between Blacker Yarns and The Knitting Goddess came about from a desire to recognise the importance of this country's rich textile heritage and elevate the fibre from such rare and beautiful sheep.
Joy skyped in for a chat about dyeing this yarn and we also talk about working with Blacker on this collaboration. The St Kilda will come in ten dyed shades, it will be available in 50g skeins/ 350 metres and will be on sale first at Yarndale (24-25 September) at both the Blacker and Knitting Goddess stands. After Yarndale it will make it onto both the Blacker and Knitting Goddess websites for sale
Sonja Bargielowska, from Blacker, has designed a new shawl specifically for this yarn and there are testing opportunities available. Testers will be able to get the yarn before it goes on general sale so get in there quick! Details are in the Knitting Goddess Ravelry group.
| Cornish Tin II – launching 20th Sept
Thanks so much to Sonja, who sent me some Cornish Tin II to play with. This is a special birthday blend which is made up of 100% sourced British fibre – it comprises of a collection of the highest quality British fibres including Alpaca, Portland, Saxon Merino, Gotland, Jacob, Shetland, Black Welsh Mountain, Mohair, and English Merino.  The yarn has been dyed in shades  named after Cornish tin mines. When I saw this yarn I knew I wanted to knit a cosy item with it and I felt like it would be an awesome luxe workhorse yarn for allthethings! I cast on Kate Davies Striped Bunnet. (photo when I get some good light!)
The yarn is smooth and plumpy in the ply. It has a squash in the skein and a soft lustre that really catches the light. The working yarn in the hands has a crispness and there is a beautiful light halo on the yarn and knitted fabric.
As always, you need to listen in for the full appreciation but in three words this is versatile, workhorse and lustrous! The breeds and fibre in this yarn are really well chosen for making items with a long life. Well done, Blacker Yarns, and happy 11th birthday!
The yarn launches in a DK and a 4ply on 20th September and will cost £16.20/100g. I would be happy to knit everything from hats to sweaters in this great yarn; anything with texture will totally pop. I particularly fancy knitting a Woodsy hat, by Mandarine's, in the 4ply.
| Online Places
Please do check out the KnitBritish Ravelry group and join in there, if you haven't already. There are also a couple of new threads, which may be of interest to hap KAL knitters. I also had some really lovely reviews recently on itunes. Thanks so much for taking the time to do that – it is not only very kind, but it helps other people find out more about the podcast.
| Next Time
You really need to come back on 23rd to hear about The Knitting Goddesses brand new exciting yarn, sourced from Yorkshire. There is also a very exciting KB collaboration within that and something that KnitBritish listeners will be able to get involved with!
Thank you so much for listening!
| Information
Music: Carefree by Kevin McLeod and Singin' in The Rain (demo) by David Mumford – Both are on FreeMusicArchive and are both shared under Creative Commons Attribution license. The Knitting Goddess Logo is copyright to Joy McMillan; wool images are copyright to Blacker Yarns, other image copyright belons to those as stated and the other images belong to me!