I have mentioned before that the Woolsack group on Ravlery have a thread to discuss ideas for your own projects knit with British wool. I was late catching onto the group and if you a not familiar with Woolsack I highly recommend that you have a browse of the website. 
It was the brainchild of Sue Blacker to create gifts for the Olympians & Para-Olympians during London 2012, gifts which were made from British bred fibre and created by UK crafting talent.
  Soon knitters, felters, crocheters, weavers and schools, clubs, community groups, etc were all creating cushions –  made and stuffed with British wool  – which would be presented to an Olympic athlete.
  Sue, along with a team of dedicated volunteers, created, stuffed and distributed thousands of cushions during London 2012. If the smiles on the faces of these Australian swimmers are anything to go by the project was a total success!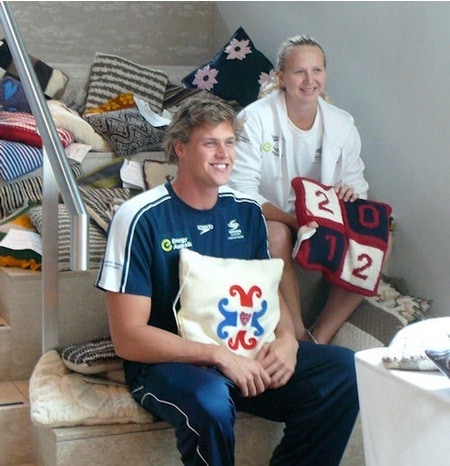 Since the end of the Olympics, Jane Cooper has been maintaining the woolsack website as a reference to home-grown fibre & yarn. Jane is an absolute enthusiast when it comes to British wool and the website really is outstanding when it comes to finding wool stockists, links to information on the 60 different breeds of British sheep and to stockists and designers of clothes manufactured in UK fibre.
  I really found the stockist listings of yarn totally invaluable; not only does it have some of the more well-known brands – such as Jamieson & Smith and Rowan – but it has such a brilliant resource of small, independent yarn producers and dyers of British wool. I discovered online shops such as Little Houndales Knits selling wool from their own flocks. Of course, the resource does not just apply to the ovine – there are stockists of UK angora, cashmere, mohair & alpaca!
  If you tweet, you can follow Woolsack there too, Jane is always sharing really interesting stories & blogs about UK fibre, as well as tweeting about wool in the news and about UK stockists. Woolsack is all about promoting, informing and enabling people to access the wonderful resource of wool and fibre we have in this country.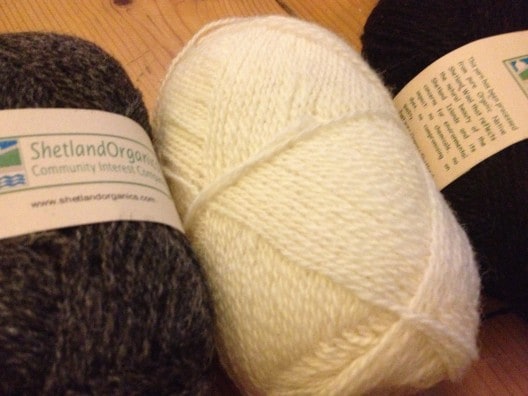 Inspired to immerse yourself in a project using UK fibre?
  Well, if so I am going to challenge you! Head over to woolsack's stockist pages and give yourself a little time to browse through the wonderful array of yarn sellers, spinners & dyers – some of them may even be local to you.
 Once you have chosen your British bred yarn and you have a project in mind head on over to the Woolsack ravelry group and join in with the Knit-Brit-2013 project. JaneKAL is a wonderful hostess and you will be very welcome there.
You can do one project, your project could be a long term biggie or you could knit all year round in UK fibre, like me. There are no deadlines. All you are asked to do is tag your projects knit-brit-2013 and you are not confined to just knitting – crochet, weave, felt, whatever you like!
If you don't have a Ravelry account (and you really should, it's great!) I would love to hear about your projects and your British wool here.
A lot of people have an attachment to natural fibres and particular breeds, as well as an interest in supporting home-grown ventures – joining in with this project is a really lovely way to celebrate UK grown/dyed fibre and support your favourite breeds and local producers. 
Don't forget you can also tweet about your projects or anything to do with knitting British by using hashtag knitbritish
My first "official" (whatever that means!) KnitBritish 2013 project hasn't yet begun as I am still knitting from last year – My wool is dyed by a wonderful British dyer, though! More on that later.
Have you recovered from the end/arrival of the year? I think I would like to get back to normal now, don't you?
*removes every card, scrap of tinsel, dismantles the tree & sighs with relief*