The enthusiasm of people who have expressed interest in taking part in the Breed Swatch-along is infectious, but it also makes me giggle a bit too. Here we all are, a bunch of wool-loving crafters all getting excited about knitting single breed swatches….SWATCHES…the one thing we know we should all do when it comes to approaching any knitted item and the one thing that most of us do not do.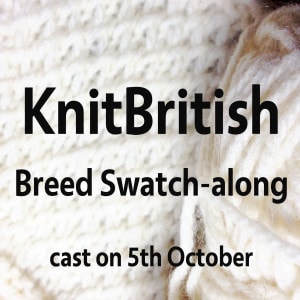 Some of us are afraid of the knitting maths (me!), some of us think it's easier to just cast on and get going (me!); some of us are happy with our own gauges and can trust ourselves, but we all know, deep down, that swatching is important. I am definitely someone who passes on the good advice of swatching, but rarely do it myself, but for some reason doing it for this just seems so much more FUN, does that make me sound shallow? oh, well!
Swatching is the whole basis of our upcoming KAL – by knitting a square of fabric we shall be able to discover the evolution of our single breed wool; we will be able to chart the intrinsic characteristics of that yarn and that little square is going to be able to tell a story. As we cast it on – Once Upon A Time – we are introduced to the yarn and we have initial thoughts on its character, what it might be best suited for and we watch that yarn take shape in the knitting.
Swatching also tells us if the needles are right and if your chosen pattern is showing off the wool to its very best and when we cast off it is not even the end of the story – the repetition of washing, blocking and wearing shows how the character of the wool develops and it shows how the wool fabric changes. Only then can we know if there will be a Happy Ever After!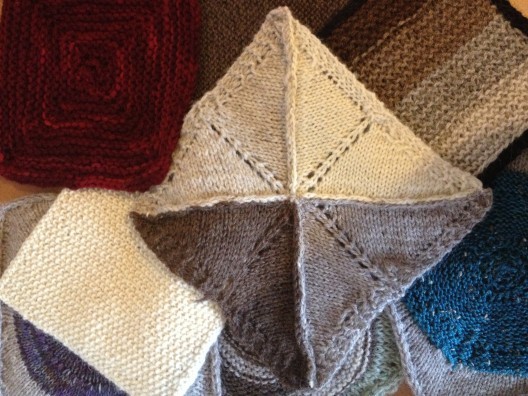 I also heard about a novel approach to swatch knitting the other day. We all lose the knitting mojo from time to time, we feel we can't knit, or life isn't lending itself to knitting time. A friend told me that when this happens she just picks up some needles and a new ball of yarn and casts on a swatch. No TV, or music, no background noise – just sit in the quiet and focus on the gentle action of knitting. Whether or not the mojo comes back, she did not say, but her swatch – not knitted to check gauge or for anything other than meditative knitting – is a little testament that she can knit and she did have the time and that amid everything else that is going on there was a little quiet time and a little soothing knitting. 
I've been reading and re-reading some lovely posts on swatching this week. My lovely woolly mucker Felicity Ford wrote a series of posts on swatching using the KnitSonik Stranded Colour-Work Source Book. For Felix her colourwork swatches are incredibly important…
Each one is a kind of case-study for The KNITSONIK System in action – a test piece of knitting exploring a design palette, patterns and shading based on a different everyday inspiration.
Swatching is useful and practical and, as Felix goes on to say in Money, Time and Swatching, they are an investment of time which create an "ideas bank". This doesn't just apply to your own colourwork designs – how wonderful would it be to take part in this -along and at the end of it be armed with knowledge of different single breed wools, how they knit, how they wear and what they will be best suited to for future use?
And what of that future use? Our swatch reviews will be available for people to read and research; to know of our reviews and base their future wool buying upon them. I also want to create a virtual wool blanket of all our swatches too, but what will you do with your swatch? Some people have already said they would like to knit them into a blanket or a cushion, which would be such a beautiful idea and a lovely, long lasting tribute to the work you put into the KAL and what you discover from it. 
We could also be so artful with our swatches. I was so inspired by a drawer at the Shetland Museum and Archives in the textile collection. Inside the drawer is lots of circular knitted pieces of fine lace. This is an exhibit by Deirdre Nelson and Anne Eunson. Each swatch is dyed with tea and represents the Truck System, when women bartered their knitted items for payment in goods, such as tea. 
Of course, we are working with undyed yarn, but I am sure there are myriad ways to show off the natural beauty of your swatches…frame them, display them, treasure them!
However we approach our swatches and whatever happens to them after the KAL I just want to say how excited I am to be embarking on this journey of woolly discovery with you. And, who knows, maybe the swatch-along will totally change how some of us view swatching forever!