If you listened to the last episode of the podcast, you will have heard me talk about the new yarn from The Border Mill, which is launching next weekend at Fibre East, Ampthill, Bedfordshire. The eagle eyed among you though may have seen that this yarn, in 12 gorgeous colours, is available now from the online mill shop. 
The Alpaca Silk feels and looks exactly what you may think off when you think of these two fibres – soft, luxurious, silky, strong, drapey…and that is just the yarn in the skein!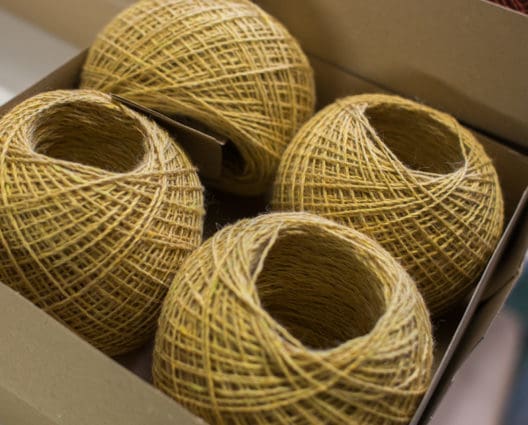 Alpaca and silk are of course amongst the finest fibres out there and combined in this laceweight yarn they absolutely beg to be knitted into something lacy, well I think so!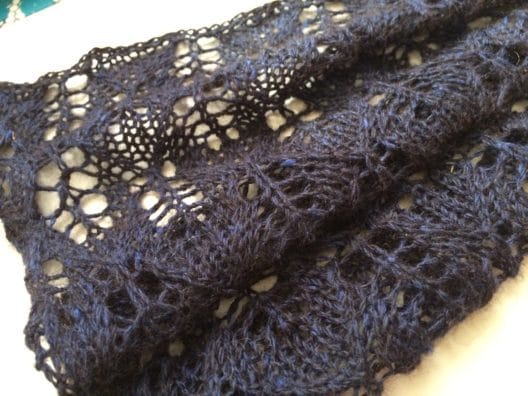 I really wanted to see what this yarn could do in lace stitches and set about finding a nice stitch pattern, finally settling on a pattern called English Fern Lace (but is also called leaf patterned lace). I also knew that no 4×4″ swatch would do and I needed to go longer to really savour this lovely yarn. I cast on 46 stitches on 4mm needles. I knit a row or two of garter and commenced the lace pattern, beginning and ending with a couple of garter stitches at either side.
| The Yarn
This fine 2ply laceweight has a very fine delicacy about it. The blend is 70% alpaca and 30% mulberry silk and a ply of dyed silk is spun with a natural shade of alpaca. This gives the yarn a real depth of colour, with shimmering highlights.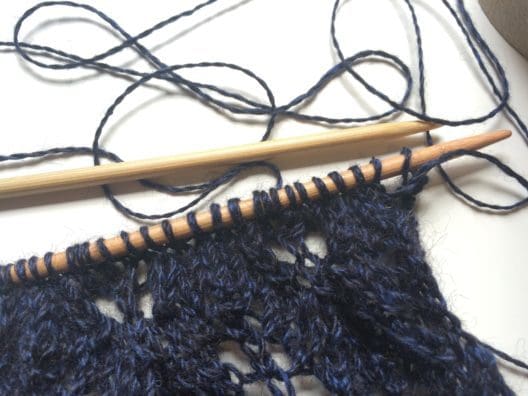 Through my fingers the yarn just glides! I did like using the bamboo needles so that there was a bit of grip when knitting. I found that the yarn knit very smoothly – as you might expect – and there was virtually no splitting between the plies.
I had to tear myself from knitting on this swatch once it reached 6 x 10 " unblocked (too many other projects pulling focus!) and when I cast off the final stitch it the swatch fell to the desk with a velvety "pfft" sound! 
| washing, blocking and wearing
I blocked this out to the dimensions 9.5 " by 12.5 "  (though I could have blocked it narrower and longer). When I unpinned it I was surprised that in addition to being soft and silky it has a strength and an incredible stitch definition and structure.
This slideshow requires JavaScript.
against the skin? well, let's just say anyone who suffers from the merest fibre prickle will have no issue with this yarn! Lush is the word!
Most alpaca yarns have little memory, and little elasticity – blending this with silk hasn't made it any more elastic, of course, (though the swatch has an ever-so-slight spring back to it when stretched), but what it gives the yarn – and fabric – is hold and structure. I just love how these ferny diamonds are so well defined. 
| Which projects will this yarn be suited to? 
I love the idea of creating a gorgeous lace top in this yarn, like a hitofude – the yarn will be lustrous and give glorious structure to the lace. I just finished a Talavera, by Amanda B Collins and can imagine that this yarn would be incredible in a second! Also the delightful cowl lace neck detail on Tin Can Knit's Bonny would be beautiful, maybe in the Lagoon colour. Of course, the alpaca silk would be incredible for shawls too. I think perhaps I need to get some more of this glorious Sirius shade for Donna Smith's Houlland, from The Book of Haps! 
| The Details 
 The Border Mill Alpaca Silk
70% British alpaca, 30% silk
2 ply laceweight
50g / 250 metres – £9
500g cones – £80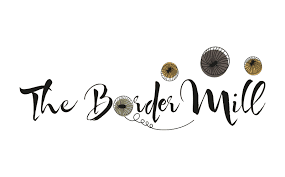 Thanks to The Border Mill, who gave me this yarn to play with. If you are heading to Fibre East next weekend, do find them and squoosh some yarns. If you can't make it to Bedfordshire then scoot over to the mill's online shop for a nosey.