Here we are with part two of my interview with Rachel Atkinson. You can read part one here. Today we discuss labels, learning curves and the future of British wool!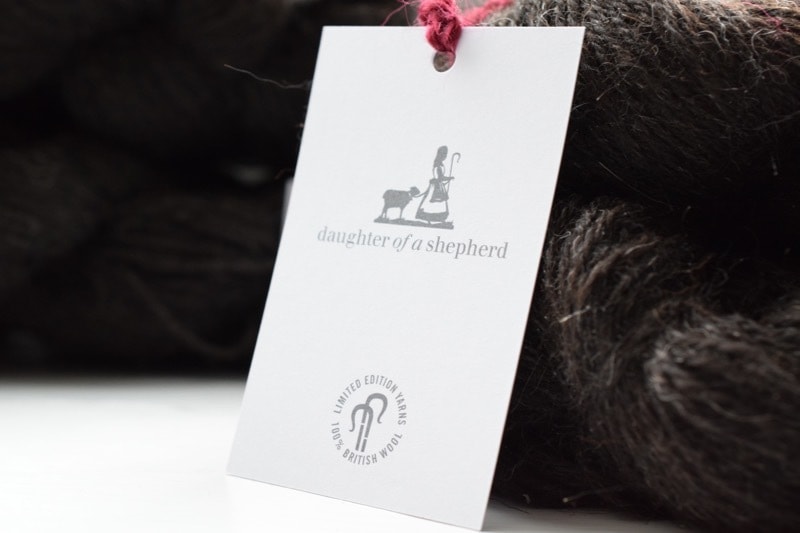 LS:  We've had recent twitter conversations about the labelling of wool and on the information we'd like to see on there. What is important to you as knitter and now a wool merchant to have on your ball band of your very own wool?
RA: The labelling of my yarn (I still smile when I say that!) has been incredibly important and it was quite tricky to condense all the information I wanted to include in the space available on a standard size yarn label. My graphic designer, Anthony Duncan Smith has done a great job and hopefully we have covered everything in a really neat, tidy and stylish way. The thing that has brought me the most pleasure about the label is being able to put the name of the shepherd, grazing land and actual clip date on there – traceability is so important and it also shows how close I am to the wool.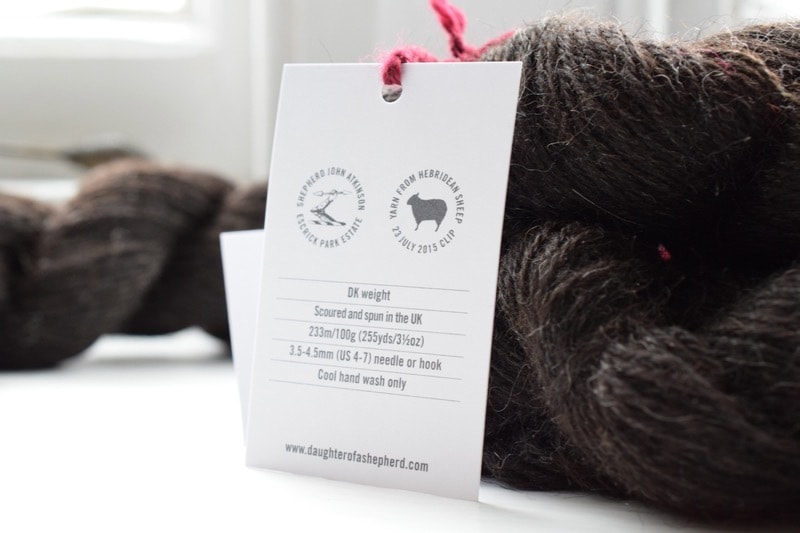 LS: I can imagine it has been a huge learning curve and you must have taken away such a lot from the experience. What is next for you?
RA:  It has been a massive learning curve and I really did take a step into the unknown insofar as I knew very little about spinning and yarn production. What I did have on my side were years and years of high-end retail experience, from buying through the whole process of marketing to the actual selling and this has been invaluable. I have a sound understanding of the 'yarn industry' and I am lucky to have met so many amazing people in the business who I can count among my friends and who have been on hand with advice when needed.
I have to thank John Arbon for being such a huge help with the whole process and for taking the project on to start with. The yarn is just beautiful! It's soft and lustrous and mysterious and full of stories and an absolute joy – it has far exceeded my wildest dreams.
We are currently developing a second batch from the remaining tops that will build on and enhance the characteristics of the Hebridean fibre. It feels as though what I thought would be the end of the journey is really just the beginning and I am looking forward to seeing where we can go next – even more exciting times ahead!
LS:  I can't wait to see where the yarn takes you next! And what does your dad think of your yarn from his sheep?
RA: Dad seems to have decided that I will be taking the 2016 clip as well – who knows, I might even learn how to shear a sheep! Dad is a born and bred Yorkshire man so not too good at expressing himself, but I had sent him a copy of the labels and had a chat with him about them and later received an emotional email from him – he's proud but reminded me that I should be proud of what I have achieved. It's strange isn't it that being proud of our own achievements is always hard to do.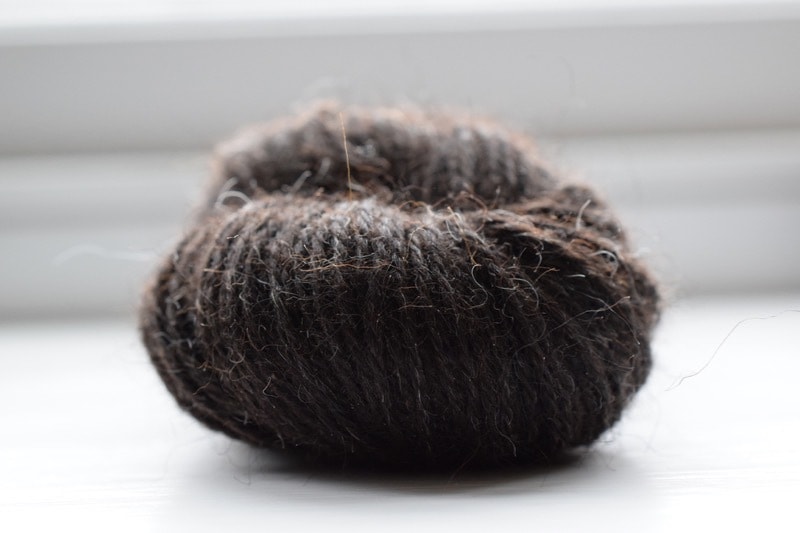 LS:  I am about to ask you a question that I know we could dedicate an entire podcast episode to (and we will) however, you've always been a big supporter of British wool  – and I am sure that is further cemented now – but where do you see for the future of British wool?
RA: Oof, where to start?
I like to think there is a bright outlook for British wool. There are a few of us, and increasingly more, doing work at grass roots level and the support behind using British wool is gaining ground and not just in the yarn industry. Knitters and crocheters are asking more about where their yarn is coming from and making conscious decisions about how to spend their money. The sad thing is that this is just a drop in a very large ocean and we need the BWMB and Campaign for Wool  to step up and do more to get large British companies on board – Burberry, John Smedley, Vivienne Westwood, all of Savile Row and so many more should all be using British wool and actively supporting and promoting it too whether that be for knitwear or woven cloth. We have an incredible heritage product the world would fall over itself to get its hands on, and aside from the high costs of UK production (almost irrelevant in high-end retail products), some of this goes back to the lack of manufacturers still operating in the UK. Aside from the high-end labels, how about someone like Marks & Spencer standing up and doing something, or John Lewis, Next, BHS?
Wool prices have increased over the past 3 years but sadly this means that the amount of imported raw fibre has also increased as companies seek out cheaper raw materials. I would love to see more incentives and subsidies for companies who use and actively promote British wool, and also for those who are processing and manufacturing the products. British manufacturing has always been a hugely important topic for me and this is something I am really keen to get behind.
I just don't understand why farmers are still obliged to send their fleeces to the BWMB. Why can't they go and spin their own wool if they want or set up a deal with a manufacturer of fine woven fabrics, or fleece mattress companies and so on. Why does it all have to be channelled through the BWMB? It was a brilliant organisation when it was first set up and has done a lot for British wool but just because something has run satisfactorily for 70-odd years doesn't mean that it wouldn't benefit from a shake-up.
The other big issue we have is the lack of scourers and mills who can process the raw fibre and on top of that due to the closure of so many of these factories we have also lost the skills. There is so much to learn from older generations which is vanishing right before our eyes and thus the work goes overseas where these skills are still taught and developed.
Whilst the enthusiasm for using British wool by knitters is gaining momentum every day, it is more for the above reasons that I don't think there is a particularly great outlook for British wool. How can we turn it around?
LS: Myself, I feel that people like yourself and Kate Davies are really blazing a trail;  essentially taking the bit between your teeth and showing exactly how great hand-knitting wool can be made from our own wealth of woolly resources –  also telling the story of where that yarn came from and the people involved. There could easily be more of that and – more importantly – there is a market for that.  Education is needed everywhere, on all sides from producers to consumers and beyond. I do think that there needs to be more focus on British wool and the importance of it in handknitting by the CFW. I definitely think using wool in British fashion and furnishing is important – but you can't ignore handknitting entirely. There should be much more emphasis of the array of breeds we have in the UK and how they all make such different yarns.  
How wonderful would it be to see British Wool Week done with half the style and focus of Shetland Wool Week, and with the prestige they give to local wool and knitting. It is high time some of the big players in British wool consider things from a different perspective. Otherwise the prestige we knitters give to British wool will remain niche and our wool – and we knitters – deserve much more than that…
…I am probably wise to end my response here! *ahem*
Again, this is something Rachel and I hope to talk about on a future podcast. Thanks so much to Rachel coming over to KnitBritish and talking yarn with me. Daughter of a Shepherd will have its début at the Edinburgh Yarn Festival this weekend. Soon after that it will be available through a online shop on Rachel's website. You can sign up to receive her newsletter and join the Daugher of a Shepherd Ravelry Group too. 
All images  ©Rachel Atkinson and used with kind permission.