Did you read my last post on our plans for Wool Exploration in 2018?
The first sheep breed wool that I want us to try out is North Ronaldsay! The famed seaweed munching, double coated sheep from the northmost island in Orkney, belongs to the Northern European short-tailed group and as well as being famous for their diet, they have a pretty awesome fleece too.  This is from The Fleece and Fiber Sourcebook, by Deb Robson and Carol Ekarius.
North Ronaldsay wool is sometimes called coarse and sometimes fine. Those who call it coarse are evaluating it on the basis of the guard hair; those who call it fine are examining fleeces that consist mostly of wool, rather than hair, or looking at the undercoat portion of a mixed fleece. White and brown fleeces tend to have the least guard hair, and that includes the dark browns that are almost black. The gray or black fleece get their colour, at least in part from the guard hairs, which can be predominant.

Page 175-176
I reckon I've picked a real doozie to start with, one that will give us great results. There are going to be so many fantastic variations in colour and in textures throughout the colours.
You can knit or crochet any pattern in a nice big swatch (at least 7 inches) in your North Ronaldsay. You can also use any weight yarn and it can be dyed or natural, but it must be 100% North Ronaldsay.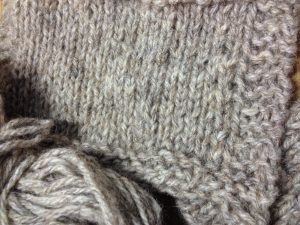 I'm going to attempt to spin my North Ronaldsay! The postman delivered 100g of dark grey North Ronaldsay tops to me, from A Yarn From North Ronaldsay; they are a small scale mill, on the island. As well as selling roving and batts (and I've not found North Ronaldsay fibre in many other places) they sell the yarn in varying weights and skein sizes and in different natural shades.
Where else can I find North Ronaldsay yarn?
Want to join in?
Then get your yarn and get casting on! Make a project page on ravelry for your swatch, tag it 'wool-exploration' and share it with the KnitBritish group. Use our swatch road test guidelines and get reviewing. Post your review in your project notes and discuss it in the Wool Exploration KnitBritish ravelry group thread. Use #WoolExploration on social media too.
There is no cast on date (Ready? Get set. GO!) but there is a deadline. As this is going to be part of the 100th episode in January, you need to post your reviews by 28th December. I know that seems tight, but its just due to the festive and the other deadlines will be longer (besides, who can't knock out a swatch review in almost 5 weeks? They take no time to knit!)
Anyone can take part in the KnitBritish Wool Exploration. You can explore with us all year, or you can jump in and out as you please.  I will collate our findings and report them on the podcast and make a lasting record of our explorations that will be a valuable resource.
Any questions?
Let's get cracking!