Yesterday, I was looking at British wool and blends which can be washed in the machine.
Well, the gentle spin has finished and the results are in… some surprising!
First out was Jarol British Aran.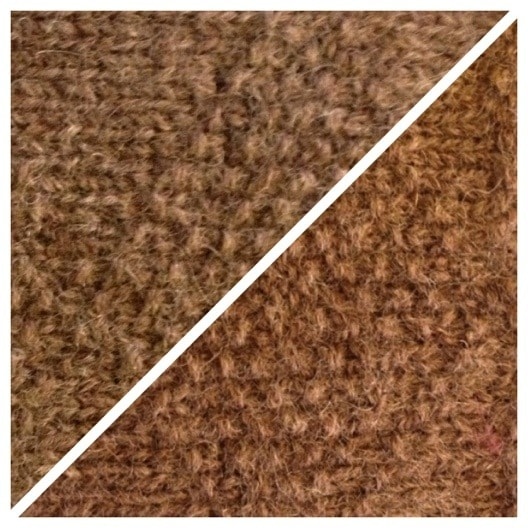 Apologies for the difference in light, the top one is before and bottom one is washed. I am really pleased with how this has behaved – it didn't need blocking, just pulled into shape. It hasn't shrunk and the appearance has not changed. That halo has bloomed a little, so perhaps it will pill eventually, but a bit of bobbling can be sorted. It bears repeating that anything woolly will want to bobble a bit after continual wear and washing.
I am really happy with this – will definitely use it again.
The other pure, machine washable wool was less successful in the machine!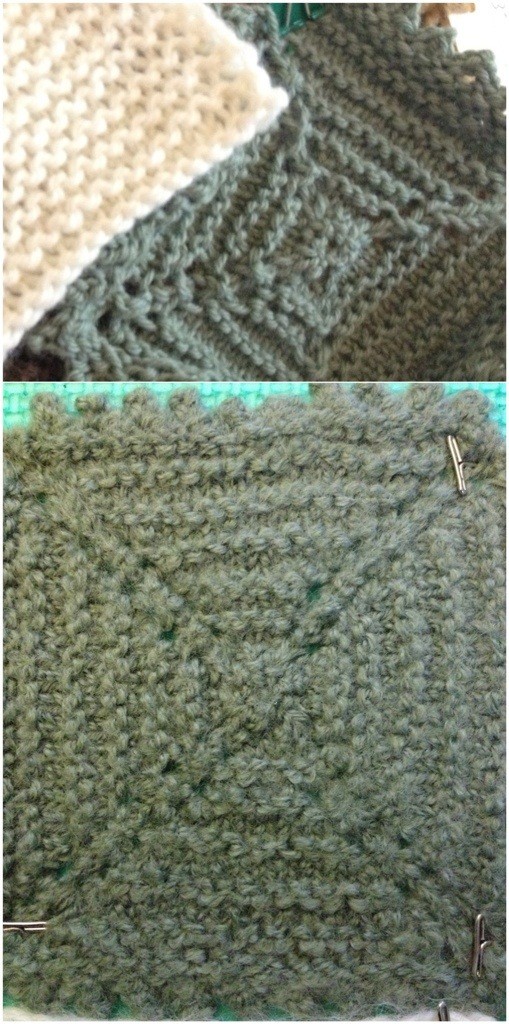 Do you remember I was so happy with the beautiful smooth, springy yarn with defined-stitches? The one I thought would wash really well…? Hmmm!
The ball band states machine wash in "not more than 30 degrees", but I think you can see that machine washing at 30 has changed the appearance of this swatch.
It's shrunk a little and the lovely definition has rather slumped into insignificance. It's not quite felted, but it looks very different.
I have to say I am quite disappointed… I had a kids sweater queued up with this in mind, but I know the mummy won't appreciate a yarn that will behave like this in the machine.
This British DK is still lovely and soft and worthy of any project – it feels really nice whilst working up, but I can now highly recommend hand washing a garment made from this yarn.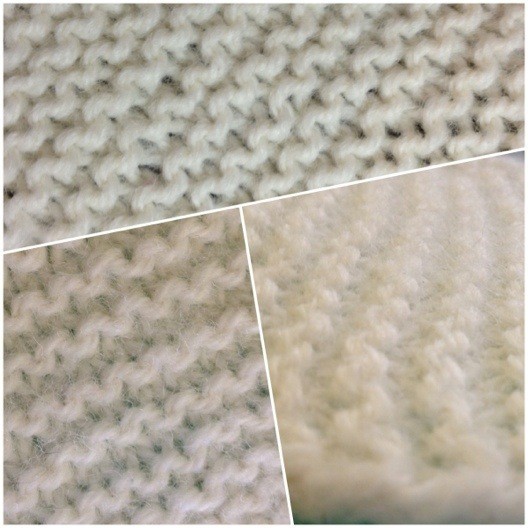 My star buy – Woolcraft 60% British wool aran performed beautifully! No shrinkage and a really fantastic bloom. The best bit is that because it is mostly wool it has a bit more of memory and stretch than other acrylic blends.
I am really pleased with this one and I think all the neblings will have something made out of this at Christmas! The only drawback is that it only comes in the one colour. However, given its 60 % wool I think it might take a bit of dye… Experimenting to come, me thinks!
The last wool – the mostly (as yet unconfirmed as 100%) acrylic which is described as a British wool acrylic blend did not change in the slightest. It didn't soften either.
Reusable bags, dish cleaning cloths, maybe dolls clothes, but not suitable for anything worn next to the skin.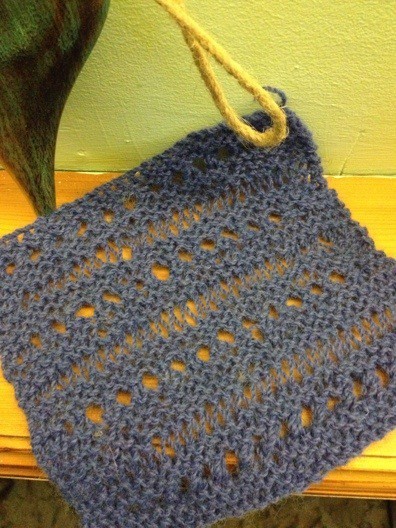 I have to say, it was quite difficult to find *British* wool with acrylic. There are a lot of acrylic blends out there – as Miss Jean Brodie would say, "for those who like that sort of thing, that is the sort of thing they like" – and you cannot knock their ease of care and their appeal to the purse strings, but there are only a few using British wool in any degree.
We have more luck with the washable 100% wools – from bumper 500g balls of Wendy Traditional Aran, the Jarol recommended here, dreamy Artesano British Chunky, to pretty hand-dyed, superwash yarns – you can find a washable wool for most tastes, washing machine settings and price tags.
As I mentioned last time, most machine wash wools will recommended hand washing too. It is up to you whether you take the words "machine washable" on their merit. If you don't already knit gauge squares and wash these swatches you may not find out how these wools behave in the machine
As well as testing swatches it is equally important to look at the laundry instructions. Some will say wash at 30 degrees, some a gentle 40 degree wash, some will state wash on the wool cycle and some are even suitable for the tumble drier. Do pay close attention to this because a wool that has been treated may indeed be machine washable, but the heat of a tumble drier could destroy the coating and cause the wool to felt. Also consider the acrylic in your wool too, if using a blend high settings in the tumble could cause the plastic in the fibre to change and dramatically change the look and feel of the fabric.
And what about that stained hat?
Well, you might not see it from the middle pic, but there is a slight coffee stain still there.


However, as I am a bit cynical, I am pleasantly surprised that 90% of all that mess came out at 30 degrees! I will wash it again and keep you posted.
Please do let me know of your favourite British washable wools and blends. I found there was a bit of a grey area for British wool/acrylic blends, but if you know of any others please let me know!