Today sees the launch of a blog tour and crowdfunder which will travel from Shetland and back with the news of a very special book and how you can help it on it's journey. I am delighted to be stop one on Susan Crawford's Vintage Shetland blog tour!
For the last four years designer and knitting anthropologist Susan Crawford has been working on recreating 25 hand knitted items from the archives at Shetland Museum. With the help of textile curator, Dr Carol Christiansen, Susan has had access to the many items donated to the museum and has chosen to recreate a selection of garments and accessories for women and men, in both Fair Isle and lace.
| Vintage Shetland Project
Twenty-five items have been selected from a large textile collection and these pieces had all been designed by creative knitting minds, rather than from commercially available patterns. Each hand knit item has a very special story to tell about the maker, the wearer or of Shetland's rich heritage of knitting and knitwear.
Many lovers of Shetland textiles and those who have visited Shetland Museum may recognise Jean Jarmson's Fair Isle vest; tiny stitches in stiff rayon yarn, delicate button detail – a prize winning item that won Jeannie £10 in a national competition in 1931.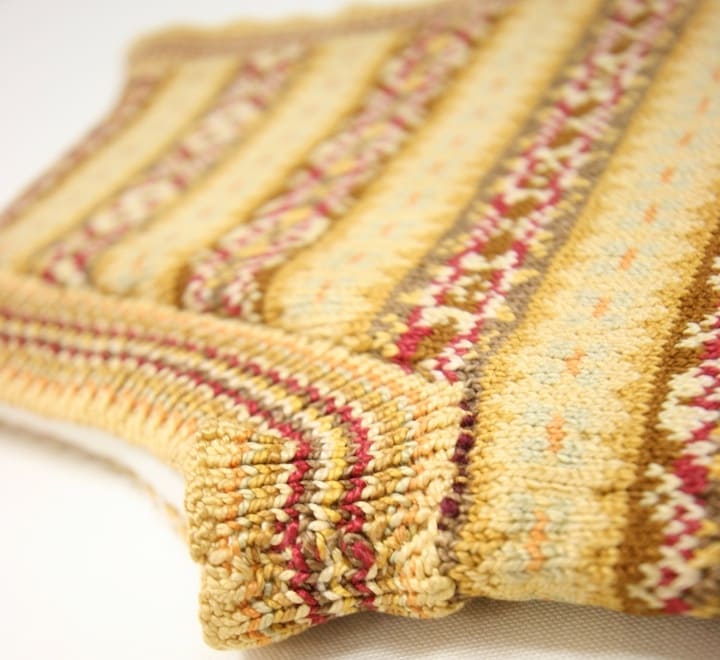 Like every garment that Susan has recreated for the project, each and every stitch of the vest was transcribed row-by-row. Each colours code was also entered into a programme, developed by her husband Gavin, so that identical colourwork charts could be created. Susan says that this was a "painstaking" process, but with all the careful and close consideration she began to realise more than simply how the garmnet was knitted.
"The more I studied [the garments], the more I fell in love with them. But as I considered why I loved each piece it occurred to me that in so many of them there was an imperfection, a flaw, sometimes in the knitting, sometimes in the construction, sometimes in the yarns used, but often because the garment had been washed, worn, loved, repaired, worn more, washed again, shrunk, adapted, repaired again, enlarged, worn more, passed on, loved more… and so each story continued."
These garments have some incredible stories to tell not only of the maker, like Jeannie, but also of the wearer, such as a Fair Isle sweater worn by a Shetland man in a Japanese POW camp – the lovely Tom Van Deijnen will tell you more about this on his tour stop later in the month.
There are narratives in design too; from traditional Fair Isle and lace to innovations in these. Look at this amazing scarf and how Fair Isle – literally – takes on a new direction. The matching beret mirrors the design and has an interesting crown pattern. The person who designed these items certainly had a flare for fun and ingenuity of design.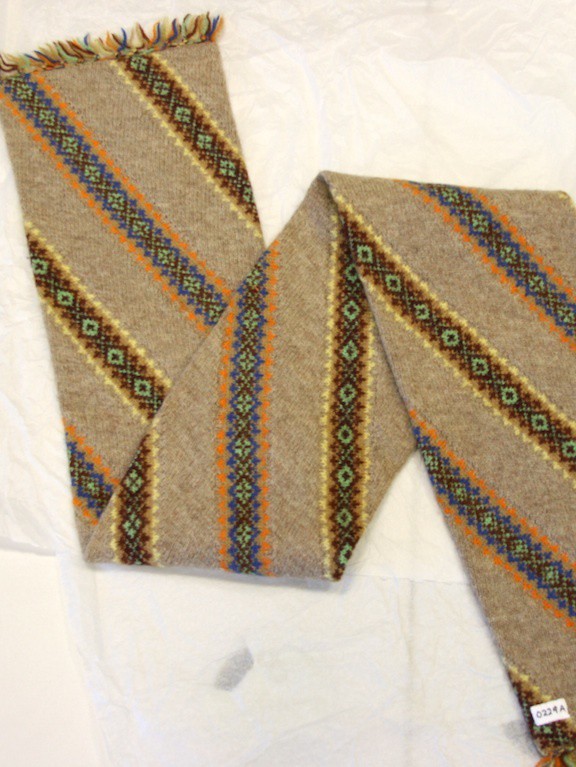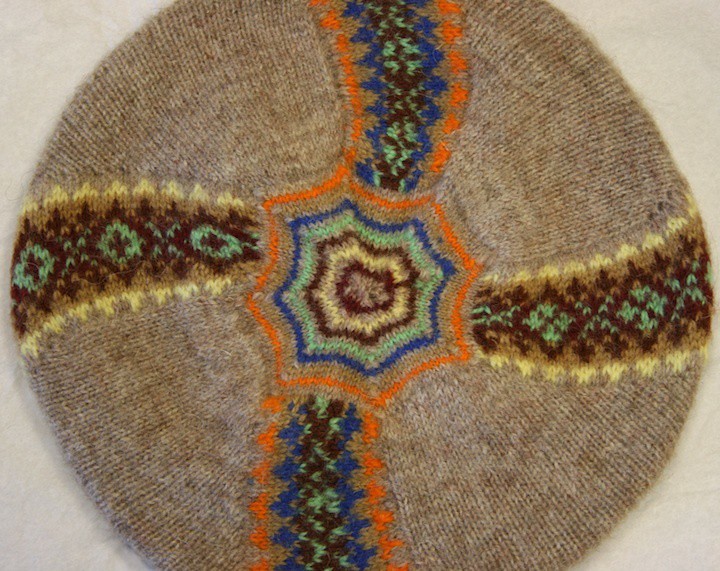 I already cannot wait to read the pattern for this set and cast for the scarf. I just love the movement of the design!
Many of the items in the textile collection are not in pristine conditon. Some have needed heavy repair or modification and others have had holes darned with different coloured threads. Even kept in archive conditions the garments will deteriorate. Susan explains how recreating these items helps to keep the items alive for future generations.
"I hope to extend their life in another way, recording their image, their patterns, their stitches, and their past and enabling knitters to read these histories and to be able to recreate these perfectly flawed knits too."
The ethnologist in me is cock-a-hoop – design, social history and true narratives are all knit in each stitch and it is fantastic that these garments can now be knit and loved by so many others, rather than safe in an archive.
| The Crowdfunder 
The last photoshoot for the book will be taking place later this month, on a Shetland Island and after four years of researching and planning, creating multi-size patterns, technical information and knitting samples the Vintage Shetland project is now ready for the next stage of it's journey. Susan has launched a Pubslush Crowdfunder today and you can become involved in creating the Vintage Shetland book.
Pubslush is a crowdfunding platform which specialises in literaty projects and by donating to the Vintage Shetland project we shall be directly involved in bringing the book into being. Those of us who own, or have read the Stitch in Time volumes will know the beauty of the books; hardback, silky pages, wonderful colour photography and layout – not forgetting the high quality of content, of course!
To help create a book of such quality, one which will be such a treasure in our personal knitting libraries, you can visit the Pubslush page to donate. It went live this morning and has already received 12% of the funding! 
As with all crowdfunding projects there is an amazing rewards package for each pledge, from £5 and up. You can choose from pattern and yarny rewards, book packages and there are also some very special rewards. You can choose a workshop reward at Susan's farm, get your hands on very a special Vintage Shetland kit, with luxury hand-dyed yarn, or have one of the items from the book KNITTED FOR YOU! How amazing?!
Until last year I had never taken part in a crowdfunding campaign before, but I have since donated to two book projects and I can't tell you how special it is to know I helped bring that book into being and that these books are in the world now and are inspiring knitters. For the Vintage Shetland project Susan and Carol wanted to find a way to help these garments and their stories carry on. By contributing to the project I think we are directly effecting those stories to continue on that journey and taking them on a far wider path than the original makers or wearers would have ever expected.
Whether you are a fan of Shetland knitwear, or vintage patterns, or you are a fan of colourwork, or if you are interested in design and construction I think you will find a lot about Vintage Shetland to love.
The campaign is launched today and runs for 30 days. The blog tour is starting here in Shetland and will travel around the world, dropping back to Shetland – where the book is so rooted -throughout. In addition to following the campaign and maybe seeing more images and garments in the book, you are going to stop off and visit with an array fantastic bloggers. Perhaps some of them will be new to you and I wish you happy reading over at their blogs.
Next stop on the tour is over at Tasha By Gum By Golly on Saturday. Do head over there and I know you delight in Tasha's enthusiasm for all things vintage too!
You can also help spread the word about the crowdfunder by sharing the link on social media and telling people who you know would be interested. Let's get #VintageShetland trending!
| The Full Tour Schedule
Thursday 9th July
KnitBritish
Sunday 12th July
Tasha By Gum By Golly
Monday 13th July
Hazel Tindall
Wednesday 15th July
Ella Gordon
Friday 17th July
Jess James
Saturday 18th July
Jen Arnall-Culliford
Sunday 19th July
Maja Karrlson
Monday 20th July
Karie Westermann
Tuesday 21st July
Rachel Atkinson
Wednesday 22nd July
Woolly Wormhead
Friday 24th July
Deb Robson
Saturday 25th July
Julia Billings
Sunday 26th July
Helen Magnusson
Monday 27th July
Tom Van Deijnen
Wednesday 29th July
Kate Atherley
Friday 31st July
Jamieson & Smith
Sunday 2nd August
Donna Druchunas
Monday 3rd August
Felix Ford
Thursday 6th August
Donna Smith
Friday 7th August
Susan Crawford
| Info
All images: Susan Crawford and used with kind permission.