I was really pleased to hear this week that there will be another In The Loop conference next year. I attended INL 3.5 last year in Shetland and it was hugely enjoyable and immensely inspirational.
For those of you who are not aware of In The Loop then you also may be unaware of the Knitting Reference Library at the University of Southhampton, who organise the conferences. The events offer an opportunity to look at knitting and crochet from a wide amount of approaches and many of the speakers – artists, knitters, academics, designers, etc – have conduted their research using the amazing collections at the Knitting Reference Library.
The library's catalogue includes the published collections of Richard Rutt, Montse Stanley and Jane Waller – which take the form of  books, exhibition catalogues, knitting patterns, journals and magazines –  as well as knitted items. The library also holds copies of contemporary knitting pattern books, designs and stich dicitonaries.
The earliest items in the collection are from the 1840s and comprise of Victorian knitting manuals from the collection of Richard Rutt. These are available to view online and I must admit I can fall into a bit of a hole looking at them. If you haven't seen them before, do have a look at them; in particular Jane Gaugain's Lady's Assistant and other knitting manuals.  Mrs Jane Gaugain was an Edinburgh knitter, who owned a haberdashery on George Street. She was writing and working at a time where knitting was beginning to move away from necessity for income, to something one did for pleasure. Kate Davies wrote a brilliant essay on her for Twist Collective and you should read to find out more about this fascinating knit pioneer.
Instructions in the knitting manuals can range from the very simple, written out in sentence form, while in later manuals patterns take more of a familiar shape – I urge you to have a wee look if you are interested at all in knitting history. My favourite thing about these books are not really the patterns, but the prefaces and the ideas surrounding knitting and textile work of the time.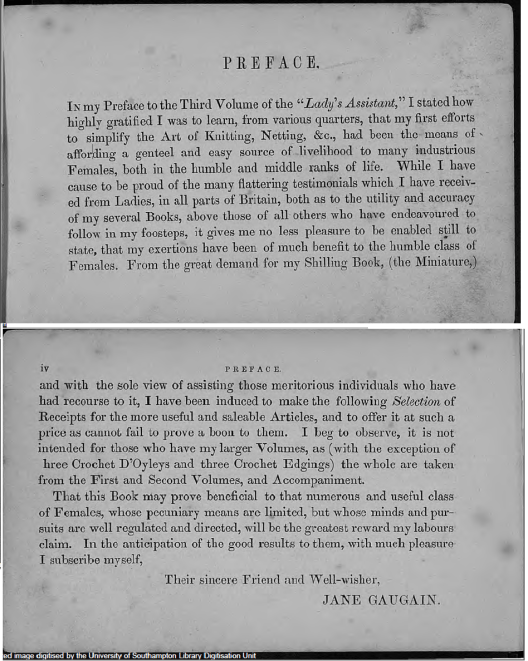 In The Loop 4 is proposed for August 2o15 in Glasgow and you can be sure I will be eager to attend! Do sign up for the Knitting Reference Library mailing list to keep yourselves in the loop.