Note: I'm going to attempt to put my finished projects on the blog instead of Ravelry. I won't post any Ravelry links and links will either go to the designer/yarnie website or a central site like payhip or lovecrafts.
Wool:  
Coara Worsted by Shilasdair  (70% Blue face Leicester / 30% Shetland) in Meadowsweet; Alder and Indigo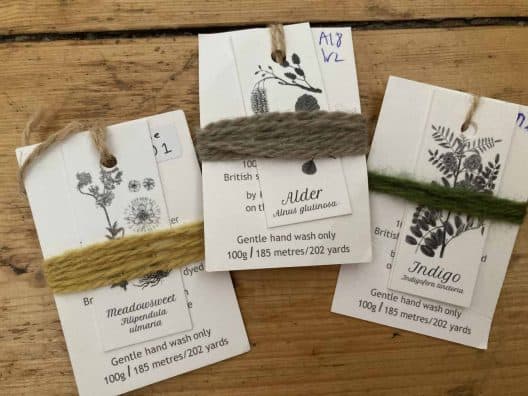 Notes:
This is my second Gryer Shawl. I made the first in 2018 in Daughter of a Shepherd Ram Jam and I knew it would be a project that I would make again. The pattern is a very soothing garter and eyelet design and I cast it when the UK was in lockdown. I don't want to say this was a lockdown project, because I personally didn't want to put any pressure on myself to make or complete anything in that period, but it was a project that I started in the covid times, nonetheless!
Mainly, I used the pattern as a guide – the design has three colours and to make the best use of the skeins I had I just knit til almost (very technical, I know) the end of the skein before I did the colour changes. The shawl came out nice and big, as you can see. I haven't measured it, but the pattern is intended to be about 175 cm wingspan by 110 wide. I think this is probably bigger than that.  It's definitely bigger than my first version of this shawl. 
In addition to the Meadowsweet, Indigo and Alder natural-dyed skeins I also have a stripe of pinky-orange madder in there – that was just one of those occasions where I thought the colour would work but it really didn't! However I kept it in there because I am a great believer of where there is harmony there is also a bit of discord!
The handle of the Coara worsted  is plumpcious and bouncy. It is worsted in the weight sense (a weight that is sometimes called a light aran or a heavy DK or in the realms in betwixt) and the wool is woollen spun – thus where all that goodness of Shetland and BFL is ably assisted in becoming plumpy and warm. Garter looks so good in a woollen spun yarn, it really pops. 
The resulting shawl as a nice, comforting weight too it and it was a bit too warm for this sunny Thursday in August, down Rosslyn Glen, but come winter I think I will have this about my person at all times – it really traps the warmth. I suspect that the yarn will wear really well and I think I'd like to try a sweater in this yarn (its available in different weights too).
I heartily recommend this design for mindful making – I really believe garter is the stitch that grounds me most. Gryer is definitely a simple and soothing make.
I am also wearing a Stevie Top, by Tilly and the Buttons, which I made over a year ago. It is in a fabric from Fabworks Mill, which I can't remember the name of, but it might have been diamond twill. It has a heavy linen look about it.