Today I have Joy McMillan, AKA The Knitting Goddess, hand-dyer of luxury knitting yarns, coming around for a cuppa and five questions. Pour yourself a cup too and join us as Joy talks about the importance of using British wool, her (un)typical day, as well as clubs and socks. Speaking of socks there is a really lovely sock-related give-away at the end of this post, courtesy of Joy. If you need a little Socktober enabling, I think you will find it here!
Hello Joy, thank you for coming over to KnitBritish for a yarn!
The majority of the bases that you dye are British wool and all of your wool and fibre, including that which that isn't local to Britain has been processed and spun here.  What is it about British breeds/fibre that appeals to you and how important is it that all your bases are British grown or spun?
I'm very conscious that dyeing isn't the most environmentally friendly process, and I wanted to do everything possible to minimise the negative effect of what I do. So using yarns which were British seemed like a very logical thing to do, and where ever possible I'll choose yarns which have gone from sheep to skein without having left the UK. It isn't always possible, so the other yarns we're happy to work with are those from British Territories – that's where our Falkland merino comes from. It's an amazing yarn and I'd hate not to have it in our range.
The one yarn which we can't source from British Territories is cashmere – but it is spun in the UK. I'd love to find a British supplier, so if there's anyone out there please get in touch!
Another angle of working with yarns which are produced in Britain is that I know that the people who make my yarns are well treated and protected by employment laws. It doesn't take a lot of digging to uncover real horror stories about working conditions in other parts of the world, and I don't believe that anyone should have to suffer so I can have yarn.
Finally, I'm lucky enough to live within an hour's drive of a couple of the mills we buy yarn from. So it's very easy to go and look at potential yarn bases, or to combine picking up an order with something else. I'd hate to see the British wool industry decline, and it would feel very wrong to not support it in every way that I can.
If you could cast on and knit with one of your yarns RIGHT NOW what would the yarn/colourway be and what would you knit? Do you have a favourite base? Which do you enjoy dyeing with most? 
Right now I'm enchanted by the possibility of our new colour wheel sets. These are sets of 12 mini skeins in Britsock. I've just finished a shawl and crocheted scarf in these, and there are so many things I want to make. The weather is certainly suggesting that a jumper would be a good idea, so something in a simple shape with lots of stripes.
I suppose that my favourite yarn base depends on what I want to make. I adore our Falkland merino and silk blend which is spun in Yorkshire, as it's the softest thing imaginable but it's also really tough. If I had to pick one yarn it would be Britsock – British BFL, Wensleydale, alpaca and nylon. It's my go to yarn for almost everything. My sock drawer is full of it and I credit it with keeping me warm in an unheated workshop over the winter. The thing I enjoy dyeing most are wildly vibrant sock yarns – that's the closest thing to just being allowed to play.
Your yarn clubs, of which you run several, are tremendously popular – mini-skeins, sock clubs and clubs for the multi-coloured yarn fans. How do you plan these and, more importantly, can you give us any tidbits about the 2016 clubs?!
Yarn clubs are a huge part of our business and I'm always so grateful that people trust us to effectively choose yarn for them.
There's a lot of planning that goes on so that there's a wide range of colours over the year. I also like the colours for each month to work together as lots of people get more than one yarn. The one thing I don't see in advance are the club patterns – I get my first glimpse of those at the same time as everyone else, and it's always lovely to see what Rachel Coopey has designed for our sock club. Sign ups for the November club will close on 1st October, and sign ups for the 2016 clubs will start on 1st November.
2016 is completely planned, so I know all of the colours that I'll be dyeing over the year. I'm thrilled that Rachel Coopey is producing another set of 6 designs for us. There are new things this year too, and I'm so happy that we have a second designer producing a collection for us. I wanted designs which looked at different methods of sock construction while keeping a focus on fit, so Clare Devine is going to be designing for us. Both Rachel and Clare have had their six yarns for a little while now, and we've agreed two amazing themes.
I also dye up a multi coloured club. For 2016 this is going to have a self striping option and an amazing theme. When Rachel and I ran the Granny Weatherwax club a couple of years ago we always felt that there were so many more characters who would have made wonderful colours. So there will be 12 new Pratchett inspired colours – just yarns, no pattern. This gives me more freedom to play with colour and produce yarns which work best in simpler designs.
Can you describe a typical day in the life of the Knitting Goddess?
The only thing that's typical is that something won't go to plan!! We've been lucky enough to move into larger workshop space, so there's a separate area for dyeing, screen printing and generally making a mess.
I tend to be in the workshop for about 0800, and my first job every morning is to switch dye baths on. The second job is to switch the kettle on, and have a quick look at my phone in case there are any emails I need to answer quickly. I immersion dye our yarns using acid dyes – that sounds really nasty, but the dyes are safe to use and the acid used to set them is citric acid (the stuff on sour sweeties). Working this way means that I can exhaust dye baths and keep reusing the same water rather than having to throw lots of used dye water down the sink. Even the water from the dehumidifier finds its way back into the dye baths.
I have a list of things that I need to get dyed, so maybe club yarns, something for the next shop update, custom or wholesale orders. At the moment we're working with Amanda Perkins (of the much missed Natural Dye Studio) and putting together yarn support for some of her designs. That's been a lovely project to collaborate on.
As soon as the first yarns are in the dye baths I can get on with re-skeining the yarns which were dyed the previous day. We have an electric skein winder so I can leave it to whir away while I tie up more skeins for dyeing, wind long skeins to make self striping yarns and drink lots of tea. 
Bobbie joins me in the workshop once she's packed orders, and she's kept busy winding mini skeins. We usually finish in the workshop by 1400, then it's a quick walk home complete with a couple of bags of yarn, a short tea break and then making up orders which have come in during the day. Once that's done it's off to the post office, then home to tackle emails, and to catch up with ravelry, twitter and Instagram.
The new yarns need to be photographed ready for the weekly update. Then it's time for my least favourite job – labelling yarn. Then I start thinking about samples I want to knit, or new designs for screen prints.
So lots of different things in any day – that's one of the best bits about my job. I can't imagine doing the same thing day in day out.
Socktober is almost upon us! For every hardened sock knitting fan there is a knitter out there who hasn't yet attempted socks or is a bit reluctant – What do you love about socks and why should we cast on a pair this Socktober? 
There's a real love / hate thing with socks, isn't there? Personally I've never found bought socks which fit as well as hand knitted socks – and I'd hate to contemplate winters without warm woolly shod feet.
There's so much to love about socks. They can be as simple or a complicated as you like. You can knit them in colours you love even if they don't suit you. A skein of sock yarn is almost always enough for a pair of socks – so no hard decisions about how much yarn to buy. Socks are portable – I always have spare sock pins and yarn stashed in the car just in case we get stuck in traffic.
My go to vanilla sock is my round and round sock design – the afterthought heel and rounded toe are a perfect fit for me, and make the whole sock perfect travel knitting.
For a newbie sock knitter I'd recommend the Dave sock by Rachel Coopey and a skein of our British wool and nylon sock yarn, as it's very forgiving of a little frogging if that should be necessary!
Thank you so much for dropping 'round, Joy! I will be knitting with The Knitting Goddess BritSock this Socktober and you can bet I will be sharing that with you on the podcast during October. 
| FREE SOCK PATTERN!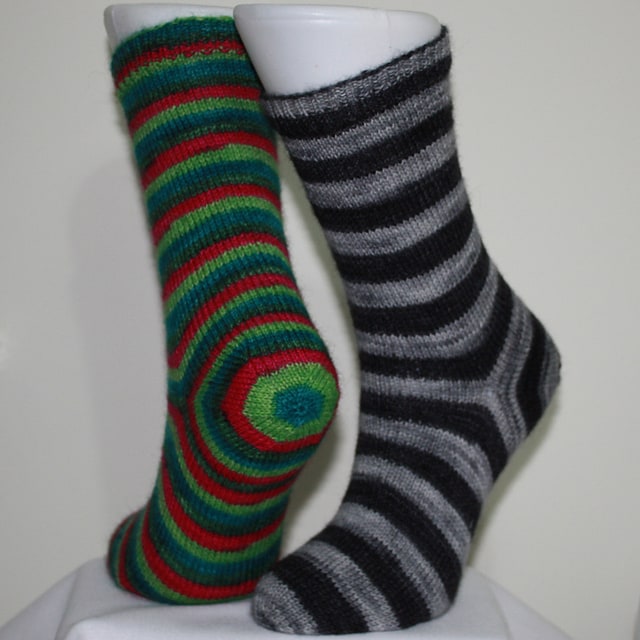 Joy has very generously given us a code for her Round and Round sock pattern. To get your own FREE copy of this pattern you can use the code KNITBRITISH when you click on the redeem link here. This free offer is available til 31st October. What base and shade of The Knitting Goddess yarns might you buy to knit it with?
If that wasn't enough you could take your free pattern and join in with Isla in the BritYarn #GBSocksawayKAL. Do you need any more enabling to join in with Socktober this year? Thank you so much again to Joy for a lovely interview and a very generous pattern give-away.
| Information
All images are copyright to The Knittng Goddess, unless otherwise stated. All images are used with kind permission.