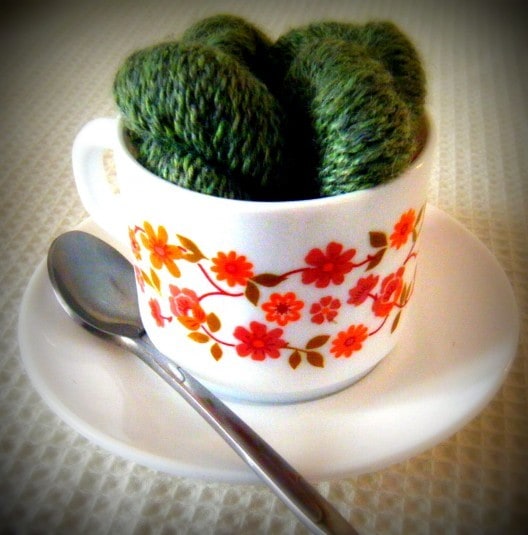 I have been drinking in the full prettiness of my Edinburgh Yarn Festival booty today. After the event I placed everything in my hand-luggage (cos if that plane was going down, I was going down clutching that yarn!) and I have only begun to really play with it all today.
My first purchase is the alpaca you see above. This came from Border Mill, a small scale alpaca processing mill in Duns. This was the first stall I frequented at the festival and Juliet was positively animated talking about their product. For me Knit British is about supporting local businesses who genuinely love what they do from the animals they rear to the end product and I really believe The Border Mill are such a business.
I was drawn to that green – it is absolutely delicious. I can't wait until their online shop is a go!
Next door to Border Mill were Travelling Yarns – I actually tried to edge my way into this stall a few times, but they were a popular lot with their stock of Lett Lopi, roving yarn as well as St Magnus Angora and Wensleydale Longwool Sheepshop…my KnitBritish heart skipped a beat.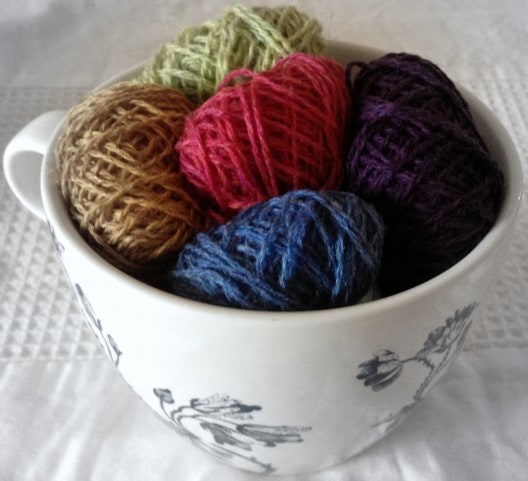 The day before the festival I had read on Ravelry that Wee County Yarns would be selling baby JC Rennie balls. I fell in love with Rennie when knitting the Orchid Thief and let me tell you, I sought that stall out! How sweet are they?! (I had them bunched up in my hand whilst showing LovelyFiance later and quipped, "Wouldn't it be nice to have a bouquet of yarn?" That may have been my first solid wedding plan!)
I know they are only little, but they are perfect for a project that I will tell you more about later.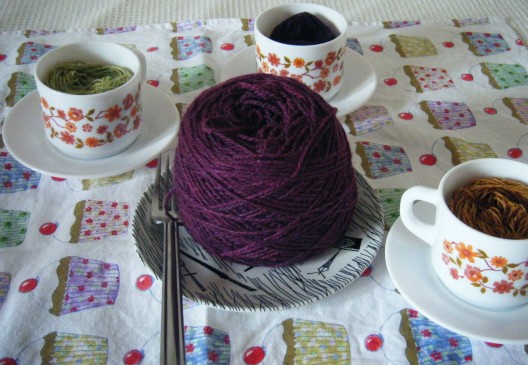 Cake, anyone?
Old Maiden Aunt was always going to be a must-visit, but was difficult to find – until I peered very hard through a throng of people and found the stall there! There was so much to feel faint about at that stall – such fibre and such colours. I spotted a half-closed suitcase on the floor and managing to crouch between two shoppers I opened the case to find oodles of Corriedale! It was like finding treasure! Okay, so someone had bumped the case and the lid fell shut, but there were definitely jewels!
I was thrilled to learn from Lilith that the Corriedale is bred in the UK and I snatched up two skeins of Last Night's Red Dress 4ply – which is reminds me of undiluted blackcurrant cordial!.
This is going to become something as special as it deserves!
It was so lovely to say hello to woolly people I really admire. Helen from Ripplescrafts and Susan Crawford were two such. Again, both stalls were just pinned, but it was lovely to say "hello!". I was thrilled to hear that Susan is working with the Shetland Museum on something rather exciting and that she is returning to Shetland Wool Week this year. I couldn't attend her workshops last year and so I am going to make sure I have some annual leave this time! Susan had a wonderful array of her books and patterns, as well as Jamieson's yarn, her own Excelana and some Juno Fibre Arts. I have some lovely Excelana in stash, but I was eager to get my hands on a bit of Juno Belle, which is British alpaca and BFL. The colour is so vibrant  – like a 1940's Femme Fatale's  nails and lips!
From Helen I purchased some Na Dannsairean 4ply in the Winter Sea colourway – It was going to be a lovely grey, but someone filled the basket as I was delving and Winter Sea lept into my hands. The base is BFL with flecks of lovely Donegal nep running through.
I had sort of made a pledge to buy no more BFL. It is absolutely beautiful, but often when you search for British Breed wool I find that Bluefaced is promoted a lot and I really want to try and knit around the British Isles – breed-wise, at least (although I am not ruling out a knitting tour of the UK) and promote as much of the breeds as possible. That having been said, I have been coveting Na Dannsairean for ages so I feel justified!
I will probably keep the rest to show off in the future, but suffice to say I went to the Edinburgh Yarn Festival for the wool and came back shorn! Not that I begrudge it – I am in love with it all. I still have some to get as Shilasdair were very wise and didn't come to Edinburgh with a bulging van, but with samples of all their wools and colours – and once I chose my yarn they post it out on their return to the shop!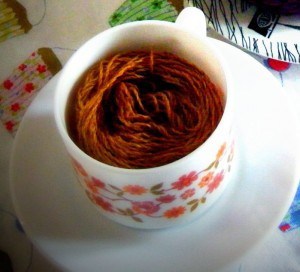 What do you think of my cups, by the way? They are the same pattern that we had when I was growing up(that probably most Shetland households had in the late 70s). My mum has one solitary plate left – I call it the happy plate – and when I let that slip she and my sister sourced the cups for my Christmas!
In every single way I am a very lucky girl.