Shetland Wool Week is drawing to a close. For most people it's been a week of masterclasses and workshops, schmoozing with knitting heroes, learning from the masters and catching up with friends (old and new). That is if, unlike me, you booked tickets in time.
In April, when tickets went on sale I thought,
"It's April! I'll get tickets closer to October"
Big mistake! Between my work and ticket availability I haven't been to much, but what I did do I heartily enjoyed.
On Thursday I had organised a little knit night at the Library and it was just brilliant to meet some twitter pals – and amazing how some of the party had already met before, but didn't really know it. Knitting making a small world smaller!
The lovely Hazel Tindall dropped by too to cast on for her projects at the Wool Hub!
Yesterday, I ambled out to Jamieson & Smith where Tom of Holland was teaching a darning class. I really love just absorbing the gorgeous colours in the shop and the atmosphere was very heady in full wool week wonderfulness!
Felicity Ford treated the shop throng to her Shetland 'oo' song, accompanying herself on the accordion. Very wonderful, indeed!
Today lovelyfella and I went for a lovely wander to the Makers Market at the town hall.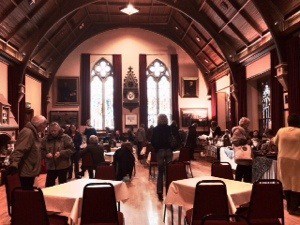 So lovely to see Foula Wool's Magnus there – he was girding himself for the onslaught of Tea Jenny enquiries.
It was also wonderful to see wool there – which sounds like a given, but last year there was no yarn at the market. There was local handspun and also there was yarn and wool products all the way from Cumbria!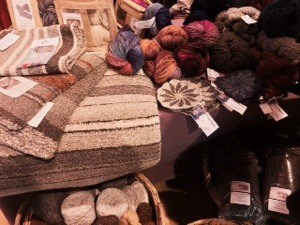 Also there was Donna Smith with some of her gorgeous felted pins, scarves and decorations. LovelyFella's ears seemed totally closed to my hints!
I may not have spent very long at Shetland Wool Week, but I am now armed with some lovely new wools (not that I need them!) from Shetland Organics, Jamieson & Smith and the Woolclip and next year I will definitely just get the tickets and not wait!
Isn't it nice that this Wool Week segues nicely into Campaign for Wool's Wool Week?
To celebrate Wool Week (14th-20th October) and British yarn and sheep Linda from Made by Ewe is offering a special giveaway to a KnitBritish reader!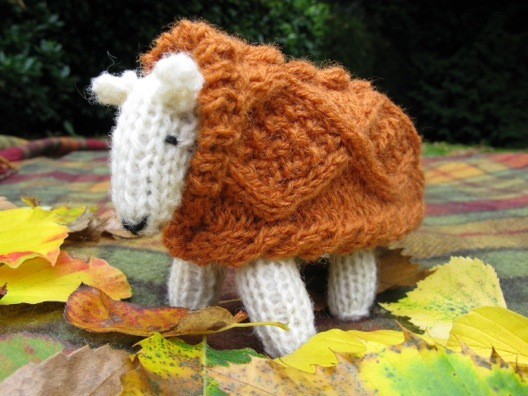 Linda says, "Fraser is knitted in British wool, obviously, and has a cosy aran fleece perfect for autumn and also great for practising cable sts if you haven't done them before. He is stuffed with natural fleece so is all wool, which is great for Wool Week."
Thoroughly British from stuffing to stitches and so cute! All you have to do to win this amazing kit is have a look at the brand spanking new Made by Ewe website, and then leave me a comment on this post telling me your favourite item in the shop.
You could even sign up to Linda's blog for regular updates.
You have until Saturday 19th October and I will announce the winner on the Sunday, the last day of Wool Week.
This competition is open to UK entrants only.