Due to the length of both of these, it was easier to post them on a separate page. Both Mazzy and Anthea were not aware of which yarns they were using. They have given an honest review in exchange for a free mini skein of yarn.
Mazzy's Review of Life Long Yarns Yarrow Light DK – 50% Blackface 50% BFL
Breed: No idea. If I had to guess I would probably go for something tough like Boreray or Herdwick, blended with a much softer wool such as Shetland.
Feel: Soft yet strong. It has a very rounded cross section as a yarn. It's relatively highly twisted and doesn't have much 'give' when stretched. I'm assuming this is a natural white/grey shade. The two colours seem to be mixed throughout all of the strands of this yarn and it produces a nice lively effect when knitted up with elements of light and shade in each stitch.
Feel to knit: Almost like knitting with a cotton yarn in some ways…but with added woolliness. Even though the yarn seemed quite tightly twisted for some reason it also appeared to loosen slightly as I knitted (might just be my technique) which resulted in a tendency for me to poke the needle through the yarn itself. But I wouldn't say that I had a problem to the point that it would put me off knitting with it.
Observances of unwashed swatch: The cable section had plenty of definition in the stitches and a nice, firm, structured feel. The ribbed sections had a good stretch. There remained some longer, loose fibres in the fabric, which gave a nice real woolly look.
Chucked this in my standard 40 minute machine wool wash (cold) on 600 rpm spin with some Ecover fabric softener for the rinse. Initially, I popped this over my wrist to wear for a morning even before I'd washed it. It felt soft, yet structured. Although I remained aware of its presence, it wasn't prickly or uncomfortable at all on my inner arm.
Then, when washed, I spent a week wearing it over my sock, on the ball of my foot. The lower section changed quite dramatically. It became very much softer, slightly matted and the halo more pronounced. The rib stitch flattened out and stretched quite a lot and lost its springiness, although it was still possible to pull it back into shape to some extent.
Wash, Block & Wear Test 2
Washed: Soaked in Biotex for a while…the swatch had become quite grubby padding around on my kitchen floor and manking about in my muddy old gardening boots for a week. Then handwashed as vigorously as I could in tepid water with a drop of detergent. Soaked in Ecover fabric softener.
Blocked: Didn't bother. Just squeezed out as much water as I could in a towel and left to dry on the windowsill.
Feel and look: See bottom two photos The fabric has fuzzed up a bit and matted slightly. It is much softer now and has formed a dense, warm fabric with plenty of halo. However, I did wash this swatch very vigorously, rubbing at it hard (in a way that I wouldn't normally treat a woollen fabric) with a view to giving it an accelerated ageing.
Although the swatch has definitely eased up a bit and grown slightly compared with its unwashed size, the ribbed section (which had most of the underfoot wear) has regained some of its stretch. Also, it doesn't yet seem to be displaying any thinning of the fibres which is usually the first sign I see of sock-wear-and-tear.
Wear: I slipped the swatch back over my wrist and it was comfortable, soft and warm. It might not suit the most sensitive skin, but I'd be happy with this touching my hands or head for gloves or a hat.
Life, longevity & uses: So far this has shown itself to be surprisingly tough. I think it would make a beautiful cabled jumper or cardigan and would be great for hats and mitts too. I'd, personally, hesitate to try making all-wool walking socks, although I think they'd look great in this. But I do think it would be well worth giving it a try for a rather special pair of socks. Due to the stretching of the rib in the swatch when I wore it I would be wary of knitting something that relied on ribbing for its fit.
Warm, cosy and characterful, the swatch has stood up well to my destruction wear test and I could be very tempted to try making some socks with it. I'd also love a cabled cardie in this….Joji Locatelli's Grandpa Cardigan is the sort of thing I'd have in mind. 
Anthea's review of Linton Light DK, 50% Blackface, 25 % Shetland, 25% Southdown
First impression: Soft, quite loosely spun, light and airy with a slight halo of longer white fibres the yarn has a little tickle – characterful rather than rustic.
Beautiful soft heathery colour, looks slightly marled. Guessing its a dk weight.
Fibre Content:  I really have a gap in my woolly knowledge here (something to work on maybe?) The yarn is soft but not alpaca soft, reminds me of J&S spindrift but that maybe the lovely marled colour as much as anything!! So i am guessing there is some shetland in it and maybe masham or cheviot?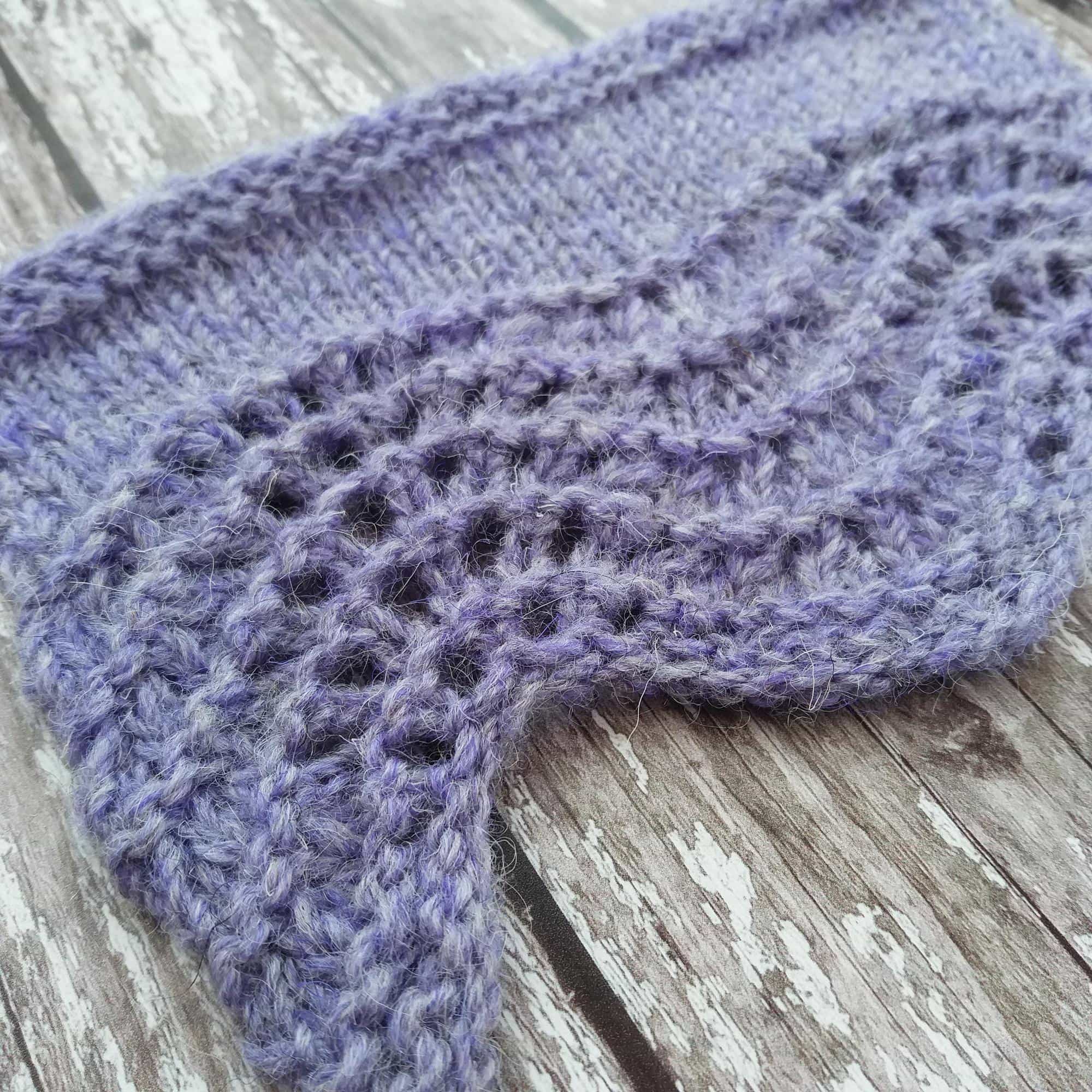 Swatch: 
I knit my swatch on 4mm needles. It really wanted to be old shale but i added a bit of plain stocking stitch too, just to see how the yarn behaved over a plain knit surface. The yarn was pleasant to knit with, not at all splitty (despite feeling quite loose and airy) and withstood a little ripping back and re knitting with no obvious negative effect. 
The swatch blocked beautifully – the lace stitches and garter bumps are well defined and the stocking stitch panel is smooth and even. The longer white fibres became a little more pronounced. The colour is even more gorgeous in the knitted fabric – a delicate lavender shade with darker flecks and lighter highlights where the different fibres in the blend take the dye to a greater or lesser extent. Beautiful.
Wear test: Those longer fibres do have a slight tickle but not enough to be noticeable to me although some may find it it too much next to the skin.
I wore the swatch tucked under bra strap all day and was aware that it was there but didn't feel the need to remove it! It kept it's shape well and showed no obvious signs of pilling.
I think i would use this yarn for cosy winter cardies with a bit of lace (i didn't try cables in my swatch but it think it would cope well with those too), gloves would be nice or a warm hap shawl.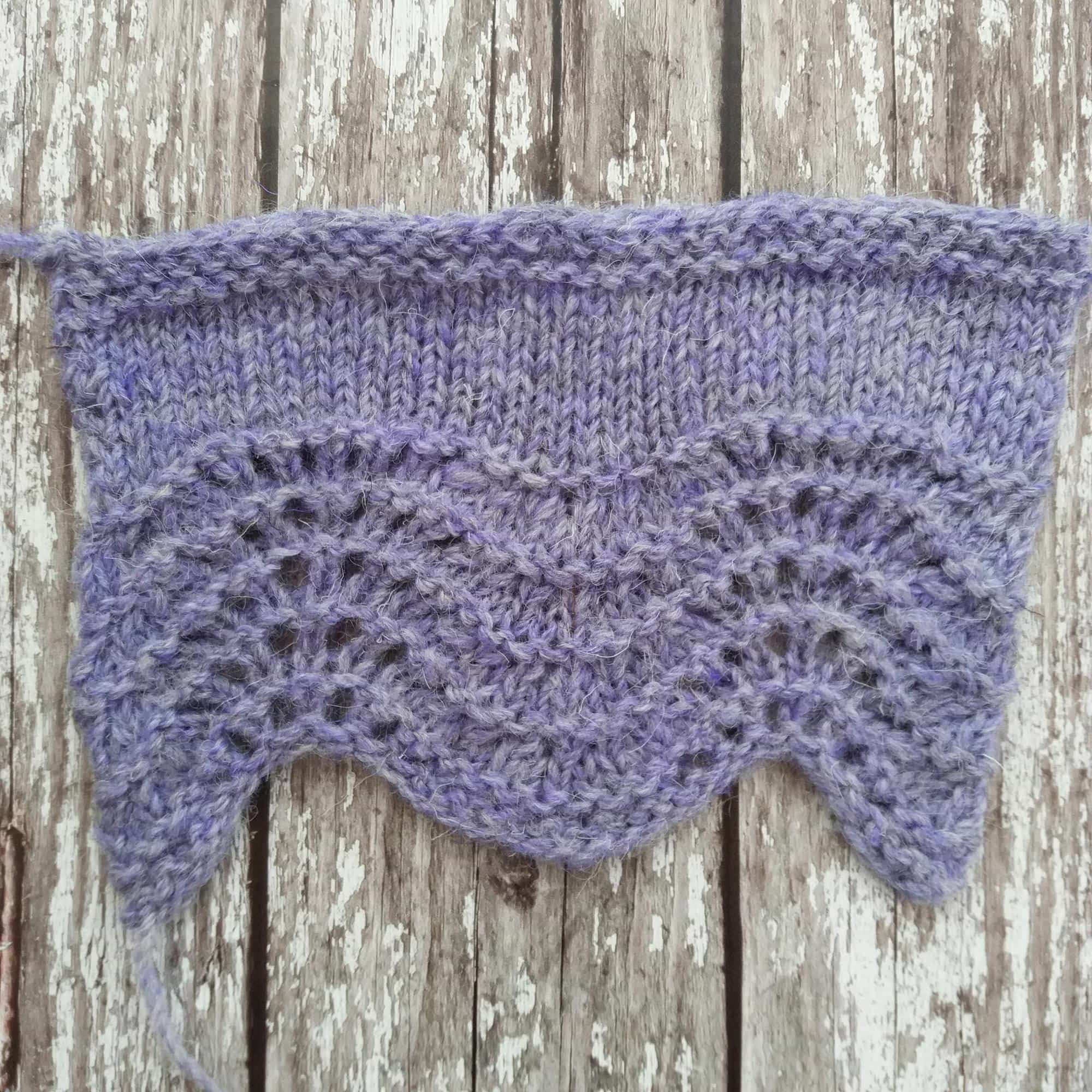 Many thanks to Anthea Willis and Mazzy Fautley